Isis convoy 'escape in civilian vehicles' after US-led coalition bombs road to stop them fleeing Syria
Hezbollah has attacked the US-led air strike for putting lives at risk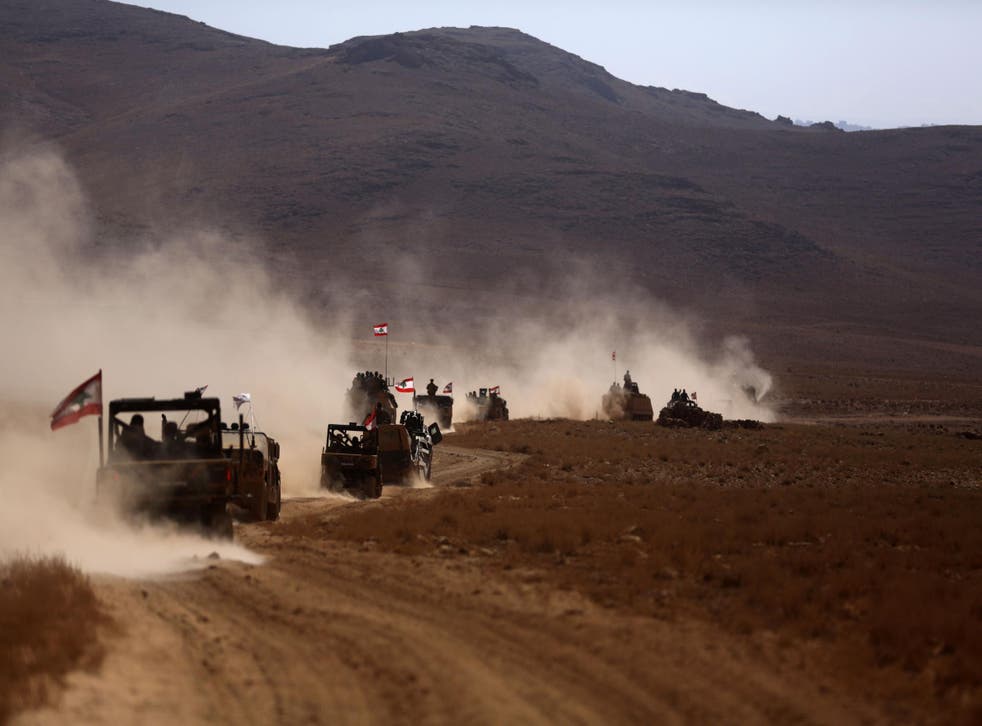 Islamic State militants and civilians have abandoned buses from the stranded convoy in the Syrian desert and continued their journey, despite a US-led coalition airstrike which destroyed the road.
According to the Syrian Observatory for Human Rights, members of the Islamic State group and their families are heading towards the eastern region of IS-held Deir al-Zour in 12 civilian vehicles.
A heated row has broken out over the fate of the motorcade of evacuated Islamic State fighters and their families who are trying to reach the Iraqi border.
The Syrian government and Hezbollah had agreed that the IS convoy would leave and be allowed to travel towards the Islamic-State held region of Deir al-Zour.
The 400 Islamic militants and their families surrendered recently on Syria's border with Lebanon.
But the US-led coalition says it was not part of the deal agreed and on 29 August bombed the road ahead of the convoy, which they claim contains "experienced fighters".
In Pictures: The crisis unfolding in Syria

Show all 30
Brett McGurk, the US envoy to the coalition, tweeted: "We will not allow this terrorist convoy to further approach Iraq's borders."
He added that Islamic State militants "should be killed on the battlefield, not bussed across Syria to the Iraqi border without Iraq's consent".
The Combined Joint Task Force also voiced their disapproval and released a statement saying: "The coalition will not condone Isis [IS] fighters moving further east to the Iraqi border," the coalition said in a statement.
"Relocating terrorists from one place to another, for someone else to deal with, is not a lasting solution," it added.
The 17 buses containing the Islamic State militants are now stranded in the desert, between the towns of Humayma and al-Sukhnah, which are under Syrian government control.
Hezbollah has attacked the actions of the US-led air strike for putting lives at risk and called on the international community to prevent a "terrible massacre" if people die due to lack of food or bombing.
"They are also preventing anyone from reaching them even to provide humanitarian assistance to families, the sick and wounded and the elderly," the Shia Islamist political organisation said in a statement, reported by The Times of Israel.
Basic supplies have been sent to the convoy and the US military said it will not intervene if the Syrian government sends food and water to the people stranded in the Syrian desert.
"We've observed that. We didn't try to interfere with that," Lieutenant General Stephen Townsend, the commander of the US-led coalition told the Washington Post.
"We have not tried to interfere with all approaches to the buses. And the pro-regime forces have done that and resupplied them."
Register for free to continue reading
Registration is a free and easy way to support our truly independent journalism
By registering, you will also enjoy limited access to Premium articles, exclusive newsletters, commenting, and virtual events with our leading journalists
Already have an account? sign in
Register for free to continue reading
Registration is a free and easy way to support our truly independent journalism
By registering, you will also enjoy limited access to Premium articles, exclusive newsletters, commenting, and virtual events with our leading journalists
Already have an account? sign in
Join our new commenting forum
Join thought-provoking conversations, follow other Independent readers and see their replies