Yazidis rescued from Isis need action from Britain, says former Iraqi MP Ameena Saeed Hasan
Ms Hasan is now campaigning for international help for the thousands of Yazidi women and girls still held in captivity by Isis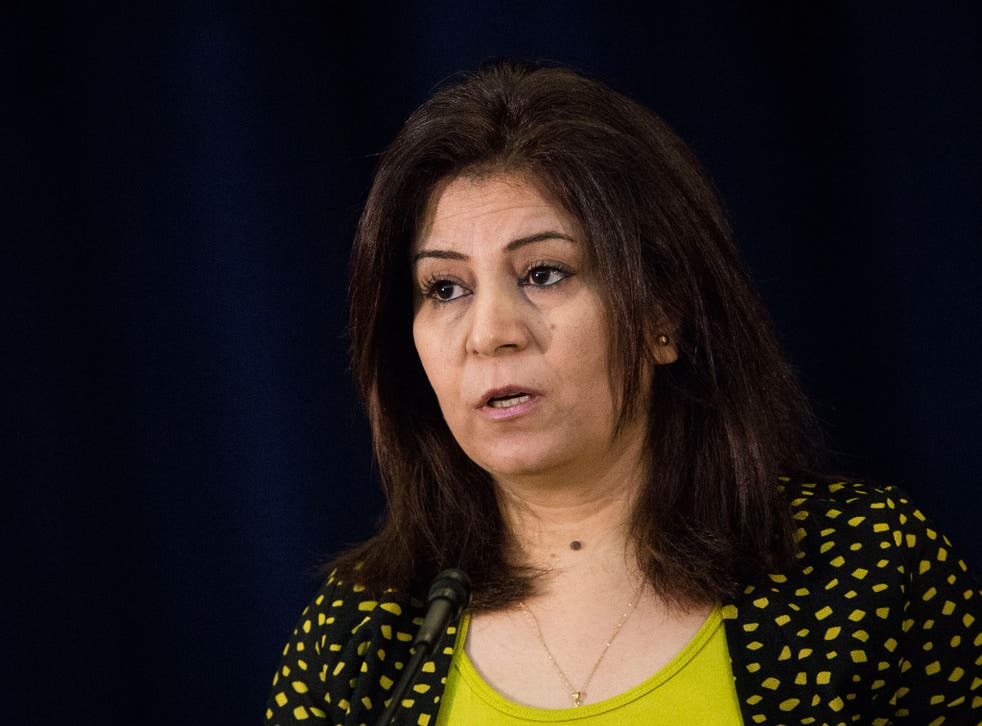 Ameena Saeed Hasan cannot forget the voices of her former constituents calling to her for help, as Isis jihadists stormed the Sinjar mountain in Iraq.
"Their voices stay with me," the Yazidi activist and former Iraqi MP told The Independent, her eyes filling with tears.
After the calls came silence, until earlier this year when Isis was forced out of Sinjar, and a string of pits was discovered. Full of human remains, the mass graves are thought to contain the bodies of Yazidis who didn't manage to escape.
Ms Hasan is now campaigning for international help for the thousands of Yazidi women and girls still held in captivity by Isis – and wants Britain to follow up its expressions of sympathy for the Yazidis by taking more concrete actions.
One German state has offered to take 1,000 women and children traumatised by Isis to Germany for medical and psychological care. "I ask the British Government to do what the Germans have done," she said. "I hope the Government takes 1,000 to 2,000 of our girls and children to provide health, education and give them opportunities, because life for us is miserable here. It is not just the UK, I have also asked the US to take some of our victims."
Earlier this summer, she travelled to the UK to help warn young Britons of the dangers of joining Isis, meeting school pupils in Birmingham at an event organised by the Amar charitable foundation and Open Your Eyes, an anti-radicalisation group.
"I asked the British Government to help the minorities in Iraq," said Ms Hasan from her home in the Iraqi Kurdish city of Dohuk. "The Iraqi government can't protect their own people, let alone the minorities. Every day, more Yazidis leave Iraq and if we stay here ... they will kill us, and if this is allowed to happen we will be finished."
Iraq crisis: Yazidi nightmare on Mount Sinjar

Show all 15
Right now some half a million Yazidis are scattered throughout the Kurdistan region of Iraq in makeshift shelters and camps, enduring temperatures of above 40C. Most say they no longer feel safe in Iraq, and more and more are leaving every day.
Sitting on her sofa in a sparse living room, Ms Hasan showed The Independent a series of photos of women on her phone which she says were taken by Isis for the purpose of buying and selling them – their expressions revealing their terror.
Many are clutching small children sucking dummies. The images are labelled "sabiya", which means female spoils of war in Arabic, alongside a number, used by potential buyers to identify the women, said Ms Hasan, adding that the photographs were sent back to the women's families to taunt them.
She is clear that the British Government has a responsibility to do more to help the Yazidis on the ground.
Recalling her trip to the UK, Ms Hasan said: "The Government showed a lot of emotion about the Yazidis, but they don't translate that emotion into action on the ground. They have helped the Peshmerga [the Kurdish militia], but they do not specifically help the Yazidis. Some Yazidi areas have been liberated from Isis, but they still have no power, no water and electricity in these areas, so people cannot go home."
She said that 3,000 women and girls are still with Isis and alongside a team of volunteers, Ms Hasan is working to smuggle Yazidis out of Isis territory using a network of contacts within the area. So far, she said, they have received funding from the Kurdistan Regional Government for rescuing some 100 girls.
But the real need is for victim care and support, which the health infrastructure in Iraq and Kurdistan cannot provide. "These girls are massacre survivors," she said. "If they stay, they will suffer from severe psychological trauma or try to kill themselves."
The Amar charitable foundation, whose founder Baroness Nicholson funded Ameena Hasan's visit to the UK, has asked us to clarify that Ms Hasan addressed the Foreign Affairs All-Party Parliamentary Group but did not meet representatives of the government during her trip.
Join our new commenting forum
Join thought-provoking conversations, follow other Independent readers and see their replies