US threatens further attacks in Yemen after Houthi rebels fire at navy warship
'We are prepared to respond if necessary to any future missile launches'
Samuel Osborne
Friday 14 October 2016 07:20 Comments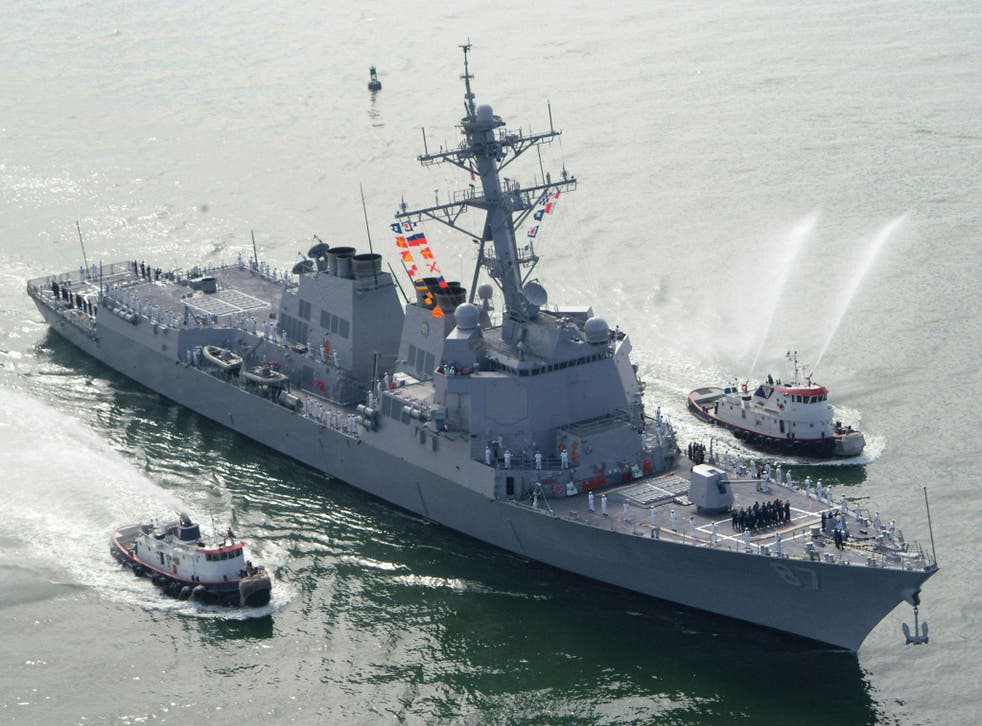 The US military has warned it will retaliate against any new provocations from rebels in Yemen, after Houthi forces fired a missile at a US Navy warship in the Red Sea.
On Thursday, US-launched Tomahawk cruise missiles destroyed three coastal radar sites in Houthi-controlled territory on Yemen's Red Sea coast.
White House officials argued the missile strikes were strictly a self-defence measure and not an escalation of military involvement.
"These strikes are not connected to the broader conflict in Yemen," Pentagon spokesman Peter Cook said. "We want to make crystal clear that if you threaten our forces, you threaten our ships, we will be prepared to respond, as we did in this case."
Video footage shows moment air strike hits funeral in Yemen
The US is already involved in the conflict indirectly through its support of the Saudi-led fighting the rebels on behalf of the Yemen government.
It was previously focused on al-Qaida in Yemen and the Houthis had not been a primary target of American forces until the missile launches from Houthi-controlled territory this week.
It appears the USS Mason was targeted in retaliation after warplanes from the Suadi-led coalition struck a funeral in the Yemeni capital of Sana'a last weekend. The devastating air strikes killed nearly 140 people, most of them civilians.
The Houthi missile fire missed the ship, but chief of naval operations Admiral. John Richardson said, "Enough was enough," and the Navy was ordered to launch five missile strikes.
State Department deputy spokesman Mark Toner said the sites "were specifically targeted in order to take out or in some way limit the ability for the Houthis to carry out these strikes".
World news in pictures

Show all 50
Shortly after the missile strike, two Iranian warships began steaming toward the Gulf of Aden on Yemen's southern coast.
Although ostensibly deployed as part of a regular anti-piracy patrol, the timing suggested it was aimed at sending a signal to the US, which has vowed to retaliate against any new provocations from the Houthis.
"We are prepared to respond if necessary to any future missile launches," White House spokesman Eric Schultz said. He called on all parties to the conflict to abide by the terms of a fragile agreement reached in April.
"Our belief is the violence should subside consistent with the terms of that agreement."
Iran says it backs the Yemeni rebels but denies arming them. US officials have held open the possibility the Houthis may have captured some missiles from Yemen's army, but have also made clear Iran is supplying them as well. These missiles, State Department spokesman John Kirby said this week, "are provided by Iran to the Houthi rebels".
US backing of the Saudi-led coalition has come under increasing criticism from lawmakers, human rights groups and others who have decried coalition air strikes on civilians in Yemen as possible war crimes.
The US has said it is reviewing its support for the coalition.
More than 10,000 people have been killed in the conflict so far.
Additional reporting by AP
Register for free to continue reading
Registration is a free and easy way to support our truly independent journalism
By registering, you will also enjoy limited access to Premium articles, exclusive newsletters, commenting, and virtual events with our leading journalists
Already have an account? sign in
Join our new commenting forum
Join thought-provoking conversations, follow other Independent readers and see their replies