Russia is building its own space station as Nasa replaces Roscosmos with SpaceX
SpaceX has made Roscosmos "null and void", according to one Russian space expert
Adam Smith
Thursday 22 April 2021 12:43 Comments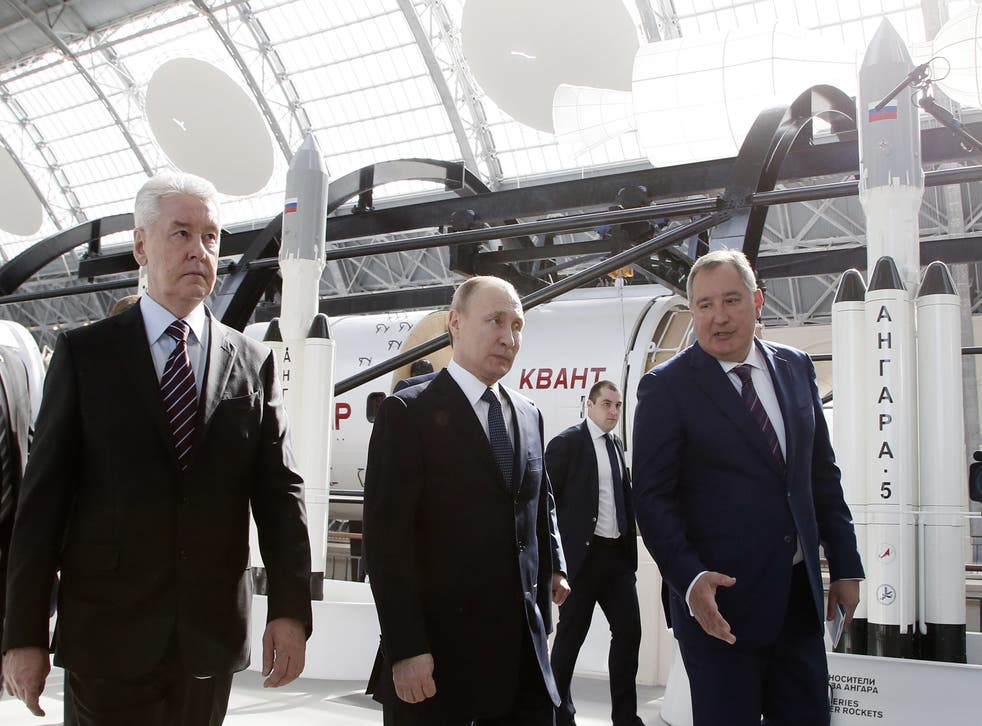 Russia is building its own $6 billion space station that it plans to launch in 2030, the head of the country's Roscosmos space agency has said.
"If in 2030, in accordance with our plans, we can put it into orbit, it will be a colossal breakthrough," Interfax news agency quoted Roscosmos chief Dmitry Rogozin as saying, as reported by Reuters.
"The will is there to take a new step in world manned space exploration."
The Russian station is likely to be manned by robots with artificial intelligence, while human cosmonauts would periodically visit the craft. This is because the Russian station's orbit path would expose it to higher radiation.
Deputy prime minister Yuri Borisov reportedly saying that Russia will give notice to its international partners in 2025.
The project would mark an end to Russia's cooperation with the United States upon the International Space Station, and although Rogozin said the country would consider allowing the presence of foreign astronauts he added that "the station must be national. If you want to do well, do it yourself."
While the new station might change space activities, it is not an unexpected development. Roscosmos said it envisioned a new Russian space station in 2015, and Dmitry Rogozin – then Russia's deputy prime minister himself – said that Moscow would leave the ISS project in 2020.
The development of SpaceX's private, and reusable, starships has presented a recent issue for Russia, however. Nasa hadpreviously used Roscosmos to transport astronauts into space, but it now seems like that responsibility will move to Elon Musk's company.
SpaceX has also made Roscosmos "null and void", according to Vadim Lukashevich, a Russian-based space expert. Lukashevich was fired in an aerospace think tank in 2015 after writing articles opposing Roscosmos' transformation from government agency to state corporation.
"This isn't just resentment, it is a constant major headache for Roscosmos", Lukashevich also said. "Bear in mind Roscosmos in fact never gave their approval for the [2019 SpaceX docking]. They voiced a number of technical concerns, perhaps even with some basis, but … this was a reaction of someone left behind."
Without Nasa paying Russia for transport to the ISS, Russia would also have to fill a $400 million per year gap in its budget, more than the cost of the rocket and launch operation.
"For us this wasn't just a freebie—it was a narcotic. It allowed us to do absolutely nothing and still earn money. And now, this narcotic is going to be cut off, and we will be forced to do something", Lukashevich continued. "Our space program has … become dependent on this American money. So now we must demonstrate what we are really made of."
Roscosmos did not respond to a request for comment from The Independent before time of publication.
Register for free to continue reading
Registration is a free and easy way to support our truly independent journalism
By registering, you will also enjoy limited access to Premium articles, exclusive newsletters, commenting, and virtual events with our leading journalists
Already have an account? sign in
Register for free to continue reading
Registration is a free and easy way to support our truly independent journalism
By registering, you will also enjoy limited access to Premium articles, exclusive newsletters, commenting, and virtual events with our leading journalists
Already have an account? sign in
Join our new commenting forum
Join thought-provoking conversations, follow other Independent readers and see their replies