Starship 'ready to launch', Elon Musk says
SpaceX test will see Mars-bound rocket reach orbit for the first time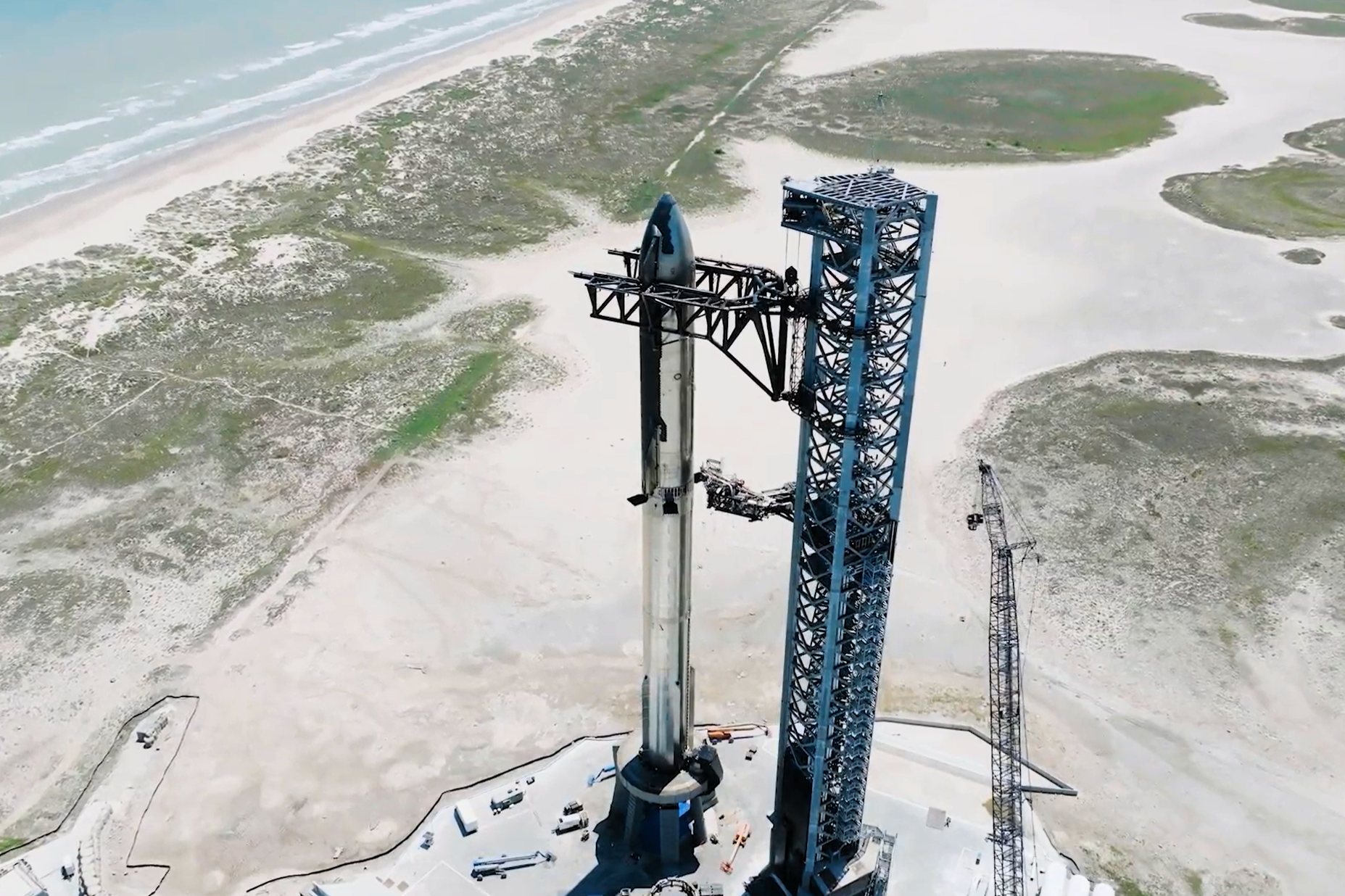 SpaceX is ready to launch its next-generation Starship rocket, according to Elon Musk, pending regulatory approval.
Starship is the most powerful rocket ever built, measuring 121 metres in height and capable of producing 5,000 metric tons of thrust. Once testing is complete, the craft will form part of Nasa's Artemis mission to return astronauts to the Moon.
Mr Musk also plans to use the rocket to transport people and cargo around the solar system, eventually using fleets of Starships to establish a permanent human colony on Mars.
The next launch will be the second attempt at an orbital flight test, with the only previous effort ending in an explosion just three minutes into the 90 minute flight earlier this year.
Each launch attempt requires approval from the US Federal Aviation Administration (FAA), while also requiring favourable weather conditions.
"Starship is ready to launch, awaiting FAA licence approval," Mr Musk posted on X, formerly known as Twitter, on Wednesday.
A spokesperson for the FAA previously told The Independent that the launch licence application for Starship depends on various requirements being met, including reviews on policy, payload, safety, airspace integration, financial responsibility and environmental impacts.
"The FAA will make a licence determination only after the agency is satisfied SpaceX meets all licensing, safety and other regulatory requirements," the spokesperson said.
SpaceX typically only reveals the date for rocket tests a few days before they take place, though numerous factors can still delay them. Weather at SpaceX's Starbase facility in Texas is currently favourable for a launch, though the area can be prone to storms and hurricanes between June and November.
SpaceX performed its 62nd orbital rocket launch of 2023 earlier this week, breaking its own record for the most number of launches in a single year.
The private company has delivered roughly 80 per cent of all Earth payload mass to orbit in 2023, with Mr Musk predicting that this figure will rise to more than 99 per cent once Starship is in operation.
"These magnitudes are madness to consider, but necessary to make consciousness multiplanetary," he posted on X on Sunday.
Join our commenting forum
Join thought-provoking conversations, follow other Independent readers and see their replies