Canelo vs Bivol LIVE result: Alvarez suffers first defeat in almost nine years in WBA light-heavyweight title fight
Relive all the action from the T-Mobile Arena in Las Vegas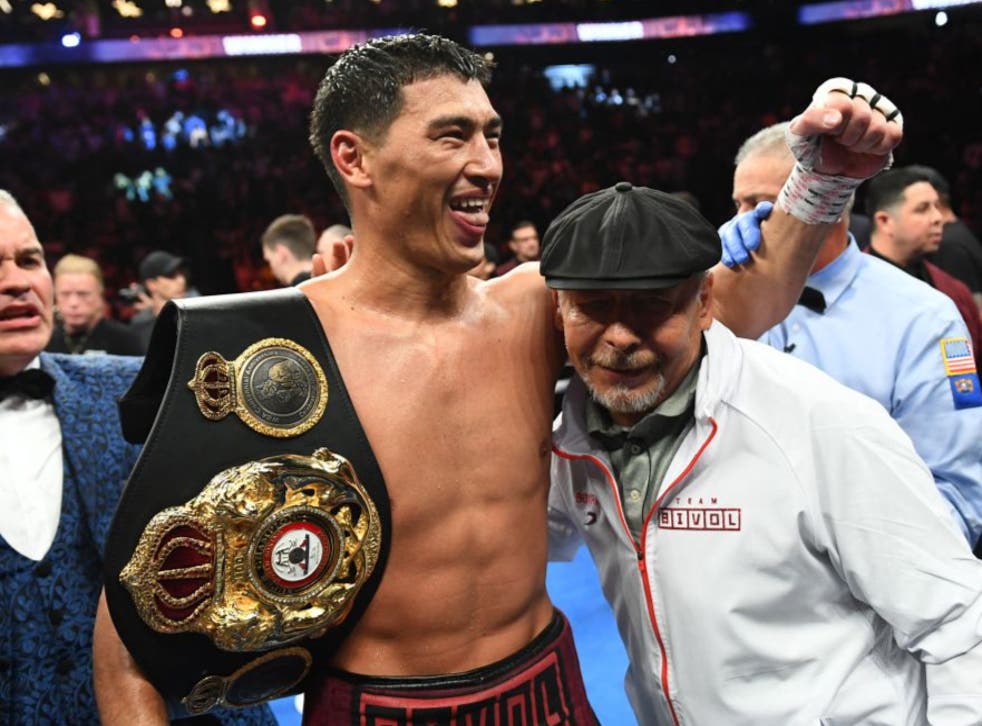 Canelo Alvarez has been defeated in a unanimous points decision which allowed Dmitry Bivol to retain his WBA light-heavyweight title and maintain his unbeaten record.
Alvarez moved up a divison to the heaviest weight of his career to endure 12 rounds in Las Vegas with the Russian, who joined Floyd Mayweather as the only people to beat the 31-year-old.
Bivol, also 31, landed cleaner and harder shots throughout the night, with Alvarez's night summed up when he resorted to lifting his opponent during a clinch in the 11th round.
After three tight opening rounds, the Kyrgyz-born boxer began to use his superior height and reach to pepper Alvarez with jabs and largely kept him at bay for the rest of the encounter.
The three judges all handed down scores of 115-113 in favour of Bivol (20-0, 11 KOs).
Alvarez, whose last loss came via majority decision against Mayweather in 2013, said "of course" he wanted a rematch following the defeat, adding: "This doesn't end like this." Relive all the action below:
1651984920
Bivol wins on points!
All three judges score the bout 115-113 in favour of Bivol. He has defeated Canelo!
Tom Kershaw
8 May 2022 05:42
1651984800
Canelo vs Bivol - Round Twelve
Canelo comes out fast, knowing what's at stake, but after a strong first minute, Bivol answers with a fierce flurry of combinations. Canelo is so fatigued and it's Bivol who finishes strongest. Canelo celebrates but there was a resignation to him during those championship rounds. It will be a huge matter of controversy if Bivol is not declared the winner by the judges.
Tom Kershaw
8 May 2022 05:40
1651984554
Canelo vs Bivol - Round Eleven
Canelo's frustration continues to show in the eleventh with the Mexican finding no way to stem the tide of punches coming in his direction.
Canelo may well need a knockout in this final round - or a favour from the judges.
Tom Kershaw
8 May 2022 05:35
1651984318
Canelo vs Bivol - Round Ten
Bivol's energy is back in the tenth and Canelo looks increasingly tired. His feet are heavy while Bivol is fast on his toes. The Russian lands a series of jabs and dominates the round. He has landed almost twice as many punches as Canelo during the fight.
Tom Kershaw
8 May 2022 05:31
1651984079
Canelo vs Bivol - Round Nine
A much better round for Canelo. Bivol was very active during the first minute but then seemed to tire. He allowed Canelo to come inside and hold his feet and was duly punished. Bivol wasn't hurt, but he will have lost that round on the scorecards.
Tom Kershaw
8 May 2022 05:27
1651983842
Canelo vs Bivol - Round Eight
An emphatic round for Bivol, who takes the front foot, traps Canelo against the ropes and lands precise punches. They're taking an effect on Canelo, whose face is reddening and is struggling to land his punches. He's trying to lure Bivol in but the Russian has been so smart.
Tom Kershaw
8 May 2022 05:24
1651983648
Canelo vs Bivol - Round Seven
There can be little doubt now that this is turning into one of Canelo's toughest tests. It's not that he's hurt, but that it's proving so difficult to stem the jab and movement of Bivol. When he does come inside, Bivol catches and counters effectively and the Russian is ahead on most scorecards. If he can keep it up, and then whether he can get a decision against Canelo, remains a separate matter entirely.
Tom Kershaw
8 May 2022 05:20
1651983393
Canelo vs Bivol - Round Six
Canelo is only able to land single punches at the moment, and he's largely forsaken his jab, knowing Bivol's superior size and polished technique makes that all but a pointless battle. The Mexican still lands several heavy punches against the arms and guard, though, but he can't pin Bivol down, whose movement is still great even if his output has lessened. The Russian finishes the round strong, backing Canelo up against the ropes and landing a series of strong jabs.
Tom Kershaw
8 May 2022 05:16
1651983133
Canelo vs Bivol - Round Five
Canelo takes the front foot at the start of the fifth and Bivol's output is significantly down. But with around a minute to go, Bivol traps Canelo on the ropes and unleashes a series of precise punches. Canelo shakes his head and urges the Russian to keep it coming. Bivol refuses the invitation, happy to have landed his point-scoring shots. Canelo was certainly more dominant earlier on in the round, though, landing hooks around the guard, and Bivol cannot afford to keep taking that sort of punishment.
Tom Kershaw
8 May 2022 05:12
1651982888
Canelo vs Bivol - Round Four
Bivol starts strong and grows in confidence, holding his feet and switching between Canelo's head and body. They're not necessarily hurtful punches but they're certainly point-scoring. Canelo rallies in the final minute, though, landing two fine right hooks before a huge uppercut with Bivol trapped against the ropes. Bivol shakes it off again but that was the most eye-catching punch of the fight so far and, perhaps, a sign of things to come if Bivol tires later on.
Tom Kershaw
8 May 2022 05:08
Register for free to continue reading
Registration is a free and easy way to support our truly independent journalism
By registering, you will also enjoy limited access to Premium articles, exclusive newsletters, commenting, and virtual events with our leading journalists
Already have an account? sign in
Register for free to continue reading
Registration is a free and easy way to support our truly independent journalism
By registering, you will also enjoy limited access to Premium articles, exclusive newsletters, commenting, and virtual events with our leading journalists
Already have an account? sign in
Join our new commenting forum
Join thought-provoking conversations, follow other Independent readers and see their replies