Derek Chisora vs Kubrat Pulev LIVE: Fight stream, latest updates plus result and reaction
Re-live updates from the main event and undercard at the O2 Arena in London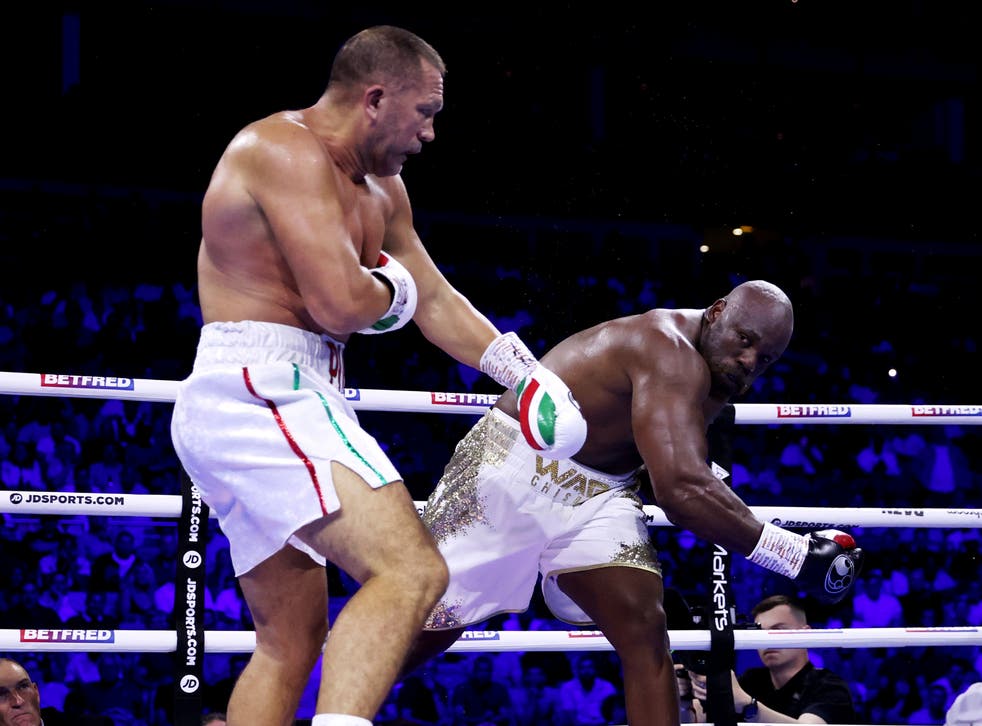 Derek Chisora halted his run of three straight defeats to beat Kubrat Pulev by a split decision and silence his doubters at the O2 Arena in London.
Two veterans of the sport did battle for a second time, having fought in Hamburg back in 2016, amid talk of what they had left to achieve in boxing. Pulev had won the first meeting by a split decision but was second best for much of the 12 rounds, with Chisora connecting a number of times with his right to make his 45th professional fight one to remember back in the capital.
It earned the 38-year-old heavyweight success after the judges scored the bout many predicted would send him into retirement 112-116, 116-112 and 116-114. The combined age of the duo was 79 but Chisora had faced Oleksandr Usyk in 2020 while Pulev was knocked out by Anthony Joshua at the end of the same year to show their desire to still go toe-to-toe with the best in the business. It was a welcome return to London for "Del Boy' after bouts with Joseph Parker in Manchester and the former Finchley amateur boasted a strong record of six wins from seven at the O2 Arena. PA
Re-live updates from the main event and undercard, below.
1657408987
As Saturday's main event at the O2 Arena somehow exceeded expectations, Derek Chisora somehow defied the doubters against Kubrat Pulev.
Taglines for boxing bouts are often contrived and usually superfluous, but for this rematch six years in the making, 'Total Carnage' proved fitting. If anything, those in attendance in London probably anticipated a few rounds of total carnage and then a sad, brutal ending to the night and potentially the career of either of these aging heavyweights. But Chisora, 38, and Pulev, 41, raged against the dying of the pugilistic light with stubborn jabs, weltering hooks and ominous overhands as around 7,000 watched on.
After 12 rounds that flowed from one to the next on a cocktail tide of blood and sweat, it was Chisora's swollen hand that was raised by the referee. The judges' scorecards read 116-112 to Pulev, 116-112 to Chisora, and 116-114 to the victorious Briton – six years after he had suffered his own split-decision loss to the Bulgarian in Hamburg.
For Chisora, the result and the performance that barely secured it will serve as vindication of his decision to fight on. Fans were wincing during this hellacious contest – though that word seems almost too 'professional sports' for a match this gladiatorial – and they will have likely had the same reaction when Chisora called for a clash with Deontay Wilder during his post-fight interview. Chisora said this week that the product he sells is "War", but his feelings towards retirement suggest that the veteran has become a prisoner of it over time.
Saturday evening might have marked the night for Chisora to escape this sport at long last, regardless of the result, but he remains chained to his gloves.
Full main-event report here:
The Briton triumphed in London to avenge his own split-decision loss to the Bulgarian from 2016
Alex Pattle
10 July 2022 00:23
1657404706
Chisora vs Pulev 2
Chisora: "I'm happy I won in front of my kids, I'm proud. Can you imagine if I'd lost in front of my kids?"
Alex Pattle
9 July 2022 23:11
1657404589
Chisora vs Pulev 2
Chisora: "I think I last won a fight three years ago. It's been... listen...
"It was hard. Pulev's a great fighter. I'm happy today. At the same time, I'm sad.
"I don't have many left in me, but what I have, I'm gonna give it all to you guys.
"I don't have many left. I don't want easy fights. I told Eddie [Hearn] the other day, if you can get me the 'Bronze Bomber' [Deontay Wilder], I'll be happy."
Alex Pattle
9 July 2022 23:09
1657404214
Chisora vs Pulev 2
Indy Sport has it Pulev 115-113 Chisora.
Alex Pattle
9 July 2022 23:03
1657404093
Chisora vs Pulev 2
Final round. Indy Sport has Pulev up 106-103, but Chisora may get the home advantage on the judges' scorecards, if the fight goes that far...
Chisora is going after Pulev right away! He misses with a winging right hook.
That brief charge might have been Chisora's last salvo, though...
No! He's backed up but connects with an overhand right! Pulev takes it surprisingly well, before getting close to clinch with Chisora.
Hook, hook, hook to the body of Pulev, then one to the head!
What a fight. Chisora might have stolen that final round.
Alex Pattle
9 July 2022 23:01
Register for free to continue reading
Registration is a free and easy way to support our truly independent journalism
By registering, you will also enjoy limited access to Premium articles, exclusive newsletters, commenting, and virtual events with our leading journalists
Already have an account? sign in
Register for free to continue reading
Registration is a free and easy way to support our truly independent journalism
By registering, you will also enjoy limited access to Premium articles, exclusive newsletters, commenting, and virtual events with our leading journalists
Already have an account? sign in
Join our new commenting forum
Join thought-provoking conversations, follow other Independent readers and see their replies