England dare to be brave and drown out pitch talk in pivotal India Test
The England captain wants his side to trust their ability in a bid to outplay the hosts on whatever pitch is presented with the goal of earning a 2-2 series draw with victory in the fourth and final Test of the series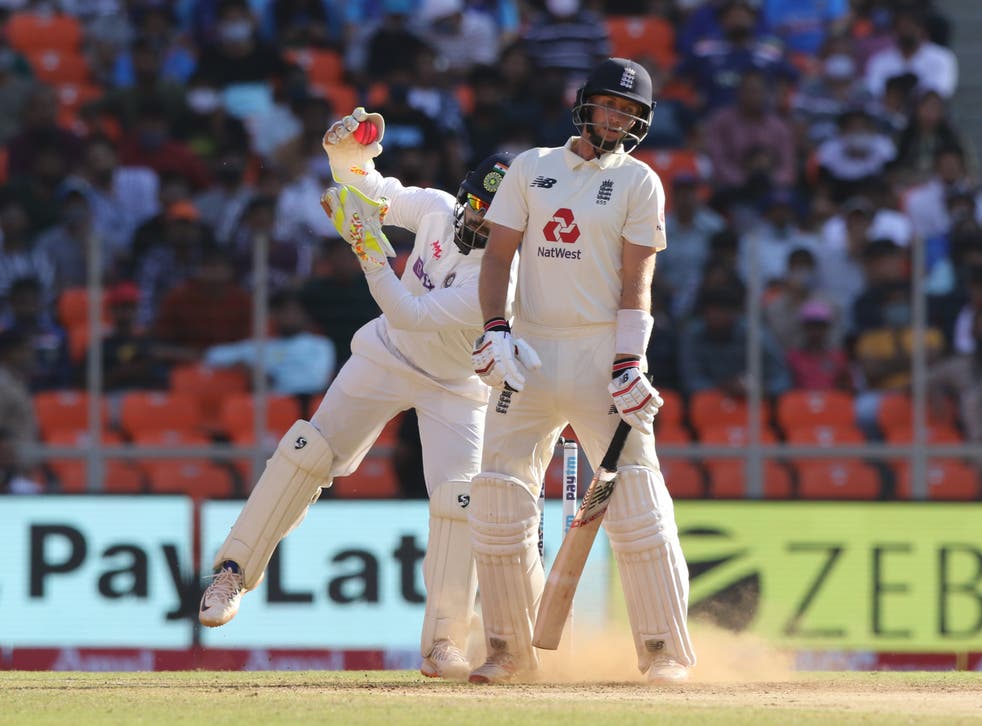 "I don't understand why a cricket ball or pitch are brought into focus?" asked Virat Kohli in his last address before the final Test.
"The reason for our success as a team is we haven't cribbed about any pitches we've played on," came his follow-up. "We will continue to play like that as a team."
Of course, none of that is strictly true. Naturally, people are going to talk about two of the three basic facets involved in any game of cricket. Then there's the matter of Kohli's own words after the first Test in Chennai, which England won by 227 runs to take a 1-0 lead. The India captain lamented a "very flat and slow" deck, before rounding on the SG. "The quality of the ball, too, was not something we were very pleased to see". Two wins later and he's, understandably, whistling a different tune.
There's a more serious point to all this, albeit one that shouldn't be taken too seriously itself. Of a phoney war built on the shoddy foundations of outside noise, trojan-horsed into press conferences to stoke the fires in a series that has been amenable to controversy in the past.
READ MORE: England will learn from turmoil of India series on and off the pitch, says batsman Zak Crawley
It's certainly worked, distracting from Thursday's finale with a spate of "he said, she said" questions to Kohli. Lest we forget, a win to confirm the series will take them through to the inaugural World Test Championship Final. Similarly, Joe Root, on the eve of turning around two defeats for a 2-2 scoreline that will represent a fine winter's work, had to reiterate that no one on tour had bemoaned the pitches beyond their inability to combat them.
"At no point have we moaned about the pitches," said England's captain. "We've tried to get on with it, we've tried to find ways of being better on the pitches that are in front of us. That's exactly what we'll try and do again this week: make sure we try and outplay India on whatever it is that is put in front of us."
What we do know - what matters most - is England have one chance to emerge from this tour without defeat. The mistakes of the seam-heavy XI put out in Ahmedabad last week won't be made again this week. Dom Bess is likely to feature, while the role of designated 90mph quick is up for grabs with Jofra Archer set to miss out. Olly Stone is the one primed to take that spot after his impressive showing in the second Test, ahead of Mark Wood.
READ MORE: 'Bizarre batting': Virat Kohli angrily dismisses 'noise' over Indian pitches
The return of Bess after two matches out is one that has required more tact than a few big opinions. After 17 wickets across two matches against Sri Lanka and the first here in Chennai, the 23-year-old was dropped for Moeen Ali and then an extra seamer. And when it emerged Moeen was asked to stay on instead of taking his prescribed rest after the second Test, the picture painted was unflattering: that Bess, for all his worth shown this year, could not be trusted at the crunch.
It is a sentiment dismissed by the England camp, arguing rest and work in the nets were necessary to lift the Yorkshire spinner. Backing up their point has been Bess's words on Wednesday. After the initial snub, he has emerged refreshed, largely unscathed and with a hunger to show coaches, captain and selectors that they made a dud call, in the best way possible.
"It was certainly a tough pill to swallow," Bess said about missing second Test. "I didn't see it round the corner. Personally, I didn't think I needed a break. But as time went on, it was probably the best option.
"I do think a lot about the game. I'm always trying to get better, whether thinking about the game or doing it physically. The hardest part for me was getting away from it. I guess the management sort of did it for me. It has freshened me up. I've thought about things and then had time to work on them. I look back over the period now and think it's actually been a real success heading into this last game. I was happy with that break."
Root has been particularly encouraged. Even while keeping selection close to the chest, he was encouraged by Bess's progress, which continued into Wednesday. "He's used that time to work on his game and become a better player for it. So, I think that's exactly what you want from your players. You want them to go away and try and improve themselves. He's certainly done that."
READ MORE: Joe Root issues rare rallying cry and calls on England to be 'brave' in final Test against India
In many ways, Bess had the best of it. Out of the firing line for two chastening defeats and with a fortnight to work on his short-comings. Even the extra three days of preparation for the XI that gave up the third Test in two days was no time for technical changes.
Indeed, the only bit of practical advice Root has urged after a match where 12 of the 30 dismissals on both sides came leg before was simple. "It's important to play with our bat, not our front pad," he said with a wry smile. The real difference, he believes, is in the mind.
"If you're doubting yourself you're not giving yourself the best chance. There are some very talented players who I'm sure will be really relishing this challenge and will want to come out of this series with a big score.
"It's about playing what is right in front of us and managing the risk for periods of time. I'd hate for us to sit in a bunker the whole time and fend our way through it."
READ MORE: 'The hardest craft': The perception and curse of being an England spinner
Here we go, then. Into the last Test of this subcontinental tour. India on the precipice of a remarkable 13 consecutive series wins at home. England with the prospect of preventing that for the first time since 2012.
It has been easy to forget a lot of the entertainment we have been privy to these last few weeks. This final showdown should hopefully serve as a reminder for that. An underlining of what ultimately counts. Bat, ball, pitch and the rest.
Join our new commenting forum
Join thought-provoking conversations, follow other Independent readers and see their replies