Celebrating James Anderson, England's enduring inspiration
Fresh from writing another page in his remarkable story, Vithushan Ehantharajah reflects on a bowler whose unrivalled skills remain undimmed
Tuesday 25 August 2020 18:20 Comments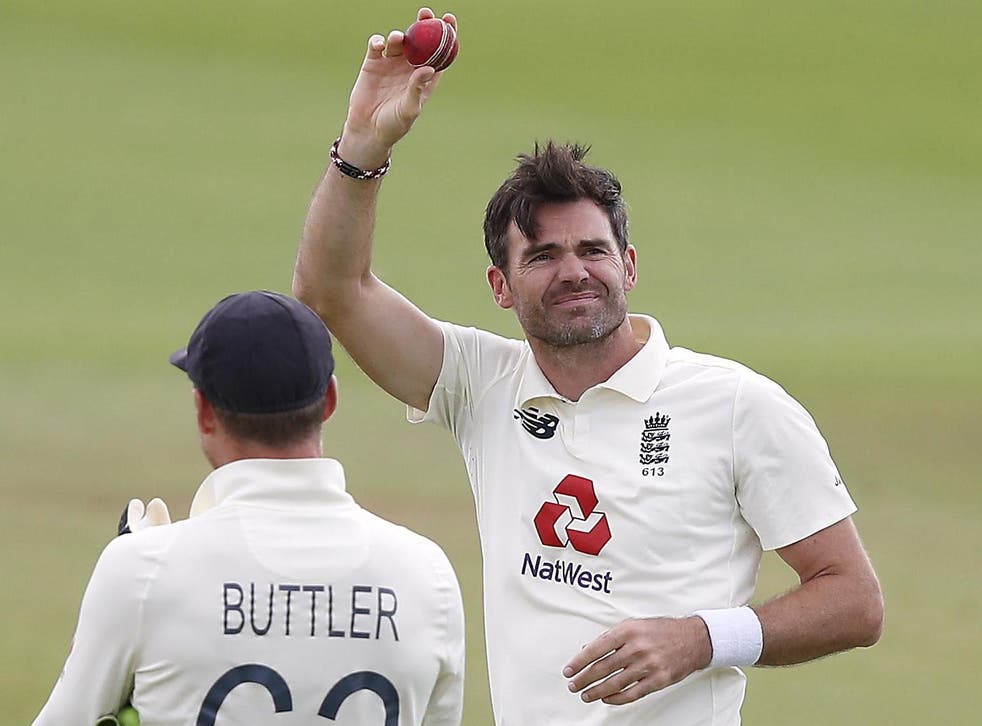 Michael Anderson did not want to jinx it.
When Stuart Broad reached 500 Test wickets during the West Indies series, Sky showed the 34-year old a video of his friends, family, current and former teammates congratulating him on the achievement. Broad, usually so level, was moved to tears.
Sky began work on another, and contacted Michael around a month ago to see if he would contribute towards a set-piece for his son ahead of his impending 600th. At the time, James was on 589 heading into three Tests against Pakistan. Dukes ball in hand and in home conditions - where his wickets since the start of 2017 have come at an average of 17 – 11 further victims across a possible six innings seemed inevitable.
Michael, though, initially declined. He did not want to be the one to put the mozz on. Or, rather, he could not deal with the idea that it might be him who tilted the cricketing universe against his son. Even though this is a universe his son has been controlling for the last decade.
One can only imagine how nervous Michael must have been over the last three days. James moved to 598 late on Sunday evening, reached 599 on Monday afternoon and his old man would have tuned back in on Tuesday to see storms wash out any play for the first two of the final three sessions of 2020.
But, at 4:36pm, when Azhar Ali was pushed onto the back foot and forced into a skewed drive that nestled into the hands of Joe Root at a wide first slip, James Anderson had become the first seamer to reach 600 Test wickets. Michael, just as proud on 599 – just as proud on 0 those 17 years ago, at Lord's against Zimbabwe – could now relax.
It is easy for the rest of us to wonder why there was any worry, even as the third Test moved into the dregs of a draw, Pakistan following on but never really in danger of losing with weather taking so much time out of the game. Anderson's skills have not been dulled by age and he remains England's most potent weapon.
In terms of matches, none of Anderson's centuries have come quicker than this one. The first (0 to 100) took the longest; 54 innings. The second and third both came up over 48, while the fourth and fifth required 49. But 501 to 600 took just 28, and this hundred's average (22.6) is only bettered by the 21 for the previous one.
Longevity has been a factor, but it is far from a caveat. Quicks are not meant to play 156 Tests, never mind that Anderson is now just five away from his best mate, Alastair Cook, who played 161.
What of Anderson, JM, then? Was he worried? Not when he walked off just after 7pm on Sunday, 598 in the bank, dark new Dukes already picked from the box that, 61.2 overs in, would multiply in value.
But he has been worried over the last few months, and certainly over the last year. Not of 600, but simply of how much more he could give, even if the answer he continually offered up was that he did not want to stop giving.
It is worth noting the run of 28 matches to get from 500 to 600 started back in 2017, and the two wickets to get him over the line were his first two taken in a second innings this summer.
In the last year, he suffered a calf injury kept him out all bar the opening first half an hour of the 2019 Ashes, and then a rib fracture at the start of the year in South Africa. Lockdown helped him rest, recover and rejuvenate his body to such an extent that he has registered average speeds quicker than the previous five summers.
Yet between the first and second Test of this Pakistan series, he admitted to some mental anguish. One for 97 from 29 overs led to idle chat among the broadcast media about impending retirement. England and Anderson caught wind of this, nipping retirement talk in the bud with a scheduled media appearance on the Monday after the first Test was completed.
"I want to remember why I play the game, enjoy doing what I do and play as long as I can," he said, quelling talk of the end but also giving us a glimpse behind the curtain.
Having admitted the need to rediscover his love, Anderson entered that week with a renewed sense of focus. He trained even harder and, like his father, decided to expunge thoughts of form and 600 from his mind. As part of that, he requested that the recording of that week's episode of Tailenders – his hugely popular podcast with BBC Radio 1 presenter Greg James and musician Felix White – be postponed.
The extra focus paid off, taking 10 wickets since include a 29th five-wicket haul. The relief on his face and the joy of his teammates at 600 filled the vacant air with the soul that this summer has been desperately missing. It all felt worth it.
Unlike other milestones, though, something about this is tinged with finality. Perhaps it is because 700 is almost unthinkable, a stage occupied exclusively by two geniuses of spin bowling. It is no place for someone who runs, even if he made it to the 600 mark with just six more deliveries than the great Murali.
But there is also a degree of, well, that sense life continues to happen, whether you want it to or not. Anderson is 38, at an age when many of his childhood friends, those he grew up with at Burnley Cricket Club, have given up the game citing golf, family and life-after-sport, which may encompass the first two but is as much about age as it is about time. Even the England dressing room he occupies has never been younger.
We all have our sacrifices, and some sacrifice more than most. And perhaps one of the elements to Anderson's career we will never understand is that retirement is more than just "not playing". It is putting a sizeable chunk of your life away in storage and watching as it slowly dulls amid the dust. He will leave part of himself behind when this chapter is closed.
Not the best part, it should be added, for that is something most of us will never know of a private, family man whose generosity to his love ones knows no bounds. But certainly the part of him that has brought joy to so many England fans and carried the craft of seam and swing bowling forward.
Again, this is no eulogy. He is, at the time of writing, still going. For how long for will very much be on his terms. The Ashes at the end of 2021 are the sirens calling him, and going there as a bowling mentor – England do not currently have a bowling coach – is an idea with plenty going for it.
But this is also a moment to look back on the past: the sacrifice of a father and mother and the part of them, and him, that has enjoyed this glorious moment.
From the kid who loved to play on the sides as his dad did the serious stuff in the middle, to the 15-year-old who would go on to be anointed "the Pro Killer" by his Burnley teammates for a knack of ripping out another 1st XI's overseas superstar. "Jimmy's starting to bowl thunderbolts" was the message from those around the club that would eventually make its way to those at Lancashire and eventually England.
The advice on each of those steps up was, simply, "bowl as fast as you can" but the complications were very much England's own. It's well-worn now, but it bears repeating that an action so smooth was once deemed detrimental. The intentions were good, but the ECB intervened unnecessarily.
But he did not just revert to the usual when, amid remodelling his action, he picked up a stress fracture in his back in 2006. He used it as a chance to understand what swing and seam really were – with the help of his mentor Mike Watkinson – and what they could mean to him. Thus, he would end up learning what it takes to reverse the ball – which removed Abid Ali LBW for 599 – and the manipulation of length that brought 600. Facets, along with the wobble seam, that he took to new heights as part of his on-going evolution.
One final aspect to consider is that though there were no fans here to witness history in the flesh, Anderson's is a career that has inspired everyone. He became an international cricketer back in 2003; he was 12th man during the 2005 Ashes. Kids emulate him now just as their fathers did then.
An intergenerational talent by appeal and accomplishment, 600, like the previous hundreds, 384, and 564 is another signpost to greatness. And a chance for a father and son to rest a little easier.
Register for free to continue reading
Registration is a free and easy way to support our truly independent journalism
By registering, you will also enjoy limited access to Premium articles, exclusive newsletters, commenting, and virtual events with our leading journalists
Already have an account? sign in
Join our new commenting forum
Join thought-provoking conversations, follow other Independent readers and see their replies