As it happened
ended
1637075393
Tearful Azeem Rafiq tells MPs of 'pain' at 'constant use of word P***' - as it happened
Follow updates live
Thomas Kingsley
,
Matt Mathers
Tuesday 16 November 2021 15:09 Comments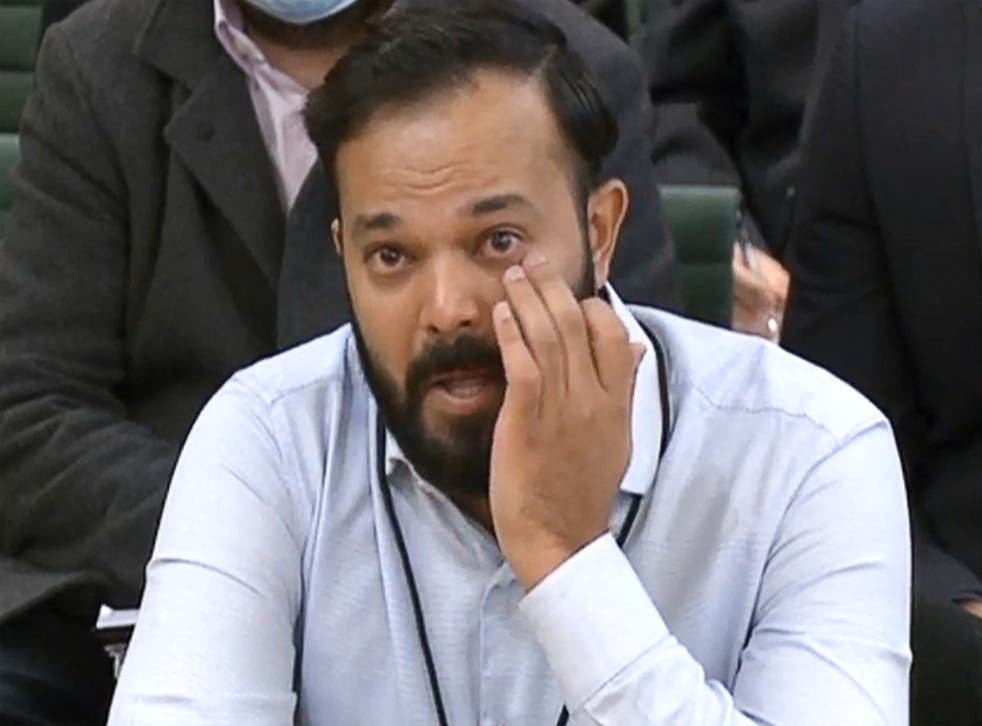 Azeem Rafiq opened his account of experiencing constant racism at Yorkshire County Cricket Club by telling a DCMS committee that he was regularly referred to as a "P***" and detailing several specific instances where he had suffered indignity and "humiliation" at the hands of those at the club.
Yorkshire has been widely criticised over the racism scandal, which saw chairman Roger Hutton resign earlier in November and several directors later follow suit.
Rafiq told the DCMS he was treated in an "inhuman" manner following the stillbirth of his son. He also recounted an instance of wine forced down his throat by a Yorkshire player when he was only 15-years-old even though he was Muslim.
Tom Harrison, chief executive of the England and Wales Cricket Board (ECB), and its chair Barry O'Brien are currently appearing before the committee as they answer questions surrounding their part in the scandal.
1637055635
Welcome
Good morning and welcome to The Independent's coverage of Department for Digital, Culture, Media and Sport's hearing following allegations of racism in Yorkshire County Cricket Club
Thomas Kingsley
16 November 2021 09:40
1637055814
A timeline of Yorkshire's racism crisis
The PA news agency provides a timeline of developments in the Yorkshire racism crisis so far going as far back as September last year.
Rafiq is set to give evidence to a committee of MPs on Tuesday.
Thomas Kingsley
16 November 2021 09:43
1637055955
'You lot sit over there near the toilets' Rafiq begins to give evidence
Beginning his evidence, Rafiq explains what went wrong at Yorkshire cricket club.
He said: "From early on there was a lot of 'You lot sit over there near the toilets', the word Paki was used constantly, no one ever stamped it out. All I wanted to do was play cricket.
"Towards the end of my first spell but constantly throughout I knew there was something wrong. I started taking medication for my mental health. It was really tough."
Thomas Kingsley
16 November 2021 09:45
1637056185
'He's not a Sheikh, he hasn't got oil' Rafiq recounts constant racist jibes
Rafiq continues on his second spell with the club which ended in 2018: "Andrew Gale came in as coach, Gary Ballance as captain, and the temperature changed. I felt isolated. Ballance came over and said: "Why are you talking to him, he's not a Sheikh, he hasn't got oil."
"Everyone saw it. No one did anything about it.
He says his treatment by the club was "inhuman" during a difficult pregnancy he went through before pausing and was visibly upset.
Thomas Kingsley
16 November 2021 09:49
1637056571
Rafiq recounts harassment over calls to prayer as a Muslim
"My first instance of drinking I was pinned down at my local cricket club I was 15," Rafiq who is a Muslim told the committee when questioned about harassment suffered for answering the call to prayer.
"It was literally down my throat. The player played for Yorkshire, it was quite an experience. I didn't touch alcohol until around 2012 and around that time I felt like I had to do that to fit in and I regret that massively," he added.
Rafiq added that he didn't experience harassment over calls to prayer but if a Muslim player was fasting and made mistakes they would be blamed by coaches at Yorkshire "as opposed to understanding."
Thomas Kingsley
16 November 2021 09:56
1637056810
Rafiq says Yorkshire players, media, the club, commentators joined in calling former player Cheteshwar Pujara "Steve" while at the club.
"Kevin" was something Gary Ballance used to describe anyone of colour, Rafiq said. This was widely known, he adds. He says Ballance went on to name his dog "Kevin", because the dog was black.
Thomas Kingsley
16 November 2021 10:00
1637057159
Rafiq refused a confidentiality form and sum of money before leaving the club
"At the time when I left I had four to five months left on my contact, I was encouraged to sign a confidentiality form and take a sum of money which I refused which at that time would have been a lot of money for me... I knew my wife was struggling," Rafiq told the committee.
He added: "There was no way mentally I could have considered putting myself through this trauma. I left the country and went to Pakistan...I never wanted to come back," Rafiq said through tears.
Thomas Kingsley
16 November 2021 10:05
1637057375
Hearing adjourned as Rafiq holds back tears
"The pain I went through the last few months I know no one can ever put me through again," Rafiq said through tears when asked how he found the strength to come forward with his allegations.
The hearing was adjourned.
Thomas Kingsley
16 November 2021 10:09
1637057845
'The ECB has to take responsibility' Rafiq says
When asked by Damien Green MP the ECB if racism in cricket is institutional, Rafiq replied "Yes I do."
"I know off the record I have had enough people speak about experiences up and down the country, it's not just Yorkshire. The ECB has to take responsibility."
Thomas Kingsley
16 November 2021 10:17
1637058113
Counties 'never wanted to deal' with problem of representation at cricket clubs, Rafiq says
Azeem Rafiq said counties including the ECB have never wanted to deal with issues of representation in cricket when asked by Damien Green about racism.
"They have enough evidence there to deal with that problem. Is it that they don't want representation from the South Asian community?" Rafiq said.
Thomas Kingsley
16 November 2021 10:21
Register for free to continue reading
Registration is a free and easy way to support our truly independent journalism
By registering, you will also enjoy limited access to Premium articles, exclusive newsletters, commenting, and virtual events with our leading journalists
Already have an account? sign in
Register for free to continue reading
Registration is a free and easy way to support our truly independent journalism
By registering, you will also enjoy limited access to Premium articles, exclusive newsletters, commenting, and virtual events with our leading journalists
Already have an account? sign in
Join our new commenting forum
Join thought-provoking conversations, follow other Independent readers and see their replies