The Independent's journalism is supported by our readers. When you purchase through links on our site, we may earn commission.
'How are we not all dead?' Geraint Thomas, Mark Cavendish and more reveal what it's really like to ride the Tour de France
Reigning champion Geraint Thomas, sprinting great Mark Cavendish and Swiss legend Fabian Cancellara are among several riders who tell The Independent the bare realities of the Tour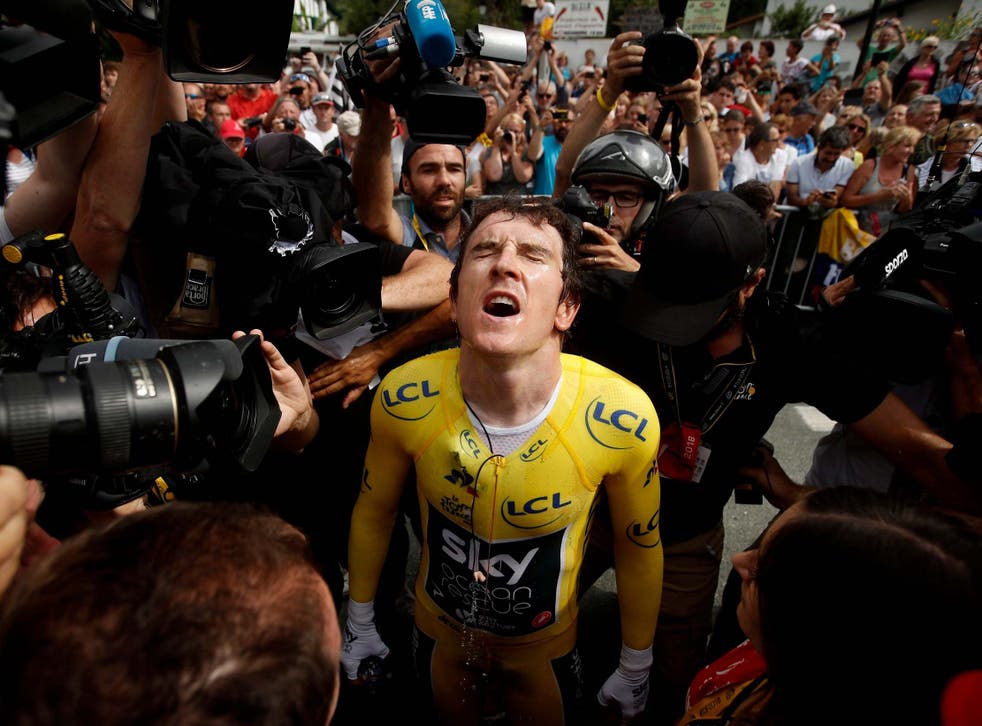 The founder of the Tour de France in 1903, Henri Desgrange, was a maniac. To Desgrange, the perfect bike race would be so gruelling that it had only one survivor. He came up with the voiture balai – broom wagon – to sweep up flagging riders and designed myriad petty rules to make the Tour almost impossible to complete.
Things reached a sadistic peak in 1926 with the longest ever route dubbed 'the Tour of suffering', when an eager French debutant called Marcel Bidot was forced to half-cycle half-scamper for miles when one of his pedals broke, before eventually being permitted to borrow a spectator's bike. He wasn't allowed to fix a broken gear in the Pyrenees or use tools to repair a puncture in the Alps, but still made it to Paris and finished 10th. "Bidot has a sluggish mentality, he has no drive, he's lazy and doesn't have much of a head," Desgrange concluded. "But he's strong, fit, he climbs and descends well, and he doesn't stop at water fountains. A man who can ride his first Tour like that suggests he has courage."
Desgrange was clearly a hard man to please and you suspect he would not be particularly impressed by this year's race, which begins on Saturday in Brussels, given that the use of changeable gears on a mountain was too much assistance in his eyes. Yet the ideas of that mildly unhinged Parisian remain key to the Tour's enduring fascination.
One of the most intriguing aspects of grand tour racing, which Desgrange effectively invented, is the sheer variety of physique and personality on the start line. A skinny, mellow climber like Geraint Thomas could be beside a squat ball of muscle and edgy energy like Mark Cavendish, who might be next to a rangy, composed one-day specialist like Fabian Cancellara. Every year so many riders take on the same route, yet each ends up riding an entirely different race from the rest.
More than a century later, the race remains a unique experience which binds all those who've been swept along in its current. So what better way to understand exactly how that feels than to ask those who've ridden elbow to hip together for three weeks, who've climbed through raucous crowds into the Alpine clouds and back down the other side, who've kept riding through aching lungs and screaming limbs. This is what it's really like to ride the Tour de France:
Tour de France 2018: The story of the race

Show all 84
The experience
Mark Cavendish
Cavendish, 34, made his Tour debut in 2008 where he won the first four of his 30 stage victories, the second most in history. He is considered one of the greatest sprinters of all time.
The Tour de France is not cycling. It's a different sport. It's the only race of the year where you've got 180 of the best bike riders in the world all at their peak condition, and with the consequence of winning and losing so much bigger than cycling. The Tour de France transcends cycling, with the sponsors, the riders, the fans. It's bigger than a bike race.
George Bennett
The 29-year-old Kiwi made his debut in 2016 and was chasing a top-10 finish in 2017 before retiring with illness. This year will be his third Tour.
It's the magnitude of it. You don't realise until you do it, and then you realise 'holy shit, this is insane'. People used to ask 'What do you do?' and I'd say: 'Cyclist', and they'd say: 'How do you get paid for that? Do you ride the Tour de France?' And I could never say I did. Then, when you ride the Tour de France you realise that's all they ever watch. In New Zealand, they only watch the Tour. I realised the amount of Kiwis who were staying up all night, it's 10 hours difference and you realise this reaches everybody. The Tour of Catalunya, for example, is a great race, and if you win that you're an amazing cyclist, but no one's stayed up all night to watch the Tour of Catalunya. When you do the Tour you realise there can be a 200km road and you won't see anything but people, lined up dead for 200km. So the magnitude of it heightens all the emotions. When you're doing well you're really buzzing, and when I had to step off the bike [through illness in 2017 while in the top 10] it was one of the worst moments of my career. Commercials always hype up cycling, but actually a lot of the time it's just a bike race. But the Tour, it kind of is like that, it is as dramatic as people say. Even for us who are used to it, it's still just different, a different feeling. Normally you don't chop your friends in the bunch, but in the Tour you just look after No 1.
Toms Skujins
Skujins, 28, is the Latvian national road race champion and rode his first Tour de France last year, finishing 82nd.
One of the surprising things for me was just how big it is. I didn't grow up with cycling. I'm from Latvia and the main sport you follow is ice hockey, so as a kid I didn't watch the Tour de France every single summer. Before the Tour I'd done a lot of big bike races but when the team announced that I was gonna be one of the eight guys going to the Tour, the amount of messages I got was overwhelming and the amount of people that reached out was kind of crazy. From then on I just started to realise how big it is. Especially the first days last year when I started in Bretagne, it was crazy, there was not 500m of straight road that there was nobody. That just shows how different it is and it continued for three weeks.
The responsibility
Geraint Thomas
Thomas, 34, made his Tour de France debut in 2007 where he finished 140th of 141 riders. He is the reigning champion.
As a lead rider there's a lot more pressure every single day. You're either staying out of trouble or trying to conserve energy, and then you rely on your domestiques, someone like Luke Rowe. I follow him for most of the day and he does most of the thinking for me. I try and switch off as much as possible. As a leader it's intense. There's a lot of questions, interviews, before just as much as during, whereas when you're a domestique you're a lot more chilled. The pressure isn't quite as much. You've obviously got to do your job but as a leader you've got your whole team relying on you. When I was a rookie I certainly didn't experience the climbs in the front. Last year and a couple of times before that it was the atmosphere, the people in the road parting for you and getting very close at times, you feel the passion and how excited they all are. It's still a good atmosphere back in the grupetto but it's definitely different.
Daryl Impey
The 34-year-old South African has ridden six Tours and wore the yellow jersey for two days in 2013. He is considered a super-domestique.
To be a leader at the Tour de France is huge pressure. Pressure from the rider and pressure from the team, to take that responsibility is a very big task. Coming into your first Tour you don't know what to expect. I remember how constant the noise was from the fans and how close we were racing together every stage. There's no space in the bunch and the roads are constantly lined with fans, and I'll never forget arriving in Paris for the first time. The roar! It still gives me goosebumps.
Toms Skujins
[At first] I gave too much respect to the guys in the game a long time, like if they attack I felt I was not allowed to follow even if I could. Automatically I thought that I'm not good enough. You've raced them before and you know that they're just mortals, even if sometimes they don't seem like mortals.
The concentration
Mark Cavendish
There's no time to take in the scenery – that's when accidents happen. Your elbows are pretty much against another rider the whole way. You see it on TV when a bunch are squashed up, it looks easy, but that's when it's hardest because you're fighting to the front. It's more mentally draining that it is physically. That's where you get the most fatigue in the first week of the Tour de France, from mental fatigue. Riding with your left elbow touching the hip of one guy, your right elbow touching the hip of another guy, at 50kph – you can't relate it to anything just how fatiguing it is mentally. Every single pedal rev affects you. Ideally, if the team's done a good job then the sprinter shouldn't even know where he is on the circuit, because he hasn't even seen the road. He should have only seen the wheel and a teammate's ass the entire way.
George Bennett
Some guys don't switch off, but I know that I can't operate like that for five hours every day. For a one-day race I'm pretty much on from the start, but in the Tour I take my moments when I can, like if there's a sprint stage. One day that's going to bite me on the ass, I know it, it already has once or twice, but for me it's better than just wasting energy left, right and centre. That means sitting at the back or taking time to talk to your friends in the peloton, all that kind of stuff, whereas I notice that Sky [Team Ineos], for example, they are straight away at the front, line up from one to eight, wheel to wheel, and they don't move. Maybe some of them find it easier, they don't have to think. They just follow, robotic, hypnotic. There's times when it's absolutely nuts and you're like 'how are we not all dead?' as you're coming into the bottom of a climb or something, but if we're just cruising along in the bunch with the race under control, it looks like we're riding really close to each other but it's so easy, it's automatic for us, it takes no concentration. The thing especially in the Tour that's so tiring is the crowds, the atmosphere, getting geed up for 21 days in a row. Sometimes you have flat days and if one of those flat days falls on a key stage, then you're in for a long day.
The hurt
Simon Yates
Yates, 26, made his debut in 2014 and finished seventh in 2017, winning the best young rider's white jersey. In 2018 he won the Vuelta a Espana.
I feel that every day, every stage is extremely brutal. We ride almost 200km every day for three weeks. Every day is extremely exhausting – physically and mentally – but you get used to that sort of feeling. It's very hard to describe.Three weeks is not really a long time in the grand scheme of things but when you're in a race it really drags on. This is why we do all the training, so it's less painful, to arrive in really good condition to try and avoid those moments and those bad feelings. I take on the steep climbs the same way in the first week and the last week. There's no way around it, I can't take a shortcut to the top. You have to go up the climb. I enjoy racing on the climbs, that's where my strengths are, so I actually look forward to those days. Pain is what you expect, especially in Grand Tours. It's a very difficult sport, very demanding, that's just how it is.
Fabian Cancellara
The 38-year-old former world and Olympic champion retired three years ago having collected eight Tour de France stage wins and worn the yellow jersey for 29 days. He is a Gore Wear ambassador.
On the Tour if you don't want to suffer, you don't need to suffer. You just go into the gruppeto and you ride the climbs at your pace. I was never stressed. I was always calm. I liked the Pyrenees because they are shorter, the Alps are long. The Alpe d'Huez stage especially, it always goes up and up. The more you have to work, the harder the stage, the much harder it was to survive. For sure the Alps – because they are quite close to Switzerland – to me they are my mountains, but the Pyrenees is another pace, it's a different flavour to ride up those climbs.
Daryl Impey
You just pray your bad day is going to be on an easy stage. Everyone has at least one. If it's on the wrong day, like an uphill start, then you have to ride to your limit, but going too deep and getting dropped can easily be your death sentence and result in you losing the grupetto and not making the time cut. It's a horrible situation to be in but it's important not to panic. Crashing is the worst. A big crash can have you limping through the Tour. Sometimes you need a teammate to lend a hand to help you through for a couple of days. Any day you're on your limit and need to hang on to make a time cut is probably the worst pain you can experience as you know you can't let go.
Toms Skujins
There were a couple of days where I was definitely not in my happy place. Both days after the rest day I was really suffering. Every day there's stage win up for grabs, or maybe a GC day, so there's no slowing down. Those days are really, really hard both mentally and physically just because you start out and you know how long it is still to go. I try and get through just a kilometre at a time. I'm counting down every 500m from the top, thinking to myself I've got this far, I can get through the next 500 that's for sure – after that I don't know, but let's get through the next 500. I really try and focus on my breathing and nothing else and just look at the metres counting down – I try not to but I usually can't help myself and it's like 'Oh man, I've only done 100m more'. On a good day the pain is only in the legs, but then there are some bad days when your back starts to ache, your diaphragm gets tight and then it's not good pain. At any point you can stop the pain just by getting off the bike, but you don't because you've gotta get through. You can always go easier and the pain will go away so you're kind of making yourself suffer one way or another, but when you're making yourself suffer and you see other people suffering more, it kind of gives you pleasure. It's kind of evil, but it's true. The three weeks take a toll, but also just because the stakes are so high. In a smaller race you might be like 'Oh it's just another bike race, I do 80 of these a year, it doesn't matter'. But there's only one Tour. So you try and suffer as much as you can, you try and push through as much as you can, and that's why at the end of the Tour the suffering goes higher and higher.
Mark Cavendish
It's not pain, it's suffering. If I hit you, that's pain. If I bite down on your fingernails, it's a different thing. It's something you can never really emulate on yourself because it's down to you what you put yourself through in training, whereas at the Tour de France there's always someone that's stronger, or a team that's stronger, so you're dictated to as to how deep you've gotta go. Especially for a sprinter, with my body type. Some of the guys in the top 10 probably haven't suffered as much as the sprinters who've just finished. It's not a case being lazy, it's a physiological thing. For me as a sprinter, our body uses our glycogen stores first. Once that's gone, well everybody who runs knows words like 'hit the wall' or 'bonking' – we're more likely to do that. If it starts on a climb then we have to use our glycogen stores to get over. It's just suffering. The pain's everywhere, you just feel... weak. There's not anything specific that hurts, you're just weak and you might wanna go harder but you can't. I remember Mark Renshaw crying once. It wasn't crying like he was sad, it was a reaction. Whereas I get angry. I start shouting. There are people close to me trying to help me and I just tell them to fuck off. I end up just staring down at the ground.
George Bennett
Part of cycling is if you're hurting really early on, you're not in the race. Before you feel really shit and before you really hurt, you have this awesome feeling. You see guys suffering and you're not suffering. You're hurting, you have pain – like imagine someone running a marathon and they're halfway through – they're hurting, but they're pacing. You're hurting and you're not comfortable, but if you're on a good day you feel awesome. The pain feels good, it's a good pain. And then as you approach the final week, like when I was riding the GC on the Tour and everyday, it was eight guys left in the race, we would end up without fail the same eight guys every day. I knew I was the worst of those guys, so the worst of the best. Before I got sick and pulled out, it became a really bad, bad pain. Legs, lungs are involved as well, and for me I get an extra pain that no one else has that sucks: side stitch. I get it every time I go really hard, and for me that's the worst pain. It's the most intense pain of all, like getting stabbed. So for me when you're really going on that final climb or penultimate climb, when the heat really goes on, and the selection's being made, you feel like a kind of sicky, breathing pain, when the stitch comes on it's the stabbing, and then you have the kind of intense leg pain, and then if you haven't been eating enough, you get something called the knock. You get this complete cold sweat – almost euphoric – a really nauseous feeling and you're completely empty. If you get the knock, you're done.
Fabian Cancellara
The pain is everywhere. It starts in the mind, and from the mind it goes to the legs. It's just classic pain, through the pedals. On a hard day you need to get the boys together to get through that. If you're the first one dropped it doesn't mean you'll end by yourself. If the stage is longer then the more help you can find on the road, because you're not alone. But you have to push the pedals by yourself. If you're too fatigued [to continue], you were not ready for the Tour.
The glory
Daryl Impey
One result can change everything. When I wore the yellow jersey, mentally I was in such a good space that even suffering felt fun. The pressure is less. The lows are tough but every stage is another opportunity. It's never great when things don't go well, but it's the Tour and results are tough to get.
Toms Skujins
There were a couple of days I'm proud of and a couple of days I really remember how fricking hard that was. In my first Tour I got to wear the climber's jersey, one of my highlights for sure. Five days in it, and I got a fancy bike with some polka dots on it, which would probably not happen in any other race. Every time I'm introduced in a race they mention I had the polka dots. It's an odd feeling. People suddenly pointed me out in the peloton. I'm not Chris Froome so people don't know who I am. So people are like 'Oh that's that guy, that's the Latvian guy that's wearing the polka dots, I can't pronounce his last name but I know who he is'. That's definitely a little bit odd and I don't know how to get around that.
Geraint Thomas
Winning on Alpe d'Huez was an incredible feeling. Obviously I wanted to win it but I was just thinking of trying to defend the jersey and trying to ride the stage as best I can up to 3k to go. I never really thought beyond that. To win on such an iconic climb, I'd watched people winning up there from when I first started watching cycling basically, so to win on that climb in the Tour was an amazing feeling and doing it in yellow was just the icing on the cake. It doesn't get any better than that. It's probably the most iconic stage you can win in the Tour. Obviously there's a lot of other big climbs, Ventoux, Tourmalet, and obviously the Champs-Elysees at the end. Different people would choose different ones but it's certainly in the top three. That was just an unbelievable feeling, and to have a hairpin named after me – even though they got my name spelt wrong in the sign – will be something I can show my kids one day when we go skiing or whatever. An amazing feeling, and one of the best days I've ever had on a bike.
The routine
Fabian Cancellara
The Tour is military. It's like finding a daily rhythm of the body, and then you are in this mood to continue and you go along with that. Personally, I was sleeping as long as possible, going late to breakfast, going directly in the bus after breakfast, and then being relaxed and quiet to do the job and deal with the stage. Then it was finishing, recovering, sleeping, massage, having a good meal, have some time on the phone with family. Nothing crazy special, it's all about not getting more stressed from the stress you have anyway.
George Bennett
You almost start to rely on it. The morning's quite hectic: get up, breakfast, get on the bus. At the end of the race you get given two drinks bottles, one with sugar, one with protein and carbon recovery, you ride to your bus and sit there with your head in your hands for a minute, figure out if it was a good day or a bad day or whatever, and then you have a shower, eat some food, I go to my little spot, I have the same seat, and then I generally just bang on some music and chill out for a bit. And if something really bad happened in the race, like we were fighting between ourselves, we sometimes have an emergency meeting, but that's very rare, once or twice or year. Then you get in, eat again, shower, the bus ride's nice, you get to the hotel and it's a bit hectic again: massage, osteopath, all that kind of stuff. Then you have dinner, and then you get the golden hour, one hour before you go to sleep. You just chill. For me I just read, listen to podcasts.
Geraint Thomas
The hotels are distinctly average. Less than average, some of them. Some of them don't have air-con and if there's two of you sharing a room you can't both open your suitcases at the same time, real small rooms. From the outside you'd always assume it's the Tour, it's the biggest thing in cycling, so it's gonna be nice five star hotels but that's definitely not the case. But fortunately now if they don't have air-con we have our little portable air-con units – when they work. We have a kitchen truck as well, so we've got somewhere nice to eat and having a chef obviously makes a huge difference. Back in Barloworld we didn't have a chef or anything like that so it's certainly moved on since those days.
Mark Cavendish
If you get downtime in the Tour, you sleep. You get on the bus, you sleep on the way to the hotel. You get to the hotel, you get your message, you get your dinner, you go to sleep. If you're not doing media or riding your bike, you sleep. I wouldn't say I enjoy it. I don't hate it, it is what it is. It's my job.
The camaraderie
Toms Skujins
I definitely share the suffering with my teammates, and my enemies, or the enemies I like at least – my frenemies. It is a little bit bizarre, but you find this a lot where you have 60k to go and all you've got to do is make it to the finish to start the next day, and usually, OK maybe there's one or two of your teammates around but there's more of those frenemies around than anything else. You kind of have this alliance, to make it to the finish, you share the pain, all of you are in the same category where you were not good enough to follow the first guys, so it creates this bond. It depends on the suffering, but most days you can talk. For me the suffering is eased with a little bit of joking around. You try and take away the pain and distract yourself in any way you can. Usually you get stuck with the same guys but the Tour is bigger and it wasn't really like that.
Mark Cavendish
It's usually all right. I've been with the same guys for my whole career, pretty much, I've spent more time with them than my wife. It's like anything in life, there are different personalities everywhere. Some teams pick riders based on personalities as well as ability, and I think that works well. I think the best teams aren't necessarily the strongest teams, but the ones who work the best as a team. The best teams I've been involved with, we're friends, we're not just teammates.
The aftermath
Toms Skujins​
Coming into Paris, finishing the Tour, I did not expect to be so overwhelmed at the end. Just finishing feels so accomplished. My eyes got watery and I cried. So it got to my emotions, that's for sure. That's three weeks of fatigue! But obviously it was the achievement, looking back at all the experience, and also John [Degenkolb] came second on the final stage, he was so close and I really wanted him to do it, so the accumulation of all those things definitely got my emotions going. But at the end I was definitely ready for another challenge, to come back next year.
Daryl Impey​
Normally I say I don't mind missing the Tour next year, but then it comes around and I really want to be there. It takes me a few days at home to adjust, you've been so well looked after and had to do nothing but ride your bike. But still, there's no place like home and reaching Paris means I get to be back home soon and be with the family which is a huge bonus in itself.
Mark Cavendish
It's a running joke that you go home and you don't just throw your laundry out your bedroom door. You've gotta make your own breakfast! That kind of stuff. You go through such an emotional rollercoaster. I say every time: 'I'm never doing that again.' On the Monday after, I'm never doing that again. Then four days go by and I'm like, 'I can't wait til next July'. It's definitely a buzz. But like anything, the harder you suffer the more rewarding it is when you come out the other end.
George Bennett
I guess it's quite taxing but then you realise when you stop the Tour, you're like 'What do I do now?' I'm so used to the lifestyle where someone tells you where to be, what time to eat breakfast, and then you're suddenly like 'I can do whatever I want, this is crazy'. You always get the post-race blues, a big comedown. You've been going crazy for three weeks and all of a sudden there's no screaming fans, there's no motorbikes. Once you finish you go straight home. People always think that you have a big night out or something, but you're just so rooted that for me what I like to do is sit around with the guys and have a couple of beers, because you've just spent a month of your life with them so I think that's important. It used to be that you flew home the same night, but now we always sit around and have a couple of beers and have a laugh. Sometimes you just want to get out of there, you're sick of the guys. Last year the group was a really cool team, great guys, a good time, we raced well, but I've had it where you're just sick of a person, it happens. But I'm sure they're sick of me too.
The Tour de France takes place between Saturday 6th – Sunday 28th July. The 2019 edition of the race marks the 100th anniversary of the famous yellow jersey. For more information and to enter the official Fantasy League, please visit https://www.letour.fr/en/
Register for free to continue reading
Registration is a free and easy way to support our truly independent journalism
By registering, you will also enjoy limited access to Premium articles, exclusive newsletters, commenting, and virtual events with our leading journalists
Already have an account? sign in
Register for free to continue reading
Registration is a free and easy way to support our truly independent journalism
By registering, you will also enjoy limited access to Premium articles, exclusive newsletters, commenting, and virtual events with our leading journalists
Already have an account? sign in
Join our new commenting forum
Join thought-provoking conversations, follow other Independent readers and see their replies