Israel determined historic Giro d'Italia will not be tarnished by backdrop of contradiction and controversy
The Canadian-Israeli billionaire behind the Giro's highly controversial move to the Middle East tells The Independent why he believes the race can answer its detractors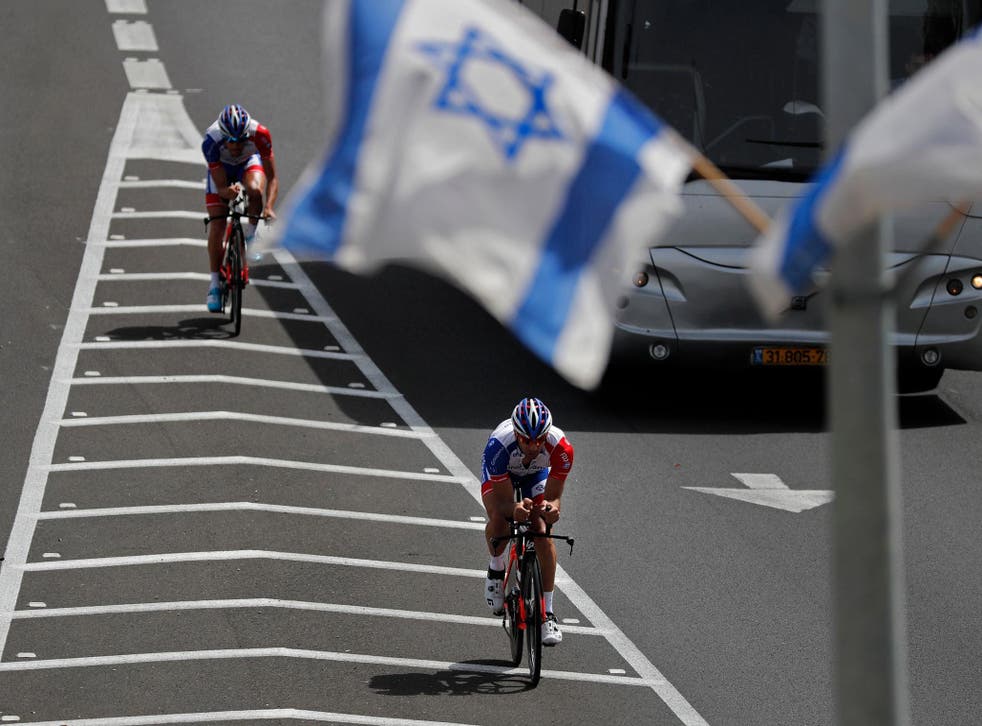 Two years ago, in a swanky restaurant in Tuscany, a Canadian-Israeli billionaire pitched a bold idea to a portly Italian millionaire. Sylvan Adams, a businessman and passionate cyclist, put forward his far-fetched plan over dinner to bring the Giro d'Italia to Israel as the race director Mauro Vegni listened across the table.
"I think Mauro thought I was joking at first," says the exuberant Adams, the day before his vision becomes reality. "I managed to persuade him to visit Israel and he saw that the country is beautiful, that we have very nice roads, that we have a cycling culture, that the country is democratic, free, open, tolerant and safe.
"He began to be a little intrigued with the idea that the Giro can expand its brand to different territories. At the final stage of last year's Giro in Milan we shook hands on a deal, and here we are one year later."
On Friday the century-old bike race will unfurl in the Israeli sunshine for its three-day jaunt, the first time one of cycling's Grand Tours has ventured outside Europe, as it weaves around Jerusalem's ancient walls, through the cosmopolitan Tel Aviv, up the rugged Mediterranean coast line and down through the exposed Negev Desert to the Red Sea.
It is the biggest sporting event in the country's history, according to Amir Halevy, director general for the Israeli ministry of tourism, who says it may never be surpassed. "I can tell you there's no chance we can host the football World Cup so this is as big as it gets," he says. "All over the streets there are a lot of signs, all the fans are ready to welcome the racers. From Friday to Sunday, something like 25 per cent of the people of Israel are going to be at the Giro."
Adams is equally determined to promote the race's merits. Israel is a nation captivated, he says, and he predicts up to a billion people will watch on TV around the world, viewing Israel outside what he calls a "uni-dimensional narrative of conflict, fed by the media".
But in this battle of narratives not everyone is so positive. Several prominent groups have criticised cycling's endorsement of a state accused of appalling human rights abuses in its conflict with Palestine. The Boycott, Divestment and Sanctions movement led accusations of a "sport-washing of Israel's occupation and apartheid", and the UK director of Amnesty International said attention on the race would only serve to highlight Israel's blemished record.
This is the backdrop upon which the 2018 Giro begins: like cycling itself, constantly diverting attention and riddled with contradiction. Vegni is adamant that this is sport separate from politics, yet the route is peppered with powerful cultural, religious and political symbolism. When the world's second most prominent bike race descends on one of the most intensely contested regions on the planet, sport and politics will inevitably intertwine.
Underpinning the move to Israel is not a thirst for controversy but a Giro organiser in RCS Sport which was flattered by Israel's invitation and seduced by the reported €10m the country's government put forward. In RCS's silent game of one-upmanship with ASO, the Tour de France organiser, the Italian company has become the first to take a Grand Tour outside Europe and Vegni now has his sights set on New York; Israel is the proving ground for more adventure.
Threatening to overshadow the race is the ultimate contradiction on two wheels, Chris Froome. The Briton is aiming to complete a historic feat of winning all three Grand Tours in successive races while the threat of a ban continues to loom over him following an adverse analytical sample during his 2017 Veulta a Espana triumph. He insists he wants his case to be resolved as soon as possible, a line which gets harder to believe with each passing month.
Adams, of course, sees the positives. "Having the greatest Grand Tour cyclist in the world competing enhances the prestige of this year's Giro," he insists. "We're very happy to have him here and we will show him very warm Israeli hospitality."
Last year's Giro winner, Tom Dumoulin, says Froome should not be on the start line, something which adds an edge to their rivalry over the next three weeks and serves as a reminder that beyond the controversy, there is an intriguing bike race to be fought for. This could be deemed both the success and the failure of Adams' grand plan; that it brings attention to the Giro but shifts focus from the cycling, just as the race manages to simultaneously celebrate Israel and shine a spotlight on its failings. It could well be an enthralling Giro d'Italia, but as is often the case in sport and in cycling, you may have to turn a blind eye to enjoy it.
Join our new commenting forum
Join thought-provoking conversations, follow other Independent readers and see their replies