Barcelona vs Bayern Munich LIVE: Champions League latest score, goals and updates from fixture tonight
The clash of the week in Europe as two heavyweights meet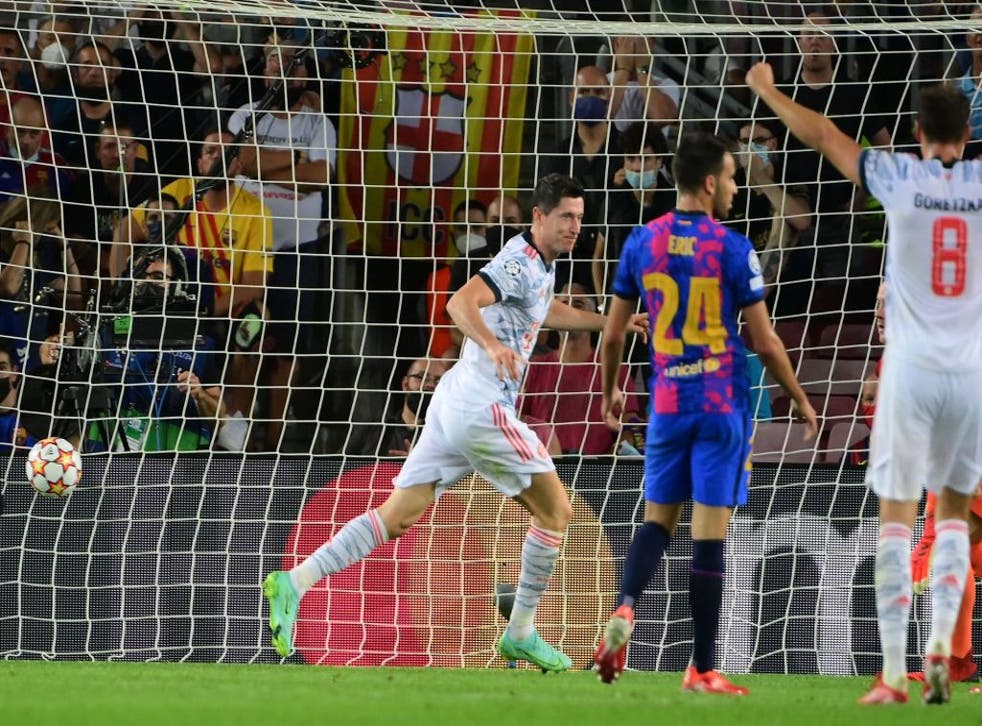 Barcelona host Bayern Munich in the first huge group stage clash of this season's Champions League, a meeting of two clubs who have won 11 European Cups between them. The Spanish giants last won in 2015, but it's barely over a year since their Bavarian opponents were celebrating being crowned kings of the Continent in Lisbon. Earlier on in that run to glory, Bayern smashed Barca 8-2 in one of the most memorable - and humiliating for the Catalans - games in the competition in recent times.
Domestically, Barcelona have made a fine start to the new season despite the departures of Lionel Messi and Antoine Griezmann, winning two and drawing one, but their weekend match with Sevilla was postponed so they have not played since before the international break. Bayern are already flying in the Bundesliga, two points off the top and unbeaten after four games - they'll head into this match as favourites despite playing away from home.
Julian Nagelsmann faces his biggest test so far as the new boss, however, and Ronaldo Koeman will doubtless have a tactical plan to try and cope with the German side's array of attacking options. Follow all the live updates as Barcelona host Bayern Munich in the Champions League below:
1631655015
Full-time: Barcelona 0-3 Bayern Munich
Thank you so much for joining me for this Bayern Munich Champions League domination over Barcelona.
It wasn't quite the 8-2 humiliation they were dealt last year but Barca are definitely in trouble with the team they once were a distant memory.
Bayern were favourites to win the title this season before the match and they have cemented their place as ones to watch after the 3-0 thriller.
Sarah Rendell
14 September 2021 22:30
1631654415
Full-time: Barcelona 0-3 Bayern Munich
So what have we learned from that match?
Lewandowski is without a doubt a footballing legend and Barca need to improve to be able to get out of their Champions League group. There are so many talking points around this match and so we have summed up five for you to take a look at.
Barcelona 0-3 Bayern: As routine as it gets for the German champions after goals from Muller and Lewandowski's brace
Sarah Rendell
14 September 2021 22:20
1631653815
Full-time: Barcelona 0-3 Bayern Munich
So where do Barcelona go from here?
Not only do they need to create more chances going forward but they need to be tighter at the back.
Bayern were allowed too much space in front of goal which allowed them to pounce when shots came out for the rebound.
It may be a long season for the Spanish giants.
Sarah Rendell
14 September 2021 22:10
1631653306
Full time: Barcelona 0-3 Bayern Munich
One positive Barcelona can take forward is how exciting their young players were when they were brought on.
Gavi in particular was impressive and Koeman will be able to note that for future fixtures. But Bayern were just head and shoulders above the hosts to close down any promise the youngsters imposed.
The German side have to be favourites in this competition and the tournament is arguably theirs to lose.
Sarah Rendell
14 September 2021 22:01
1631653003
Report: Barcelona 0-3 Bayern Munich
A lot of milestones were met in that match.
Lewandowski scored in his 18th game in a row, across all competitions for Bayern Munich. And the opening goal from Muller was his 49th Champions League score.
If you'd like to re-live all the action read our report below:
Barcelona 0-3 Bayern Munich: Muller's deflected strike was added to by a Lewandowski brace to leave no doubt as to the gap between these sides this year
Sarah Rendell
14 September 2021 21:56
1631652655
Full-time: Barcelona 0-3 Bayern Munich
Well, Barca have been absolutely outclassed in this second half to lose 3-0 to Bayern Munich.
Their defence had kept them in the match in the first half, just conceding one goal by Muller in the opening 45.
But from the second half whistle the German side were in control. They had opportunities to score more than they did, with wasted chances a point at which they could improve. Lewandowski the scorer of the two second half goals.
Bayern are the ones to watch in the Champions League and while Barca would usually be up there with the favourites in the competition, they could struggle to get out of the group after that performance.
Sarah Rendell
14 September 2021 21:50
1631652218
GOAL! Barcelona 0-3 Bayern Munich
84 min: Can you guess who scored that?
Yes you are correct, it's Lewandowski! Gnabry took a shot and it smacks the post. The rebound comes out and Lewandowski skips around defenders and smashes it home.
The goal has made Camp Nou ring out in boos and jeers with many fans looking despondent in the stands. After years of domination, this Barca side are ghosts of what they once were.
And more heartbreak could come their way this evening as Bayern could have another as they look hungry for a fourth.
Sarah Rendell
14 September 2021 21:43
1631652056
Yellow card! Barcelona 0-2 Bayern Munich
82 min: Gavi has been given a yellow for a foul on Muller.
The youngster has played well since coming on and has lifted the crowd. But he has to be careful as he fouls Upamecano which could have seen him off the field!
While Bayern aren't clicking in the final third still with another cross coming into the box from Lewandowski not connecting with Muller.
Sarah Rendell
14 September 2021 21:40
1631651827
Yellow card! Barcelona 0-2 Bayern Munich
79 min: Upamecano, who is shown yellow, fouls Depay as Barca looked to get up the pitch to get a goal back.
Bayern have looked a little shaken in the past few moments.
They almost made a huge mistake at the back as some passes between the defenders are loose but the hosts force a foul to lose possession.
Lewandowski then came storming down the field looking for Muller in the box but Barca managed to close them down.
Another counter from Barca almost sees them score. Teenager Balde makes a great run to feed Coutinho for a shot but it was blocked.
Sarah Rendell
14 September 2021 21:37
1631651555
Champions League: Barcelona 0-2 Bayern Munich
75 min: Gavi made a great run to try and create something for the hosts, the sub offering Barca an attacking option since coming on.
But it was Upamecano who stopped the play by closing down the ball to force a goal kick. The defender has been mightily impressive this evening.
Bayern still pulling the strings in this one.
Another change for Barca came as Jordi Alba came off for Balde. Alba had signalled he wanted to come off, seeming to take a knock earlier in the game.
After coming off, Alba looked in pain sitting on the bench - a worry for Koeman going forward in this campaign.
Sarah Rendell
14 September 2021 21:32
Join our new commenting forum
Join thought-provoking conversations, follow other Independent readers and see their replies