Brighton vs Man Utd LIVE: Premier League result, final score and reaction as Seagulls hammer dismal United
Brighton 4-0 Man Utd: Reaction from the Amex Stadium as the Seagulls thump the woeful Red Devils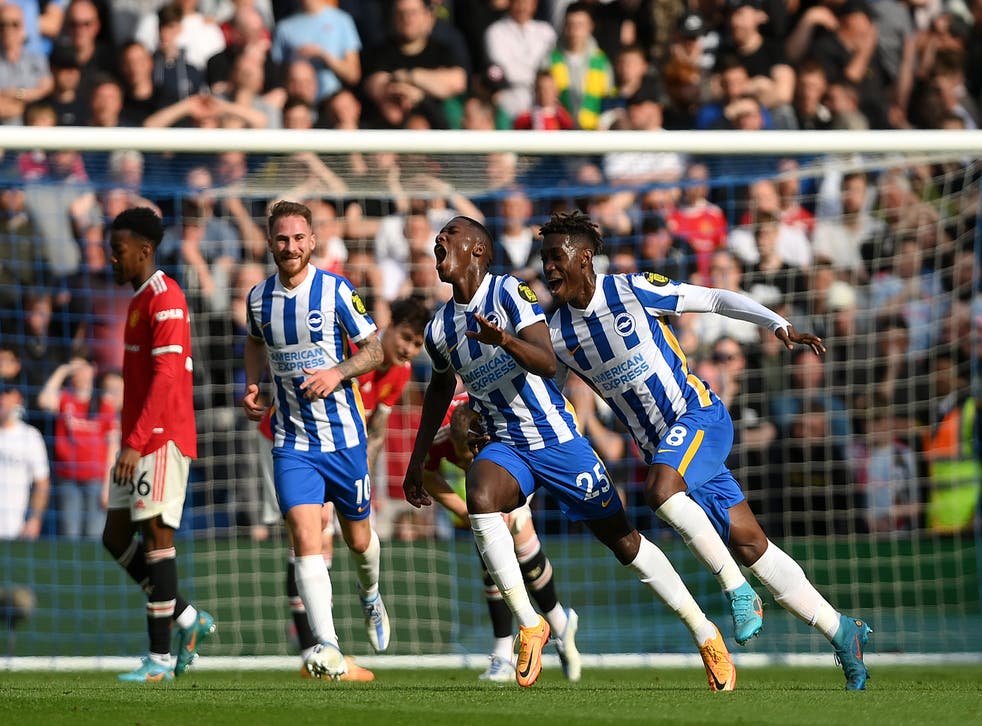 Brighton and Hove Albion host Manchester United on Saturday's late afternoon kick-off, with the Red Devils still fighting for a European berth for next season - although a Champions League spot is now incredibly unlikely to be awaiting Erik ten Hag. The Ajax boss takes over from Ralf Rangnick in the summer, with the latter being appointed Austria's national team manager alongside a consultancy role at Old Trafford.
Before that though, United still have to claim enough points to at least ensure they finish sixth and take a Europa League place for 2022/23, with the Monday night win over Brentford a step in the right direction. They have just two matches left to play this season, able to reach a maximum of 64 points.
For Brighton, it's about ensuring they finish the campaign strongly enough to be in the top 10, having been through spells of impressive football this term - but also the usual lack of a scoring touch, with just 34 scored in their 35 Premier League games so far. However they have lost only one of the last six and sit ninth.
Follow all the reaction from Brighton vs Man United below:
1651957915
Reaction from Son Heung-Min
Tottenham's goalscorer, Son Heung-Min, spoke to BT Sport after the match and said: "It was a big game; Anfield is obviously not easy. It is a big point, but gutted we didn't make it at the end.
"Liverpool is one of the best teams in the world at the moment; sometimes we need to defend and we did well today. This was our game plan and we could do better with the ball. We have space to improve.
"We work at attacking as a team. We know where to run, which player will be free. This was perfect for our game plan, I am proud but it should be more. I'm exhausted, this is one of the toughest games I've ever played.
"Obviously [the Champions League race] is more important than my goals; I try to help the team. If we win, I don't have to score. I want to play in the Champions League and this is clear in our minds."
Michael Jones
7 May 2022 22:11
1651957683
Liverpool boss Jurgen Klopp to BT Sport
Jurgen Klopp says that he is happy with the performance of his team and says they will keep pushing until the end of the season. He told BT Sport: "I'm really happy with the performance and proud of the mentality they showed against an incredibly good opponent with a game plan.
"A few things today were on a different level, the counter press was outstanding. But they scored our goal and we had to keep our calm and increase the pressure and that's a massive challenge. But we did and scored the equaliser.
"Obviously not the result we wanted but the performance was so with that I'm fine.
"It is incredibly difficult to play against an opponent with world class players and world class manager when they have had a week to prepare and we play every three days.
"The dressing room is not flying, come on, but there are other games to play. We just have to keep going."
Michael Jones
7 May 2022 22:08
1651957419
Liverpool's Premier League title charge stalls as Spurs claim point at Anfield
Tottenham blew a huge hole in Liverpool's Premier League – and quadruple – hopes as Son Heung-min's 20th goal of the season earned them a 1-1 draw at Anfield to gift the advantage to Manchester City.
Despite Luis Diaz's 74th-minute equaliser and manager Jurgen Klopp going for broke, knowing he had no other option, the hosts now require their title rivals to lose one of their four remaining matches.
Even though the point took Liverpool top of the table, it was only courtesy of a superior goal difference of one and Pep Guardiola's side will go three points clear with a win at home to Newcastle on Sunday.
Luis Diaz cancelled out Son Heung-min's opener, but the Reds could not find a winner.
Michael Jones
7 May 2022 22:03
1651957255
Liverpool drop vital points in title race after being held by Tottenham at Anfield
For the first time in four months, Liverpool dropped points to anyone other than Man City. After 13 wins in 14 league games came a draw. After 12 straight Premier League victories at Anfield came a different result. Even as Luis Diaz embarked on a second rescue act in a week for Liverpool, this lacked the happy ending.
For Tottenham, perhaps it was both a bonus point and a case of what might have been. When Son Heung-Min put Spurs ahead, it threatened to be the first time an Anfield crowd witnessed Liverpool lose a Premier League game since Crystal Palace prevailed in April 2017. More pertinently, it would have taken them ahead of Arsenal.
As it is, Thursday's North London derby is shaping up to be a seismic affair, but perhaps a must-win game for Conte's charges. The frustration for them may be that they have beaten City twice, held Liverpool home and away and slipped up too often against others.
Liverpool 1-1 Tottenham: Luis Diaz equalised afer Son Heung-Min's opener for Spurs but Reds couldn't find winner
Michael Jones
7 May 2022 22:00
1651957015
Liverpool 1 - 1 Tottenham
Spurs avoided defeat in a Premier League match at Anfield for the first time since 4th February 2018 (2-2 draw), which was Virgil van Dijk's first league appearance at Anfield as a Liverpool player.
Michael Jones
7 May 2022 21:56
1651956807
Liverpool 1 - 1 Tottenham
Antonio Conte's gameplane to sit back and absorb the pressure from Liverpool before striking on the break almost worked out before Luis Diaz cancelled out Son Heung-Min's opener.
How important will that point prove to be for both teams at the end of the season?
Michael Jones
7 May 2022 21:53
1651956627
Liverpool 1 - 1 Tottenham
Liverpool move top on goal difference but Manchester City face Newcastle at home. Tottenham move to within just a point of Arsenal, who are in action against Leeds at the Emirates tomorrow.
Two more massive games in the Premier League run in.
Michael Jones
7 May 2022 21:50
1651956475
Luis Díaz has scored in back-to-back appearances for Liverpool in all competitions for the first time, with his equaliser coming from their first shot on target in the second half.
Michael Jones
7 May 2022 21:47
1651956281
Liverpool 1 - 1 Tottenham
Tottenham's Son Heung-Min has both scored (12) and been involved in (17) more Premier League goals than any other player in 2022.
Michael Jones
7 May 2022 21:44
1651955999
Full-time: Liverpool 1 - 1 Tottenham
90+5 mins: There's the full-time whistle! The points are shared at Anfield. 1-1 is a compromise result that neither team wanted.. Liverpool move to the top of the table but Manchester City are yet to play Newcastle tomorrow.
The point for Spurs keeps them in fifth and allows Arsenal the chance to move four points clear in the top four race.
Michael Jones
7 May 2022 21:39
Register for free to continue reading
Registration is a free and easy way to support our truly independent journalism
By registering, you will also enjoy limited access to Premium articles, exclusive newsletters, commenting, and virtual events with our leading journalists
Already have an account? sign in
Register for free to continue reading
Registration is a free and easy way to support our truly independent journalism
By registering, you will also enjoy limited access to Premium articles, exclusive newsletters, commenting, and virtual events with our leading journalists
Already have an account? sign in
Join our new commenting forum
Join thought-provoking conversations, follow other Independent readers and see their replies