Kylian Mbappe and Erling Haaland begin new Champions League rivarly after Messi-Ronaldo era
In the first Champions League in a generation without either Lionel Messi or Cristiano Ronaldo, Haaland and Mbappe can fill the void as the clear new stars of the current game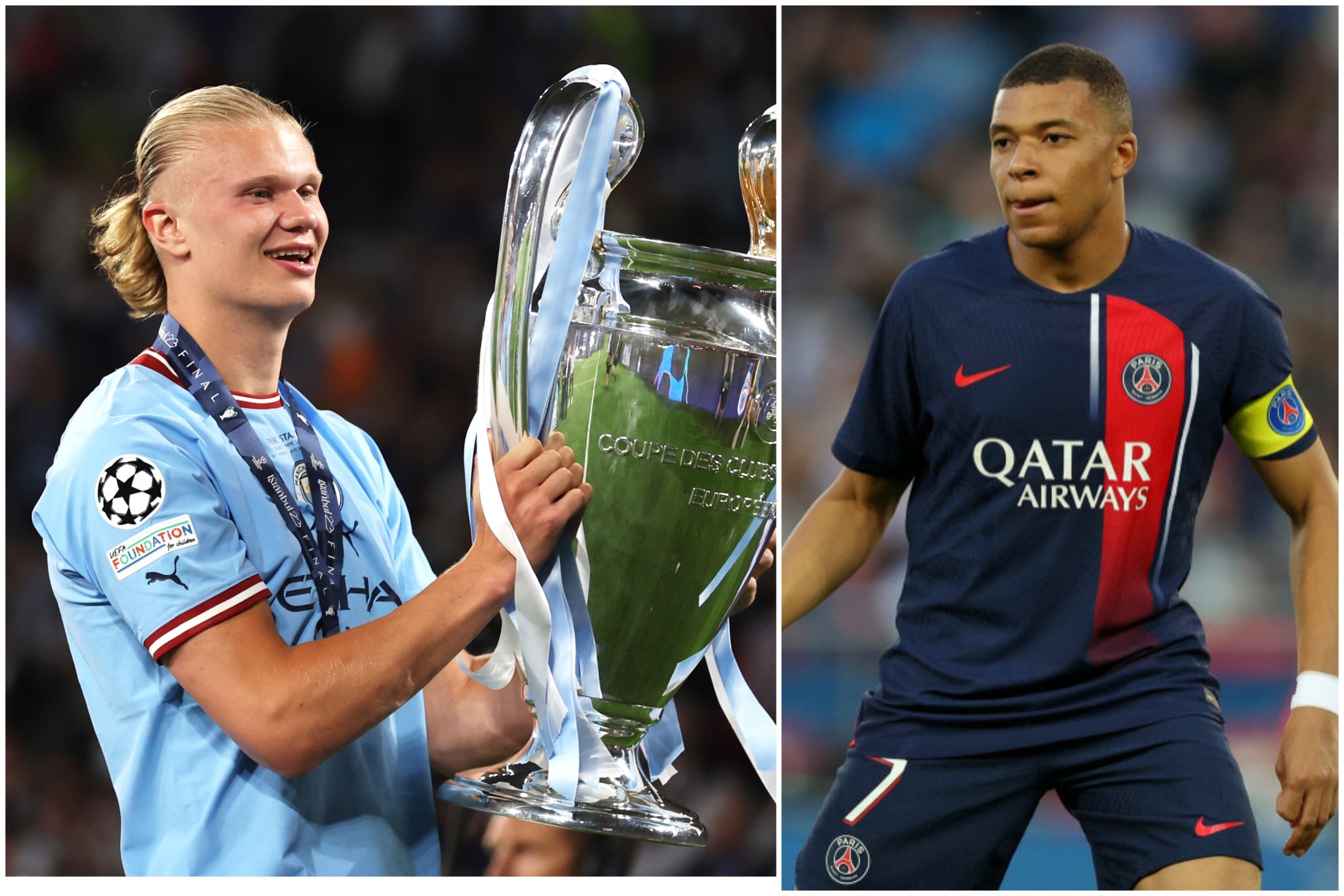 As Lionel Messi lifted the World Cup in Doha, Kylian Mbappe was "livid". It of course wasn't because of his former team-mate's success. It was that Mbappe had missed his only chance to emulate Pele and win two World Cup finals by the age of 23. The Paris Saint-Germain star is said to be more aware of his legacy than perhaps any previous major player in history – certainly much more than Erling Haaland.
It is why he is now so singularly focused on the Champions League. That's why he ultimately wants to go to Real Madrid. Watching Haaland lift it in June will have only added to that, all the more so because the Manchester City forward clearly doesn't care quite as much. That isn't to say he didn't greatly want it, of course, but it's one growing difference with Mbappe.
The Norwegian said only last week he didn't care for that projected rivalry, either, and that might well be true. Those differences between Haaland and Mbappe will still define the next decade of football in the same way those between Messi and Cristiano Ronaldo did the last decade.
That all might seem rather neat since this is the first Champions League season without either of its greatest players, but then the fact the Haaland-Mbappe doesn't fit so neatly only makes it more alluring.
While the French star is perhaps considered closer to Messi as an all-round playmaker, it is Haaland who is closer to the Argentine in terms of mindset. Those who know both say their approach to it all is more rudimentary. Both Messi and Haaland basically think that they are gifted so they will win. Everything becomes just an expression of their talent, meaning it's not like they think about the game all the time.
Haaland drew laughter at the recent PFA awards when he spoke about the series he watches, only revealing the Tyson Fury documentary At Home With the Furys. He is said to be more invested in Fortnite, in the way Messi was with football games.
Mbappe is by contrast more like Ronaldo in how "obsessive" he is. He doesn't allow it to flow as easily, because he thinks about it so much more. Mbappe turns inward when things don't go his way. The outward expressions then become much more emotional, and angry.
This has been evident in the last few years at PSG. Mbappe hasn't come close to the Champions League so he has made it clear what he wants the team to look like. That has often been difficult for those around him, just as it often was with Ronaldo. Now at the peak of his physical powers, Mbappe wants a much faster and intense style of play.
There may well be another twist in that Mbappe finally gets the team he wants in Luis Enrique's youth-driven game, in what is set to be his last season at PSG.It removes some of glamour and soap opera from the Qatari project, but that might well make them a more serious proposition.
That is perhaps essential to give City something resembling proper opposition this season, and to give this campaign some competitive life.
In part because of the way Pep Guardiola has adapted around Haaland, the Abu Dhabi project have become such a supremely functioning machine. The Norwegian is allowed to do all he really cares about in football, which is just scoring and scoring. Even Guardiola reshaped his ideals around him, such is that finishing talent.
This is what Mbappe has so far lacked in his career outside the French national team. It might be what he gets with Luis Enrique.
On that, there was simply never any prospect of the French star going to the Saudi Pro League, or PSG benching him. He has too much power, he is too concerned with his legacy.
It mercifully means Mbappe is still in the Champions League this season, just as Messi and Ronaldo step out.
Haaland won't have the stage to himself.
Really, though, this season is only a sub-plot in a greater play.
Join our commenting forum
Join thought-provoking conversations, follow other Independent readers and see their replies