Poland vs England LIVE: World Cup qualifying result, final score and reaction tonight
Follow all the fallout from Warsaw as Poland disrupted England's serene qualification for the 2022 World Cup with a 1-1 draw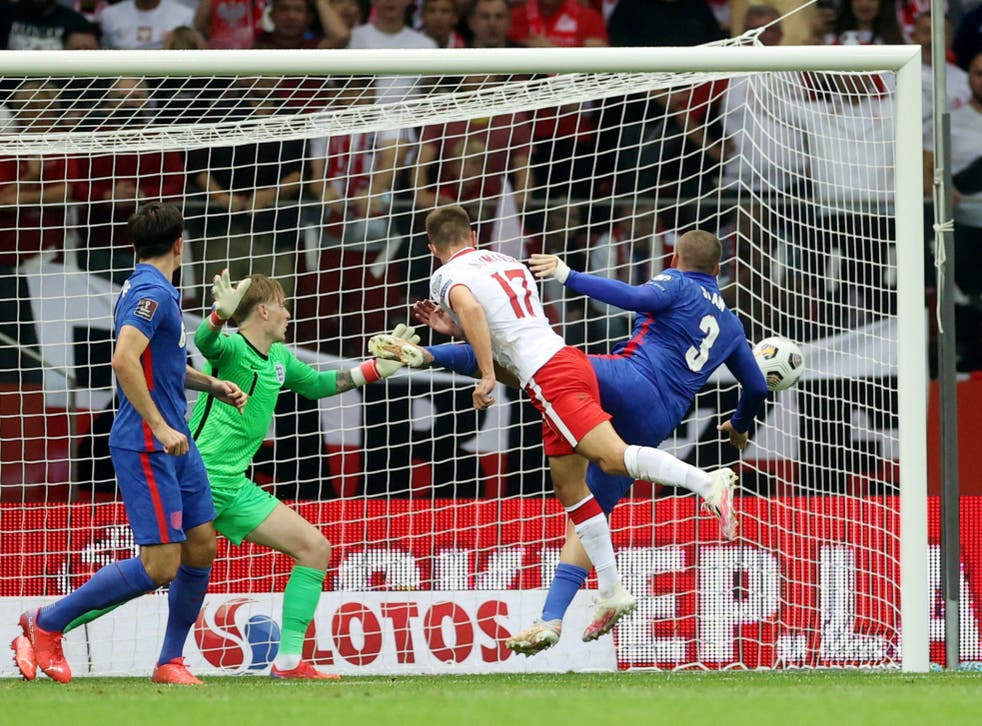 England played out a 1-1 draw with Poland tonight in Warsaw in what was a crunch match at the top of Group I in World Cup qualifying. Gareth Southgate's Euro 2020 finalists remain top of the group with 16 points from a maximum 18, while Poland moved to 11 points but dropped to third place as they ended the Three Lions' perfect record in the battle for the one automatic qualifying spot to reach Qatar next year.
England won 2-1 when the sides met at Wembley back in March, thanks to Harry Maguire's late winner, but it was Poland who struck late this time, Damian Szymanski heading an equaliser in stoppage time to cancel out Harry Kane's long-range opener.
With Robert Lewandowski – injured six months ago – restored to the Polish line-up as captain, this always looked set to be a different kind of encounter, and the Bayern Munich striker in fact provided the assist for Szymanski in the final moments, as a raucous Warsaw crowd roared in celebration to cap off a feisty affair.
Follow all the fallout from the game at the National Stadium below, live.
1631133450
Poland 0 - 1 England
90 mins: Four minutes of added time to play. Can England hold on to their lead and keep their winning run going?
Michael Jones
8 September 2021 21:37
1631133364
Poland 0 - 1 England
88 mins: Bednarek picks out Lewandowski with a long ball and the striker brings it under control with a perfect first touch. He cuts inside to the right and targets the far top corner before curling his shot high and wide.
Michael Jones
8 September 2021 21:36
1631133278
Poland 0 - 1 England
85 mins: The game is becoming a tad stop-starty. Kane is brought down just before the halfway line. Pickford comes up to take the free kick and belts it long towards Kane. He's got four defenders around him and can't come away with the ball.
Michael Jones
8 September 2021 21:34
1631132979
Poland 0 - 1 England
82 mins: Oh! Pickford takes too long on the ball as it comes back to him and his effort to boot it up the pitch is charged down by Swiderski. The ball bounces over the England goalkeeper and almost crosses the line but Pickford manages to grab hold of it just in time. That would have been embarrassing.
Michael Jones
8 September 2021 21:29
1631132807
Poland 0 - 1 England
80 mins: Phillips wins the ball again in midfield. He's been superb all night for England and sends a pass up to Kane. Kane sweeps past Linetty who sticks out a leg and brings him down. Another yellow card.
Michael Jones
8 September 2021 21:26
1631132723
Poland 0 - 1 England
78 mins: Puchacz is the third Polish player to go in the book, this one for a late tackle on Raheem Sterling. England work the ball over to the left before Rice switches the play out to Walker on the right wing. His cross comes in towards Shaw but he's beaten to the ball and Poland work it away.
Michael Jones
8 September 2021 21:25
1631132647
Poland 0 - 1 England
German referee Daniel Siebert awarded Harry Maguire and Kamil Glik a yellow card each for their roles in the heated exchange
Alex Pattle
8 September 2021 21:24
1631132616
Poland 0 - 1 England
75 mins: Harry Kane has now scored in a 15th consecutive World Cup/European Championship qualifier. That's insane. He challenges Glik for an aerial ball and the defender comes off worse. He seems to jar his knee as he lands and looks in pain as the physios come on.
Michael Jones
8 September 2021 21:23
1631132348
GOAL! Poland 0 - 1 England (Kane, 72')⚽️
72 mins: What a strike! Harry Kane steps up for England! Out of nothing Kane produces for England. The ball comes to Phillips just inside of Poland's half. He knocks it down to Kane who takes a touch and then drills one from 35 yards. The ball swerves at the last moment to take it away from Szczesny and nestle in the back of the net.
Michael Jones
8 September 2021 21:19
1631132298
Poland 0 - 0 England
71 mins: A long ball comes up the pitch and Swiderski manages it flick it on to Lewandowski. He carries it into the middle before hitting one from range. The connection on the shot isn't great and Pickford is left with a relatively easy save low down.
Michael Jones
8 September 2021 21:18
Join our new commenting forum
Join thought-provoking conversations, follow other Independent readers and see their replies