Leeds players wear t-shirts in protest against European Super League: 'Earn it!'
Marcelo Bielsa's side wore t-shirts in the warm-up to their game against Liverpool with a message to the clubs pushing for a breakaway competition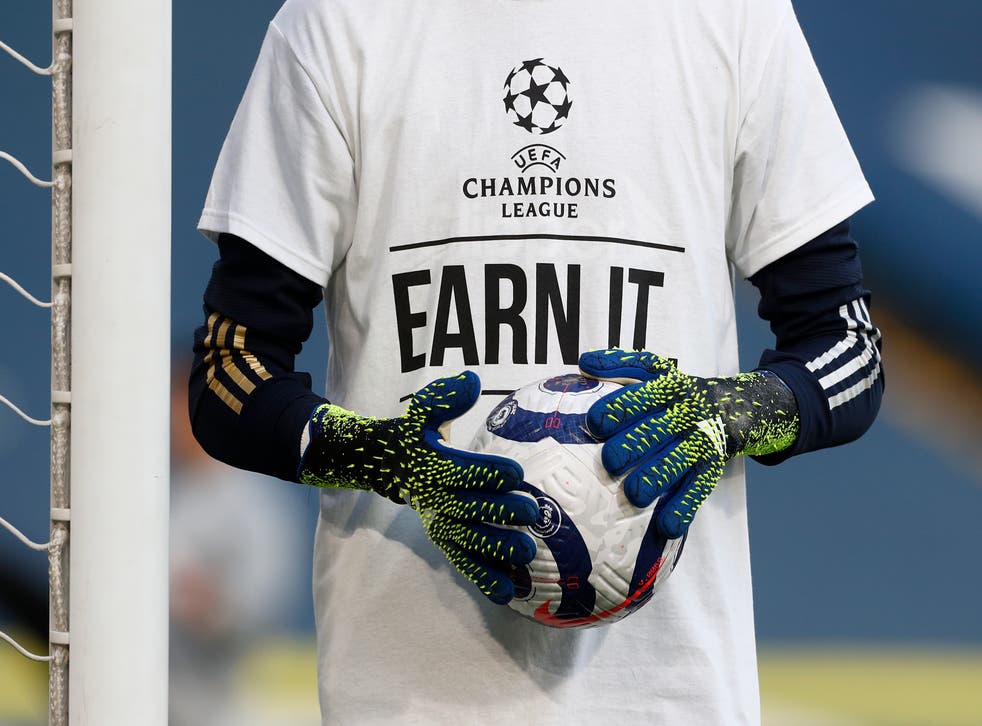 Leeds United players wore t-shirts in protest against plans to start a European Super League.
The Premier League's 'big six' announced plans to become part of the breakaway competition, which has 12 founding members for the proposed 20-club competition.
Jurgen Klopp condemned plans from Liverpool to be part of the new competition ahead of his side's game at Elland Road on Monday night.
But Marcelo Bielsa's side made a strong statement by displaying t-shirts, which read on the back: "Football is for the fans."
While the front of the t-shirts had the Champions League logo, alongside the message: "Earn it!"
The furious reaction was led by Gary Neville, who continued his complaints against the plans, while also hitting out at Manchester United's owners, the Glazer family.
"I thought it was a criminal act," Neville told Sky Sports. "I was half hoping they would, off the backlash, they would rethink it. I saw the statement and it had Joel Glazer's statement to it, and I thought, 'this is a problem'.Add article
"He's intelligent, he knows what he wants. I thought this is serious. He's not backing down. He'll try force this through. They've been through hell at Manchester United. They don't care. When I saw his name I was really worried.
"It will change football in this country forever. We have to mobilise. You have to write to your MPs, your local football clubs. Forget allegiances, we have to stop this. They're trying to take this away from us.
"I've stayed quiet over the Glazer family on the basis that it's still Manchester United, I can still watch them play, I can still be happy and sad. If they take dividends out, I can live with that slightly. I can't live with them attacking every football fan in this country. They've overstepped the mark. They are scavengers, they need booting out of this football club and out of this country.
"Fans will say it's too late, it's never too late. We have to stop this. They've created a monopoly, a closed shop, a tournament they are guaranteed to be in it. They are taking the honesty and integrity of our competition.
"There will always be clubs with more money, but they can be beaten, but they are trying to take it away. Never, it can never happen. The owners, I hope they are panting hard. Their stomachs are churning. It's an attack on the integrity of our sport."
Join our new commenting forum
Join thought-provoking conversations, follow other Independent readers and see their replies