Angelino: 'The pressure is on Liverpool. We are the underdogs'
Versatile full-back has rediscovered his self-belief and become core to RB Leipzig's domestic and European ambitions after leaving Manchester City in January 2020
Melissa Reddy
Senior Football Correspondent
Tuesday 09 March 2021 07:06 Comments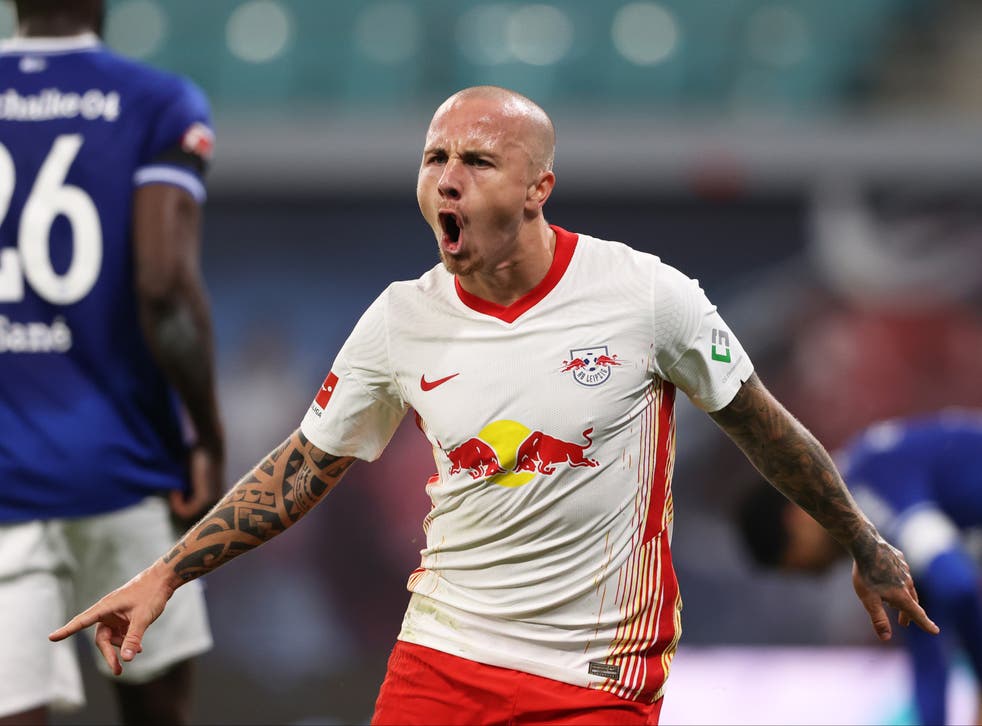 "Stability." Angelino uses this descriptor early, circling back to it periodically as he paints the then and now of his recent history: outcast at Manchester City to acting as RB Leipzig's offensive axis. 
Sitting at the top table of the Bundesliga club's sprawling training complex, it is unsurprising he credits the security of having a permanent deal and sense of belonging there as the cornerstone to his status as one of Europe's standout players this season.
"I was around a few places," Angelino says in the briefest summary of his career flux.
Before his 16th birthday, the Spaniard had traded the comfort of his tiny hometown, Coristanco, and the exuberance of representing his team, Deportivo La Coruna, for a spot in City's elite development ranks.
At 18, there was further upheaval, leaving the North West of England to adapt on loan in New York. Temporary spells back in Spain would follow with Girona and Mallorca. 
Netherlands was next on Angelino's Around The World In Loan Spells Tour, being luminary for NAC Breda, which prompted PSV Eindhoven to make a permanent play for him in 2018. 
His debut campaign at Philips Stadium was a success: named Talent of the Season, many of Europe's premier teams had assessed him as an option on the left defensive flank, but City activated their buy-back clause and Angelino returned to Manchester. 
"I was young and getting experience," he reflects on this club merry-go-round. "The most important move for me was from PSV to City because I was ready for it. But I was judged just on pre-season. Then in January last year, I got a massive chance to come to Leipzig with my career going up again.
"I am just happy that I am stable now and have many years here to look forward to."
The stretch under Pep Guardiola's charge from July 2019 to January 2020, where the 24-year-old didn't have the faith of the manager "killed me. For me, confidence is everything. When you don't have that trust, it affects everything.
The truth in Angelino's words is told by what has happened since departing the Etihad for the Bundesliga. A tale of things finally falling into place, evidence of the psychological effect of being valued showing up in performances.
Angelino is the first name on the teamsheet for Julian Nagelsmann, and fundamental to what the most coveted manager in Europe wants to tactically achieve.
"He's the kind of player I love," the German offered earlier this year. "He's able to play in three or four different positions without needing much time to adapt to them. As a coach, that gives you the chance to change the system without needing to make a substitution."
It is odd but understandable given the depth of his squad that Guardiola, chief invertor of the pyramid, didn't appreciate Angelino's shape-shifting qualities. 
He has enabled Leipzig to swap between 3-4-2-1, 3-4-3 and 4-2-3-1 at a snip, thriving in all those formations. 
Angelino runs the game from the left without a fixed position, operating as a fullback or a false nine depending on what the team needs from him at any given time.
"He adapts to things unbelievably quickly," Nagelsmann said. "He's the only new signing who has got used to my football philosophy and methods – especially in terms of attack – so incredibly quickly.
"He doesn't overthink things, he does a lot of things right intuitively and implements the things we want to do. Before each game he evidently takes time to consider what he needs to do and how to do it in order to keep his coach happy."
The bond between Nagelsmann and Angelino was instant, with the player not only appreciating that his manager "gave me his confidence from the first day," but also that he is "very direct, when he needs to speak to you, he does."
The mutual appreciation has extracted explosiveness from Angelino, who has 19 direct goal contributions and counting this season even though he admits opponents are now concentrating their efforts on nullifying his flank.
"Tactically, the manager puts me in a position where I get a lot of movement when we are attacking, which leads to a lot of chances," he explains. "Everything we practice this to reach the box as quickly as possible. If my position is good, I'll get a chance or at least I'll put the last ball in. And, for sure, it's thanks to him."
It is obvious Angelino couldn't hold Nagelsmann in greater esteem. There is a limit to how long Leipzig can keep the man who turned down Real Madrid, that has been name-checked by Manchester United's Ed Woodward, counts Tottenham chairman Daniel Levy as a fan and has been assessed by Liverpool as part of long-term succession planning.
"He can coach anywhere he wants," Angelino says. "If you look around now, there aren't many coaches that work as good as him. We're talking [interest from] big clubs. He's managing a really good team, but just imagine if he has even a better team, what he can do. 
"Tactically, he's great. He always has the right keys for opponents and he'll do well. He's so young as a coach, he's got a long run to go."
Nagelsmann has illustrated a habit of learning from past errors in Europe, and with Leipzig having gifted a malfunctioning Liverpool the first-leg of their Champions League last-16 clash, can they realistically rescue the tie on Wednesday? 
"It was tough after the first game, because I think we played a really good match," Angelino says. "We got in behind their fullbacks a few times. We got to put some pressure on them, but we didn't put our chances away. Then we gave them two mistakes and a team like Liverpool, with the quality they have, they kill you if you give them just a little bit.
"Their speed and quality on the ball is difficult to deal with. It's a big difference when you play against teams who have two very fast players [Mo Salah and Sadio Mane], not just one, who also have a very good shot. But I would say the pressure is more on them than us. We're the underdogs. If we don't make big mistakes and put our chances away, we can turn the situation around. There are still 90 minutes to go."
Angelino is finally settled, is fulfilling his potential and yet, he offers a poignant reminder that footballers are being tasked to entertain us while juggling their own personal trauma during this pandemic.
"The worst part of all this is, being a foreigner, not seeing the family," he says. "My son is not here and I obviously want to see him more.
"It's a bad situation so I prefer not to speak about it. Not seeing the family is the most important thing at the end. You are every day with your team-mates, at least you hang out with them for many hours here in the club. The outside part is the worst side when you live abroad.
"You have to deal not being able to go home or people coming in whenever you want. I would say the only good thing is playing games. So I'm happy when we play three games a week because you don't think about this that much."
Register for free to continue reading
Registration is a free and easy way to support our truly independent journalism
By registering, you will also enjoy limited access to Premium articles, exclusive newsletters, commenting, and virtual events with our leading journalists
Already have an account? sign in
Join our new commenting forum
Join thought-provoking conversations, follow other Independent readers and see their replies