Faded Isco accentuates decline in listless Real Madrid performance
The Spaniard failed to impress against the 10-man Italians with Los Blancos escaping with a 1-0 victory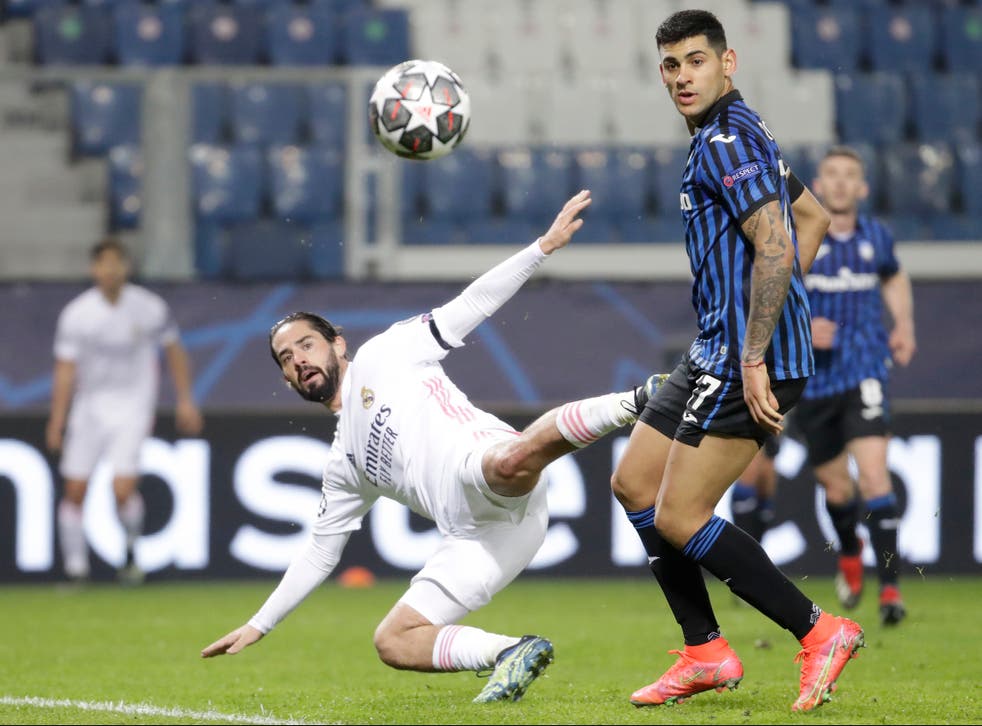 The drab nature of this Real Madrid performance was epitomised by the meandering, lethargic movement of Isco on a night where desperation presented a glorious chance to shine.
Eventually escaping with a dubious 1-0 victory, Zinedine Zidane's hands were tied before kick-off with Karim Benzema, Eden Hazard and Rodrygo among those ruled out with injury. With the 13-time European champions craving inspiration, their complimentary pieces were afforded an opportunity to step up and grasp a starring role.
Zidane's depleted bench, which featured just one player to have started in the Champions League this season, Mariano Diaz, meant Isco's prominent starting role was through necessity, rather than any faith displayed from the Frenchman.
The Spaniard was deployed as a false nine and quickly ducked into midfield to create channels of space for Vinicius Jr and Marco Asensio to scurry into at a deserted Stadio Atleti Azzurri d'Italia.
But at 28, and now approaching eight years as a Real Madrid player, any hopes of a renaissance quickly dissipated, proving his many detractors right.
READ MORE: What has happened to Spanish football?
The one-paced nature of the former Malaga maestro became even more infuriating given the opportunity to reinvent Los Blancos' season following Remo Freuler's aggressive challenge on Ferland Mendy, which prompted referee Tobias Stieler to hastily swipe a red card from his pocket. The controversial decision predictably wrecked the expected game script and forced the Italians to drop deep.
And with confidence from their travels this season in Europe, having defeated Midtjylland, Liverpool and Ajax, Gian Piero Gasperini's men set about digging in for a draw.
Real were not enamoured by the idea of settling the tie on the night in the immediate aftermath of the red card, and the second half saw them hardly shift the balance either.
In a rare moment of promise though, Isco carved out a ball to the wing for Luka Modric to chase, with the Spaniard gathering the return ball inside the box, wriggling free and striking a shot towards goal that was deflected wide for a corner.
It was to be as good as it got for this faded force, who appeared much more comfortable in a deeper role upon Mariano's introduction, despite still lacking that decisive contribution. Now lacking that burst over five yards, his predictable movement on the ball failed to shrug off the blue and black shirts that surrounded him.
The ponderous way in which he held on to the ball for a fraction longer in his deeper role, either carrying it down a cul-de-sac or waiting optimistically for his equally flat teammates to create space, did little to remove the scorn painted across Zidane's face.
His misery was compounded with 14 minutes remaining and Real Madrid still pursuing a winner.
Substituted for unproven youngster Hugo Duro, a disgruntled Isco could hardly muster any complaint towards his boss, instead staring into the abyss after another listless performance.
Zidane would rediscover his grin before the end of the night though, with Mendy taking aim and curling one into the far corner with just four minutes remaining to steal a win ahead of the second leg.
Isco still has a year remaining on his contract, but his latest false start will do little to prevent his protracted exit from the Bernabeu.
Join our new commenting forum
Join thought-provoking conversations, follow other Independent readers and see their replies