PSG edge Bayern Munich to set up Champions League quarter-final second leg for the ages
Bayern 2-3 PSG: Last year's runners-up won a chaotic game in the snow to exact a measure of revenge on the titleholders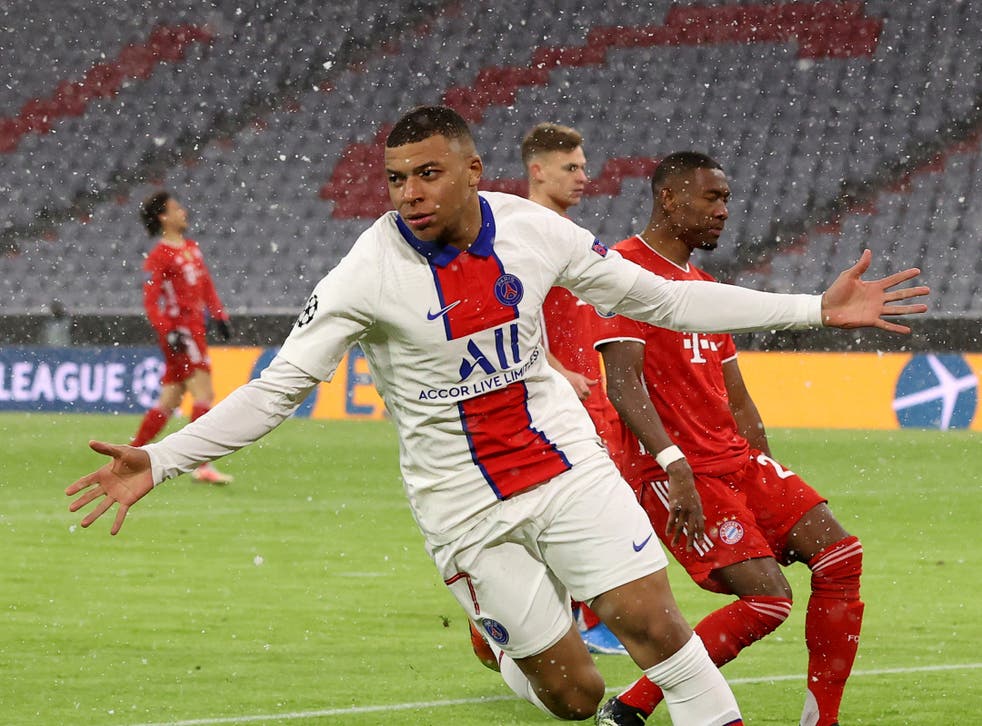 You can call it a statement win from Mauricio Pochettino, a landmark defeat for Bayern Munich, or a signature finish from Kylian Mbappe, but there's really only way to sum it all up: everything that's actually good about the Champions League from a purely football perspective.
This game at the Munich arena was a brilliant spectacle, only amplified by the knowledge – and the tension – that it is far from over.
One of its many enthralling narrative elements was the apparent contradiction that it could well have been over had Robert Lewandoswki been playing – given the chances that Bayern missed – and that Paris Saint-Germain were good value for a brilliant win that goes some way to avenging last season's final.
As it was, with the Polish forward injured, it was left to Mbappe to confirm a 3-2 win with another brilliant strike, on another night when he took command of the stage.
It still so often threatened to go out of control altogether, and at different points looked like it could be 0-5, 8-2 or – as seemed to be the tantalising set-up right at the end – 3-3.
Read more:
The equaliser, along with a crowd to witness this, was all that was missing. It means Bayern have to try and come back away from home against a side whose supreme attacking did disrupt their pressing.
Against the pace of Neymar and Mbappe, the Germans didn't know whether to push up or sit back. It created chaos in the opening stages, that so set up what was to follow.
There were spells when it was difficult to tell what was more influential: the astounding ability of the PSG attackers, or the apparent inability of the Bayern defence to operate in anything like a connected back line. 
What was hard to dispute was that this was one of those matches when Neymar took his talent up a level and took charge. That's the only way to describe that game-breaking moment when he picked the ball up in the centre, and just drove towards goal. The slipped pass to the right had a touch of Diego Maradona against Brazil in the 1990 World Cup, although Mbappe wasn't quite as precise as Claudio Caniggia with his finish. He went for power, but it was enough to take it through Manuel Neuer.
Given the amount of space that PSG had to run into, you could say Bayern were maybe a little overexcited by Eric Maxim Choupo-Moting's header off the bar just moments before, but they continued like that for much of the first half. There was that same push-pull dynamic. The Bayern defence were lax, Neymar's play luxurious. When the back line stepped up with barely a look at each other, leaving Marquinhos onside and on course, the playmaker picked him out wonderfully. The defender finished well, but that also finished his game. It was his last act, as he went off with a strain.
It was just another moment, though, when the game ebbed, flowed and oscillated in utterly enthralling manner.
Although there was a spell when it looked like PSG could run away with the tie, that was only because they were taking chances as Bayern were missing them. It was genuinely end-to-end at that stage, except so many of the European champions' opportunities were ending with heads in hands, or Keylor Navas' hands saving face.
Bayern had 15 shots in the first half alone. The second half was even more of a bombardment, as the game swung back and forth again.
There was first the display of Bayern resolve. Choupo-Mouting made one of those opportunities count with a brilliantly plundered header, rising to power it past Navas.
In the second half, after a scarcely believable sequence of Bayern misses, Thomas Muller decided to finally move forward and show his team-mates how it's done with a perfect header of his own. Again, it was difficult not to wonder how different it might have been had Lewandowski been on the pitch. He could surely have had a hat-trick.
Like all great drama, though, this was an occasion where little moments and twists became imbued with even more significance and weight as the night went on.
There was first of all that Neymar opportunity. It might have been his only misstep on the night – or it might just have been typically brilliant goalkeeping footwork by Manuel Neuer. The Bayern No 1 was having an exceptional performance of his own, despite conceding three times. Like with much else, he got his feet exactly right as he adjusted just when Neymar went to slot it between his legs. Maybe he learned from earlier.
Before that, when Bayern went high rather than low, it was as if PSG had learned as Danilo Pereira adjusted his jump to just prevent Choupo-Mouting heading in a second.
The crucial next goal felt like it could really have gone to anyone, but inevitably fell to one individual.
This time, Neuer could do nothing. Mbappe completely wrong-footed him with a finish that was as intelligent as it was inspired. With everyone expecting the forward to curl it in the manner he did against Barcelona, he instead scored a goal of equal quality with an emphatic finish into the corner.
Mbappe had elevated the occasion, and settled the first leg, but there was still a tension that lent weight to the game rather than weighing it down.
It looks set to invigorate a hugely-anticipated second leg. If it's anything like this, we may have a tie for the ages. For now, it's difficult not to just bask in the moment.
Register for free to continue reading
Registration is a free and easy way to support our truly independent journalism
By registering, you will also enjoy limited access to Premium articles, exclusive newsletters, commenting, and virtual events with our leading journalists
Already have an account? sign in
Register for free to continue reading
Registration is a free and easy way to support our truly independent journalism
By registering, you will also enjoy limited access to Premium articles, exclusive newsletters, commenting, and virtual events with our leading journalists
Already have an account? sign in
Join our new commenting forum
Join thought-provoking conversations, follow other Independent readers and see their replies