Can the Champions League provide another series of chaotic comebacks?
Since Barcelona's famous comeback against PSG, this has been an era dominated by the most complete drama during second-leg ties – but what impact will a lack of supporters have on the players?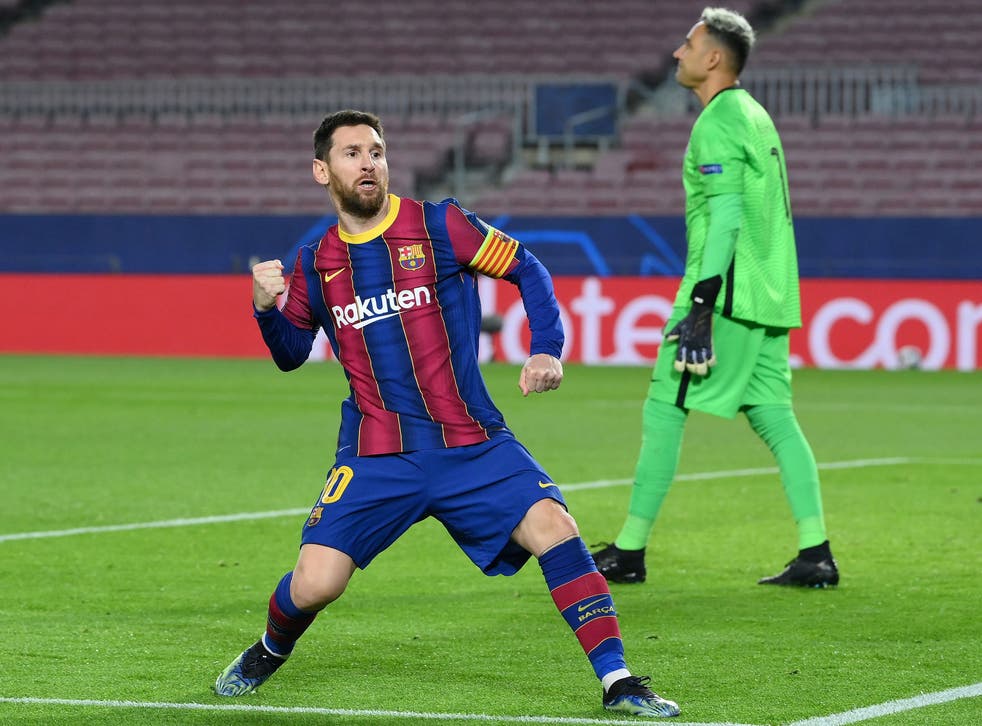 In the Barcelona dressing room this week, the source of inspiration has been inevitable. The talk has been of the 6-1, the anniversary of which fell on Monday. Teams like Leipzig, Sevilla and Atalanta have been looking to it, too.
The wonder, however, is not just whether these sides are good enough for such a Champions League comeback. It is as much about whether there is the same spirit to the competition. Another anniversary that comes amid these second legs might be just as relevant, which is how next week is a year since the Covid-forced postponement of football. It is possible that an era of chaos has been reset.
That spectacular 2016-17 comeback against Paris Saint-Germain did much more than prove a landmark for Barcelona, after all. It proved an inspiration for the rest of the Champions League, setting in motion a new era of the improbable, that changed the parameters of what was possible. Barca themselves suffered the consequences of this in the next two seasons, against Roma and then Liverpool.
It was as if the decades-old assurances of elite continental football no longer had any relevance. The size of leads no longer mattered. Long records no longer mattered. They could apparently evaporate into nothing within minutes.
Since that 2016-17 season, the Champions League has seen the following first-leg leads overturned: three 2-goal leads; two 3-goal leads; one 4-goal lead.
Six within the space of four seasons – with 2019-20 eliminating a series of second legs due to the Covid crisis – is naturally a far greater concentration of comebacks than had ever been seen before. When top teams used to go ahead, it tended to stay that way.
You only have to consider the fact that one of Liverpool's greatest ever moments, the comeback against Saint Etienne in 1976-77, "only" involved a one-goal deficit from the first leg and then a 2-1 away-goal deficit in the second.
This isn't to dismiss the heroics of that. It is to illustrate just how much has changed. Teams have had to go much deeper in comebacks, but so have the effects. It is not just big leads that mean little. So do away leads.
Prior to 2018-19, there had only been six occasions in the entire 64-year history of the competition when a team had lost a first leg at home and still gone through. That's how difficult it was deemed to go away and do something.
In other words, the situations that Barcelona, Leipzig, Sevilla, Atalanta and Atletico Madrid are in now were virtually impossible to overcome. Seven of this season's last-16 eight ties actually involve away wins. The weight of history would usually be against those sides.
The weight of the last few years is not. Those six occasions suddenly became nine in the flash of a shot – and all in the same season: 2018-19.
Manchester United lost 2-0 at home to Paris Saint-Germain but still went through. Ajax lost 2-1 at home to Real Madrid but still went through. Tottenham Hotspur then did that to Ajax, having lost 1-0 at home.
The last half-decade of the Champions League has thereby been an era of the most complete drama, largely initiated by that 6-1. Everything has been up for grabs, all bets off.
The great question with this season is whether the same is possible, since the ingredients are incomplete. It's impossible not to wonder whether the 6-1 – or any of those comebacks – could have happened without the crowd.
In the Camp Nou that night, you could feel the emotional swell of the Barcelona support sweeping events along. The same has so often been said of Anfield, and their own comeback against Barca.
It also works the other way. In PSG's 2019 elimination to Manchester United, it was as if the French team's players could feel the tension gripping the crowd, the sense of it all happening again. There were so many unforced mistakes, that could only have come from that collective anxiety.
That is what really enriches these games. That is what makes European matches the magic nights they are. These second legs will be without that mood-setting soundtrack.
That is nothing new as we reach the first anniversary of football's postponement, but the context will be new. Other than a handful of second legs last August as the world still adjusted, we haven't seen games with such stakes in such a setting.
It is possible the absence of fans could have an even more distortive effect, of course, and make games even wilder. That is what happened in the early days of football's return, and arguably influenced Barcelona's 8-2 defeat to Bayern Munich. There was a sense of displacement, and abnormality, which could be furthered by the literal displacement of teams like Liverpool playing in a different stadium to Anfield. Teams could just go and do it in the vacuum.
It's just that, rather tragically, this has all become too normal now. Other than freakish form more specific to individual sides, like Liverpool, teams have adapted to the circumstances. We are not seeing the same chaos to results.
So, will we see the recent chaos to Champions League results again? That is what is all the more enticing about these second legs.
The reaction is going to be very interesting, say, if Leipzig get that first goal against Liverpool or Barca that first against PSG. The inspiration will be obvious. The outcome, however, is anything but obvious.
Join our new commenting forum
Join thought-provoking conversations, follow other Independent readers and see their replies