All eyes on Erling Haaland against Man City, just how Mino Raiola likes it
The striker is Dortmund's best hope of beating Man City, but Tuesday's game has bigger meaning for his future which looks likely to be in the Premier League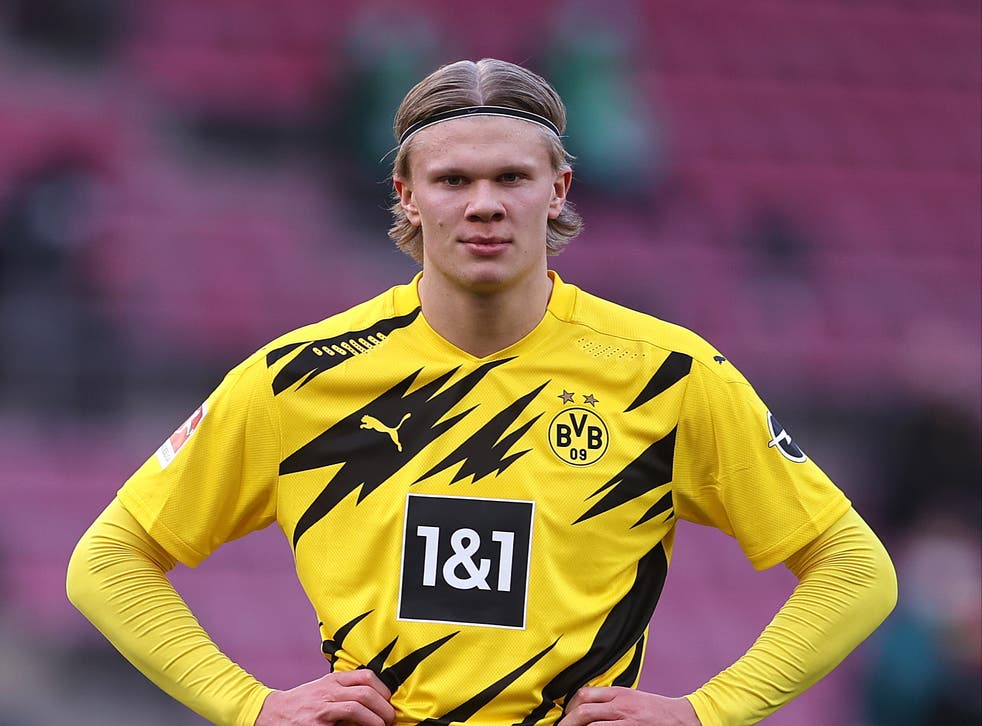 Mino Raiola understands timing; the importance of it, the power of it, the fine lines between getting it right or feeling regret. 
He prides himself on making the perfect judgement, which we know as he loudly and unapologetically mentions it.
There is, though, a quiet acknowledgement over the occasions he has missed the beat. It still haunts Raiola that he advised a client to be patient and turn down a mega move, but two ligament injuries later, no such transfer was ever on the table again. 
The agent figured he was playing it safe and smart: the art of the long game. Football, though, is so often about the moment, the now, the market forces.
And so Raiola has been wondering if he was too cautious last summer when advising Erling Haaland that his career path would be best served by the steady option of joining Borussia Dortmund from Red Bull Salzburg.
Read more:
He felt the striker required a smoother segue to a powerhouse club, needing to first illustrate he could comfortably deal with greater expectation, demands, pressure and a wider global audience.
There was no need to rush, to snap Manchester United's hand off. Was the 20-year-old ready?
Haaland has 49 goals in 50 appearances for Dortmund. He is the top scorer in the Champions League this season. 
The Norwegian's career tally of 20 in Europe's premier tournament has been recorded 10 matches faster than anyone else has managed in history.
He is the youngest player to have hit that figure, achieving it a year earlier than the other standout star of this generation, Kylian Mbappe. 
Haaland is a goal machine, a phenom, a byword for sticking the ball in the back of the net. He didn't particularly need the pitstop at Dortmund, but the Bundesliga club - to pinch the words of director Sebastian Kehl - "need him to achieve our sporting aims."
BVB, another season in flux, have been lucky to have Haaland. It was a coup to get him, there will be mammoth profit if he exits before his release clause becomes active in 2022.
Raiola knows he was too cautious a year ago. He is aware that he is directing the hottest property in football: every elite team wants Haaland to be their No 9, even if not all of them are willing to join the ensuing circus to make it happen. 
Raiola understands timing. His tour of potential suitors to discuss the forward's future, including far-from-covert meetings with Real Madrid and Barcelona, did not happen by coincidence days before Dortmund's Champions League quarter-final with Manchester City. 
The scheduling wasn't to destabilise BVB, more to twist the arm of England's champions-in-waiting, who will wave goodbye to the totemic Sergio Aguero this summer.
City are part of a tiny clutch of clubs that can afford Haaland in a pandemic-skewed market, have the space for him to flourish, and can meet his silverware-lined ambitions. 
It is 706 minutes since Pep Guardiola's men conceded a Champions League goal, but if anyone can bomb that record and blitz through their reinforced defence, it's Haaland. 
Dortmund's blueprint for the match is, in essence, get the ball to him - early and often - in the final third. 
Haaland is ultimately the reason the club are still in the competition and the basis for not completely writing them off against a robust, balanced City, who have shed their kryptonite of being shredded in transition.
The player's presence in England for Tuesday's showdown will generate greater pressure on United to up the ante in their pursuit of him after missing out to Dortmund. They are alive to City's interest and are uncomfortable by it.
United can also absorb an eye-watering transfer fee as well as Haaland's personal demands, which are sure to be exorbitant given he has the pick of Europe's elite.
Ole Gunnar Solskjaer's personal relationship with his countryman is advantageous, but Haaland would move United closer to securing major trophies, whereas he would be guaranteed them at the Etihad. 
However, it can't be argued there would be larger acclaim and adoration in helping restore United to greatness than in becoming the latest grand part of Guardiola's juggernaut. 
Then there is Chelsea, where the financial clout, the desire to hoover up the continent's best young talent, and Timo Werner's struggles are perfect primers for a Haaland push. 
Realistically - unless the Spanish giants want to fall further in the monetary mire - the Premier League seems the likeliest new home for him. 
That is precisely why coverage leading into the weekend and over it was dominated by Raiola's meetings. It spotlighted Haaland's future before he flies into the place that could represent it. 
Call it 'pathetic', call it 'typical Mino,' but it's what Raiola would term perfect timing.
Register for free to continue reading
Registration is a free and easy way to support our truly independent journalism
By registering, you will also enjoy limited access to Premium articles, exclusive newsletters, commenting, and virtual events with our leading journalists
Already have an account? sign in
Register for free to continue reading
Registration is a free and easy way to support our truly independent journalism
By registering, you will also enjoy limited access to Premium articles, exclusive newsletters, commenting, and virtual events with our leading journalists
Already have an account? sign in
Join our new commenting forum
Join thought-provoking conversations, follow other Independent readers and see their replies