Fikayo Tomori handed valuable lesson against Man United but Milan star reminds Chelsea of promise
The 23-year-old, on loan from the Blues, has the tools to become a top class centre-back, but switched off as Amad scored in the 1-1 draw at Old Trafford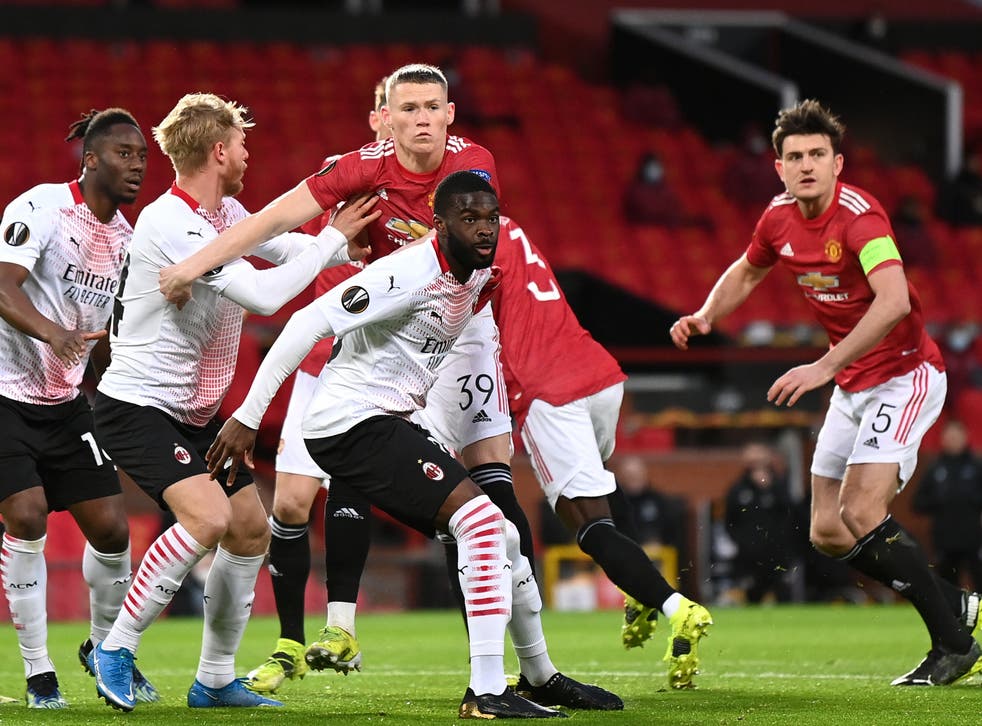 Fikayo Tomori discovered why impeccable concentration and awareness is required to belong at the elite level after AC Milan snatched a 1-1 draw against Manchester United in the first leg of the Europa League round of 16 tie.
The Chelsea defender is thriving on loan with the Rossoneri, to the extent that sporting director Paolo Maldini is already itching to activate their €25 million option to make the move permanent. The 23-year-old's unique skill set and immense speed has also prompted discussion over a late push to make Gareth Southgate's England squad for Euro 2020.
In a game that Stefano Pioli's side dominated, Tomori looked at ease, spreading wide with his partner Simon Kjaer as the Italians took control and built out from the back in possession. And aside from a little too much excitement lunging in an effort to intercept Alex Telles' cross, which Anthony Martial collected and volleyed powerfully at goal, Tomori was initially disciplined.
READ MORE: 'This is Milan': Controversial owners trust youth to rebuild Rossoneri
But after entering the break level, with Franck Kessie's slashing volley harshly ruled out by VAR for handball, United capitalised on their reprieve after the restart at the expense of Tomori and Gigi Donnarumma.
Tomori was enjoying a closely-fought battle with Mason Greenwood in perhaps the most intriguing part of the game. He covered well as the United teenager looked to stretch the visitors, but Tomori's concentration was somewhat exposed when Bruno Fernandes spotted the clever movement from Amad, on as a substitute for the injured Martial.
Diogo Dalot was unable to communicate with Tomori as the Ivorian darted between the pair and Fernandes brilliantly found him in behind with the 18-year-old looping a header beyond Gigi Donnarumma for the lead.
If concentration is critical at the highest level, reacting to mistakes is also vital, and Tomori quickly erased the incident from his memory, to provide evidence of his impressive mentality. He also resumed his battle with Greenwood, matching his speed down United's right wing and holding him up long enough to eliminate any danger.
His slick passing, often seen in Blue when afforded the chance, but strangely never coveted quite enough by Frank Lampard this season, was also on point. The arching ball with the outside of his right boot was a valuable weapon for Milan to feed right-back Davide Calabria in advanced positions down the right.
"It's a good feeling and to hear something like this obviously gives me confidence," Tomori said this week when hearing of Maldini's praise. "But I just want to carry on doing what I'm doing that's got me to this stage and go even further.
"I'm not really focused too much on what can happen in the future, it's just more about me playing well for the team and doing what I can for myself right now and helping the team as much as possible. Then what happens in the future will happen.
"But obviously it's very nice to hear that from one, if not the, greatest defenders to have played the game."
Milan responded well to their deficit and pushed on for an away goal, despite the danger of United sitting deep and looking to pick them off. It is here where Tomori thrives and can be a real asset for a team eager to seize the initiative and push into the opponent's half.
His express pace quickly denied Greenwood again on the counter, but his most impressive moment came against the teenage striker inside his own box. Just as it looked like Greenwood would ghost in on goal, Tomori's recovery speed and a clean tackle eliminated the dangerous moment.
And Pioli would soon be grateful for that valuable intervention from the Englishman, with Kjaer's angled header in stoppage time earning a deserved 1-1 draw heading back to the San Siro for the second leg.
Join our new commenting forum
Join thought-provoking conversations, follow other Independent readers and see their replies