Champions League: Five things we learned as Man City establish commanding lead against Gladbach in first leg
Borussia Monchengladbach 0-2 Manchester City: Here are they key takeaways as Silva and Jesus primed Guardiola's side for progression to the quarter-finals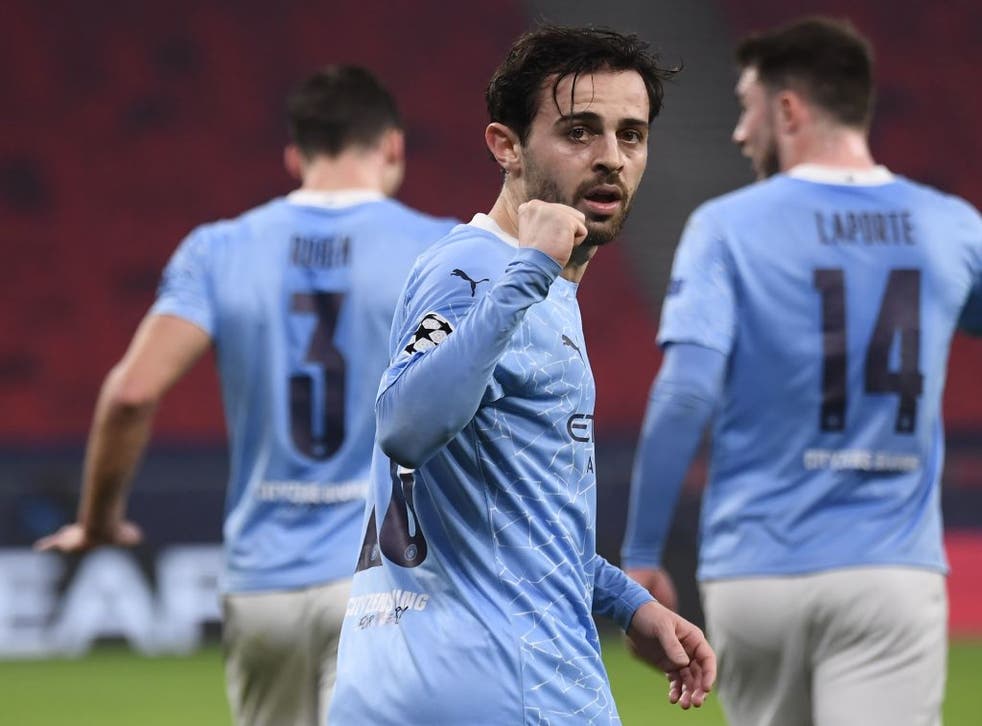 City cope with increasing pressure
With the resources available to them and a cabinet almost spilling domestic trophies, it is remarkable that Manchester City have failed to get past the semi-final stage in the Champions League.
Since that final-four finish five years ago, which came immediately before Pep Guardiola arrived at the club, City have twice fallen in the round of 16 and on three occasions failed in the quarter-finals.
Considering their startling form at the moment, which has seen them continue their habit of breaking domestic records, there is a greater expectation than ever for City to go all the way in Europe.
READ MORE: All Champions League fixtures by date and kick-off time
They exhibited a maturity and composure along the way to breaking down Borussia Monchengladbach on Wednesday evening, seemingly free of the effects that the afore-mentioned expectation can bring. But there will be greater tests to come, assuming City safely navigate the second leg, and those will be more telling as the Premier League side pursue this elusive trophy.
Silva playing his part
Bernardo Silva opened the scoring here with his fifth goal of the season – his fifth in his last 13 appearances.
Before that, the midfielder had managed just one in his previous 24 outings, showing that he has done his bit in recent weeks to help City out in the absence of Sergio Aguero's usual goalscoring contributions.
The Portuguese's midfield colleague Ilkay Gundogan, with 11 goals in his last 16 matches, has caught the eye more than any of Guardiola's players recently, but Silva's input and output should not be overlooked.
He also provided the assist for City's second goal, and on that note...
Winning formula
City's first goal saw Silva nod home a Joao Cancelo cross.
Their second goal saw Silva nod a Cancelo cross to Gabriel Jesus, who stabbed the ball home from close range.
That understanding between Silva and Cancelo proved incredibly effective on each occasion, with both players adapting their role slightly the second time around.
That was a subtle testament to the understanding between these City team-mates.
Dortmund fans watching on
With Monchengladbach coach Marco Rose heading to Borussia Dortmund at the end of the season, many BVB supporters will have had a keen eye on this game.
Despite this result, there are certainly reasons for them to be excited about Rose's arrival – especially given the 44-year-old German will have more to work with once he joins the near-perennial Bundesliga bridesmaids than he currently has at his disposal.
In any case, there was a real confidence to Monchengladbach's play at times on Wednesday night, and a calmness in the face of City's tenacity. What they failed to do, though, was mount many meaningful attacks.
That shouldn't be an issue for Rose in his next job, as long as Erling Haaland and Jadon Sancho are still donning Dortmund's famous yellow come the start of the new season.
Unfazed foals
You'd have permitted Monchengladbach a little apprehension here – after all, the eighth-best team in Germany were always going to be under threat at times against the record-setting Premier League leaders.
But, from the opening whistle, Rose's side played with self-assuredness in even the tightest spaces and under the most suffocating City pressure. The Foals' laxness got them in trouble now and then, and they struggled more in the second half, but it did not deter the Bundesliga club from keeping their heads for the most part and looking to play their football.
READ MORE: Meet Marco Rose – Gladbach coach and Klopp disciple
In the first half, they also stayed alert and sharp when City would close in on the 'home' team's box, making numerous good reads to dispossess Guardiola's players. From there on out, they themselves managed to hold onto the ball for longer periods – though, again, that proved more difficult after the break.
The biggest issue for Monchengladbach, however, was that they severely struggled to create goalscoring chances; they failed to manage a single shot in the first half and their only effort on target in the entire match was the last kick of the game.
Join our new commenting forum
Join thought-provoking conversations, follow other Independent readers and see their replies