Ostersund's Graham Potter relishing chance to face 'inspirational' Arsenal manager Arsene Wenger in Europe
On the eve of their round-of-32 meeting in northern Sweden – where temperatures are set to reach -7C – Potter credited Wenger with bringing English football out of the 'dark ages'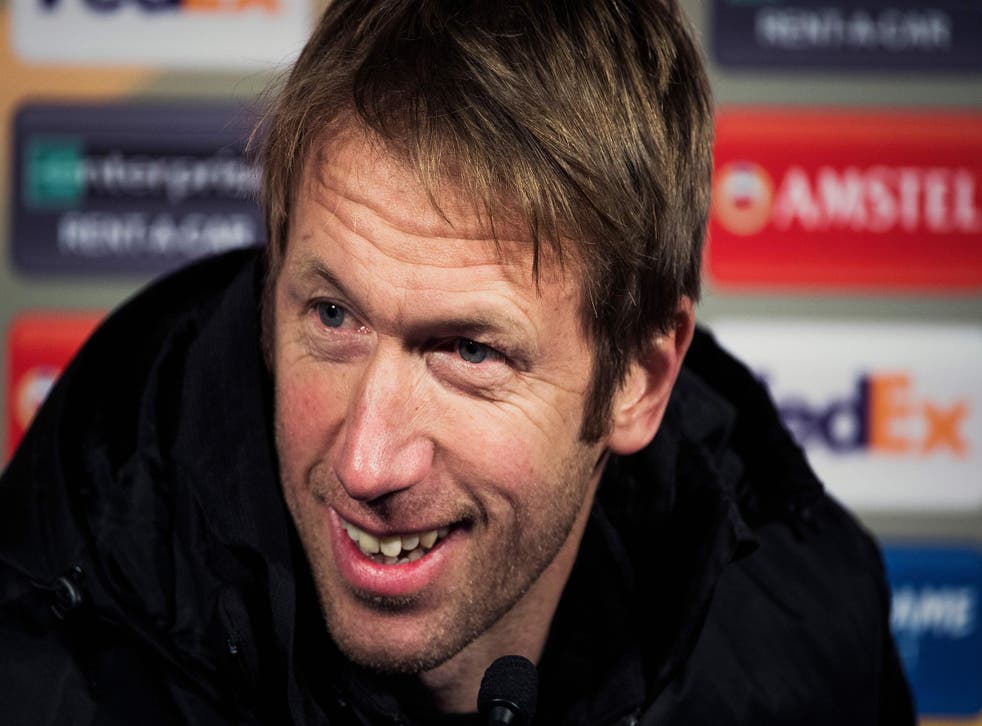 Graham Potter is relishing the opportunity to face his 'inspiration' Arsene Wenger on Thursday night when his Ostersunds FK side take on their greatest challenge yet, hosting Arsenal in the first leg of their Europa League round-of-32 tie.
Ostersund knocked out Galatasaray and Hertha Berlin to get this far in what is the first European campaign of the club's short history, but Potter knows that the Gunners represent a far bigger obstacle to overcome.
"We respect the opposition but we want to represent ourselves in the best way that we can," said the 42-year-old, speaking ahead of the game from Ostersund's biathlon training centre, which rather sums up the priorities of this remote part of the country six hours north of Stockholm.
Asked about the criticism Wenger regularly receives from sections of his own supporters, Potter praised the French manager for the way he has dealt with negativity. "It's not for me to say how Arsenal fans should act. He's done an incredible amount for English football. He's up there with anyone.
"I remember playing in the 90s when we were just coming out of the European ban and it was a bit like the dark ages. He is part of the reason why English football has changed. When you talk about a human level and for him to cope with what he has and stay at the top level for so long. He's an inspiration for me."
It will be crucial for Ostersund to take advantage of the inhospitable conditions of Sweden's north in the first leg, where temperatures at the Jamtkraft Arena are expected to be -7C when the match kicks off, but Potter rejected the idea that he might prefer it to be even colder for the visitors from north London.
"No, I'm not disappointed at all. The thing you don't want is it to be a farce. A couple of weeks ago it was minus 23 – that doesn't suit anyone. Our advantage is an 8,000 seater stadium in the north of Sweden. Their advantage will be a slightly different stadium in a slightly bigger city."
Potter's quiet but mighty rise in charge of a club who were in Sweden's fourth tier when he arrived in 2011 has seen him claim the Swedish Cup and finish fifth in the top flight, but he says overcoming Arsenal, who are second favourites to win the Europa League behind Atletico Madrid, would be the club's finest moment.
"We'd never won a major trophy before – we won that. We were never in a Europa League qualification before, especially against a big team like Galatasaray and we coped with that really well.
"We had never been in the Europa League before and we coped with that, so I have complete faith in the players in terms of their ability to deal with the challenge and the opportunity. But it goes without saying, if we are successful it's a huge moment for everybody connected with the club, not just for me."
Join our new commenting forum
Join thought-provoking conversations, follow other Independent readers and see their replies