Five things we learned from Arsenal's comfortable EFL Cup quarter-final victory over London rivals West Ham
Danny Welbeck eases some of Arsene Wenger's worries, Sead Kolasinac's inclusion could see him drop to the bench for the Liverpool match and empty seats cause a stir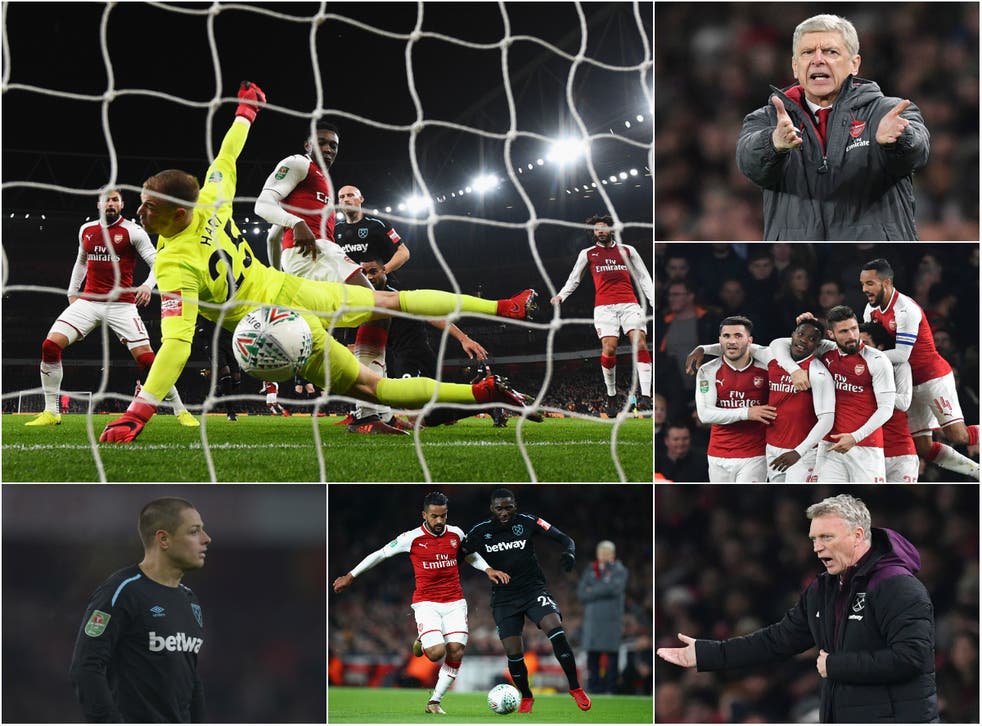 Arsenal are through to the semi-finals of the EFL Cup after a comfortable 1-0 victory over London rivals West Ham.
In a game with precious few goal-scoring opportunities, Danny Welbeck gave Arsenal the lead when he bundled the ball in from close-range shortly before half-time. David Moyes named a strong line-up but West Ham were completely toothless up-front and failed to register a shot on goal throughout.
The only sour note for Arsenal was Olivier Giroud sustaining an injury late on. The Frenchman hobbled off clutching his hamstring and is now likely to miss out on a large portion of the club's hectic festive schedule.
Here are five things we learned from the match.
Welbeck eases Wenger's worries
It was a vintage Welbeck goal. Running into the six-yard box to get on the end of Mathieu Debuchy's smart header across the box, Welbeck initially looked as though he had wasted a fine opportunity to open the scoring, nodding the ball tamely into the turf rather than beyond Joe Hart.
But this is Welbeck – we should have all known he was in fact inadvertently assisting himself. Stumbling forward, Welbeck then flicked his leg out to prod the ball home only for it to bounce awkwardly off his shin, bobbling under the outstretched arm of Hart.
It was ugly but Wenger would not have cared. Recently he has repeatedly complained that his team have been too wasteful in front of goal and he had to endure 40-minutes of profligacy before Welbeck broke the deadlock.
Arsenal continue to be a mean Cup team
Arsene Wenger shuffled his pack for this match – as he has been doing in the Europa League, too – and yet still Arsenal beat West Ham with something to spare.
Their league form may leave a lot to be desired and they are so far short of challenging Manchester City for the title, but Arsenal are still one of the best teams in the country and they have a superb recent record in the cup competitions.
They now have a fine chance of winning the EFL Cup, and will be tough to beat in the FA Cup and Europa League too.
Will Kolasinac be left out for Liverpool?
Sead Kolašinac has been one of Arsenal's better players this season, since signing from Schalke 04 on a free transfer. Wenger selected him to start here – so does that mean he's unlikely to feature against Liverpool on Friday night? The wing-back is certainly fit enough to start two games in a week, but two in just three days could be pushing it.
Perhaps Wenger does not think he is up to the task of handling Mohamed Salah, who is in the form of his life at the moment. Ainsley Maitland-Niles is certainly the quicker option and it could be the 20-year-old who is given the nod in three nights time.
One man who certainly won't be featuring is Giroud, who pulled his hamstring late into the game.
Moyes takes the Cup seriously
Of the four teams in action on Tuesday evening, David Moyes made the lowest number of changes to the starting eleven he played over the weekend.
And those he brought in were hardly fringe players. Joe Hart and Javier Hernández returned to the fray while Declan Rice was handed s start after making an impressive cameo in the Saturday's 4-0 win against Stoke.
He was rewarded with a hugely underwhelming display, but at least deserves credit for taking this competition seriously. What's Leicester's excuse?
Empty seats cause a stir
The official attendance for the match was just 44,741 and on social media many football fans were quick to criticise Arsenal for failing to entice more fans to the London derby Cup clash.
But there was more to all of the empty seats than meets the eye. Not only are the club in the midst of an exceptionally hectic festive schedule, but the game did not actually on general sale.
Following the crowd trouble at the Cologne fixture earlier this season – and considering the fact it was a derby match – Islington Council imposed an admission limit on the club. And then there was the fact that Carabao Cup matches are not included in every season ticket package.