Leicester vs Man United: Five things we learned as Kelechi Iheanacho knocks Red Devils out of FA Cup
Leicester 3-1 Man United: Iheanacho and Greenwood swapped first-half strikes before Tielemans' fine effort and Iheanacho's second sent the Foxes through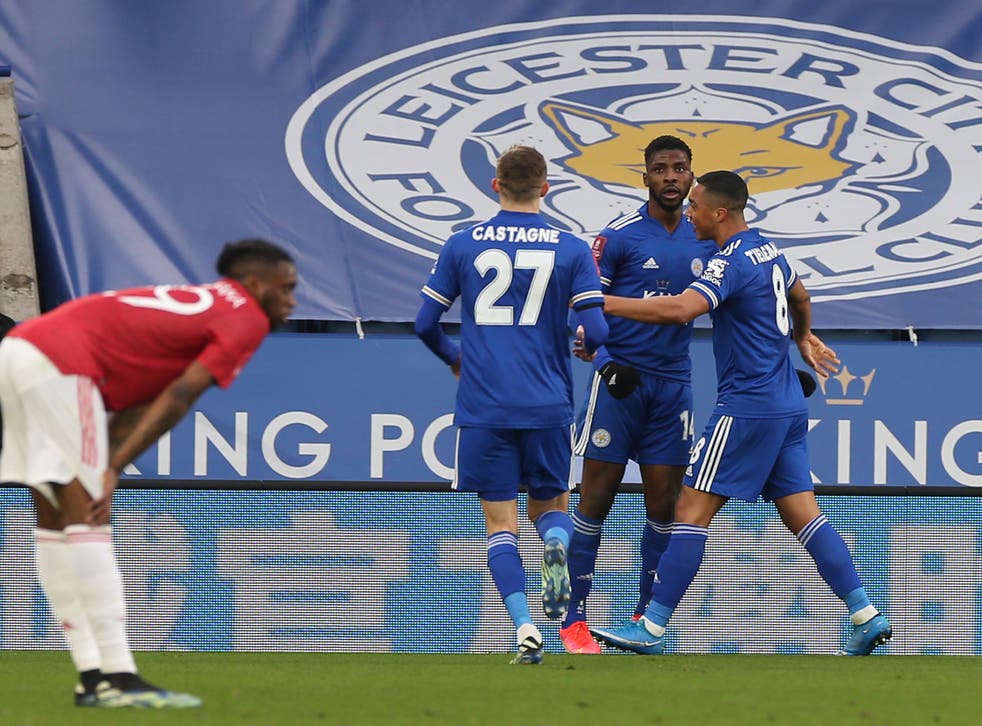 Leicester City impressed to beat Manchester United 3-1 in the FA Cup quarter-finals on Sunday.
The opening goal came as a result of a bad defensive error, Fred playing a weak back-pass to Dean Henderson which Kelechi Iheanacho intercepted, rounded the 'keeper and finished into the empty net.
United levelled before the break, however, as Donny van de Beek dummied a low cross which allowed Mason Greenwood to rattle home from the middle of the area - before Ayoze Perez curled an effort wide just before the whistle.
Just six minutes after the restart Leicester retook the lead, Youri Tielemans waltzing through midfield before burying a fine low effort from range - before Jamie Vardy should have wrapped up the win, striking wide with just the keeper to beat.
The tie was over with a little over 10 to play, though, as Iheanacho headed in his second when unmarked at the far post from a free-kick, sending United out of the cup.
Here are five things we learned as the Foxes reached the semi-finals.
READ MORE:
Iheanacho's finishing touch
Without question, this is Kelechi Iheanacho's best run of form since he was a promising youngster regularly plundering goals off the bench for Man City.
His opportunistic first-half finish was a sixth in March alone; his second-half header makes it nine in as many appearances.
Confidence is an important factor, but the forward himself might also argue opportunity is crucial - he had only started twice in the Premier League before February.
In contrast, strike partner Vardy has been on a rather horrid run in scoring terms, highlighted again here by his near-post miss around the hour mark when an in-form Foxes No. 9 would have typically wheeled away in celebration.
Keeper conundrum
A statement of the future, or a final chance to shine?
Dean Henderson started in goal for Man United for the sixth game in succession, with David de Gea on the bench. He has also, however, played the FA Cup games this season on rotation.
Given the scoreline and the fact he didn't produce a particularly stand-out moment of his own, it may be a little easy for Ole Gunnar Solskjaer to revert to type and bring the Spaniard back into the team for the next match.
If Henderson starts after the international break - when he'll surely feature for England, with Jordan Pickford out - then he's probably the 'official' No. 1. But although he couldn't be blamed for the goals, per se, he also might have been a little better-positioned for the third and might be marginally disappointed to not have reached the second, the only real strike from range he had to stretch for.
No blame, but also no iron-clad staking of his own claim to stay in the shirt.
Key platform
Leicester boss Brendan Rodgers deserves real credit for finding constant solutions this season, changing the team formation with regularity without altering the actual, tactical approach.
Injuries have affected different areas of the team all season long, giving them a centre-back shortage at one stage, never having all their full-backs available at any stage and key faces such as James Maddison and Harvey Barnes being missing from the attack.
The latest iteration has seen them revert to three at the back and it has been a vital building block for recent wins, with Wes Fofana and Caglar Soyuncu flanking Johnny Evans.
All three have aerial prowess, the wider two have great pace and genuine talent on the ball - and none of them are anything less than fully committed in the challenge.
Leaky spine
Fred, Harry Maguire, Nemanja Matic - an absolutely atrocious showing from United's central areas of the team.
The Brazilian midfielder gifted the opening goal, but also failed to stop Tielemans for the vital second and gave away possession with alarming regularity in the middle of the park.
Matic was simply bypassed, easily ignored at the base of United's midfield by the speed of Leicester's passing and the movement they offered from deep.
As for Maguire, it was a nightmare outing: missed challenges, poor communication and several times shown up as ponderous and slow-footed by the Foxes' fleet forward line.
League and Cup
Leicester stride on and are two games from silverware which, along with a top-four finish, would make 2020/21 a fantastic season overall.
With Man City still in the competition however, a trophy is anything but within touching distance - regardless of who else has been knocked out, while Pep Guardiola's side remain involved, the toughest challenge yet lies ahead for all other contenders.
And yet, having been drawn at half-time to face Southampton in the semis, the Foxes will fancy their chances of a double Wembley date.
In the shorter term, it's all about maintaining focus on the Premier League and ensuring no late drop-offs cost a top-four spot - which United must now also look to finish the job on.
Join our new commenting forum
Join thought-provoking conversations, follow other Independent readers and see their replies