Huddersfield vs Nottingham Forest LIVE: Championship play-off final result, final score and reaction tonight
Follow all the action from Wembley Stadium as the Terriers and Forest look to seal a spot in next season's Premier League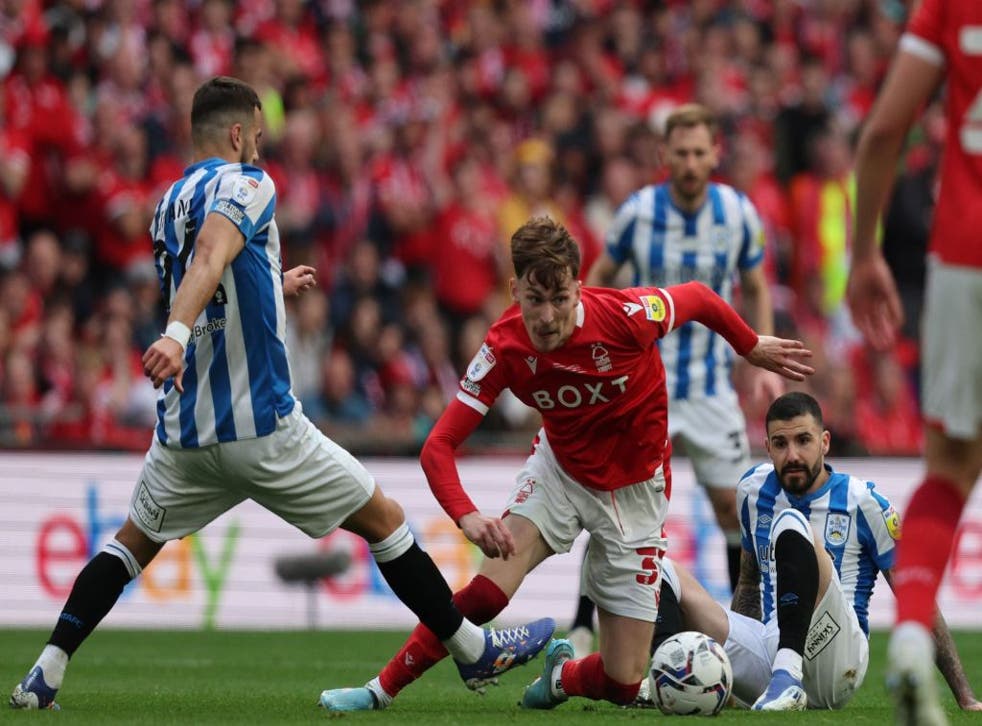 Steve Cooper's remarkable nine-month reinvention of Nottingham Forest gave birth to a belated new era at Wembley on Sunday. After 23 years of chaos, yearning and heartbreak, and a season in which Forest were rock bottom of the Championship in September, their resurrection to the Premier League was rendered complete as Levi Colwill's cruel own goal settled a tense and scrappy play-off final against Huddersfield.
Carlos Corberan will have every right to feel aggrieved, having seen two credible penalty appeals waved away in a frantic second half, but fate - and John Moss - refused to budge. They are the finite margins worth hundreds of millions in this unique fixture that wagers all the travails of the season on a knife-edge. On this occasion, no matter how Huddersfield tried to wrestle an equaliser, the game seemed destined to tilt in Forest's favour.
There was ecstasy at last for their players at full-time. They have inherited the burden of history, but players like Brennan Johnson and Djed Spence, who weren't even born when Forest were last in the Premier League, delivered catharsis to a crowd that knew the pain of the past two decades intimately and first-hand. They will be a romantic addition to the top-flight but that is no consolation to a Huddersfield squad that were left splayed across the turf in despair, left to rue what might have been. Follow reaction from the Championship play-off final below:
1653850803
Full-time: Huddersfield 0-1 Nottingham Forest
Thank you for joining me for this historic occasion which has seen Forest secure Premier League football for the first time in 23 years.
It's been an emotional day for the club with the players heralding Steve Cooper as the man behind the success.
How will they go in the top flight? Well it's only a few months until we find out.
Sarah Rendell
29 May 2022 20:00
1653850203
Full-time: Huddersfield 0-1 Nottingham Forest
Did you miss the Championship final? Well where have you been all afternoon? It's been a cracking game with Forest securing promotion.
Luckily for you our reporter Tom Kershaw attended Wembley and has wrapped up all the action so you haven't missed a thing!
Read about all the twists and turns here:
Huddersfield 0-1 Nottingham Forest: First-half own goal from Levi Colwill sends Forest back to the top flight
Sarah Rendell
29 May 2022 19:50
1653849603
Full-time: Huddersfield 0-1 Nottingham Forest
Nottingham Forest had stars across the board today but we have singled some out who stood out among the rest this season to secure top flight football.
Samba and Johnson are in the list but check out the article to see who else made the cut.
If there was one for Huddersfield Sarr, O'Brien and Ward would surely have made it. They were incredible for their side today, who suffered a 1-0 defeat.
Check out Forest's stars:
Forest have finally returned to the top flight.
Sarah Rendell
29 May 2022 19:40
1653849003
Full-time: Huddersfield 0-1 Nottingham Forest
There has to be a word on Huddersfield, who must be heartbroken after seeing the elation on the Forest players and fans faces.
They didn't have a bad game, repelling all but one chance in the first half, and they threw everything at their opposition in the second to try and bag the equaliser.
But it is Forest's day at Wembley with their fans going absolutely nowhere as the celebrations continue.
Sarah Rendell
29 May 2022 19:30
1653848403
Full-time: Huddersfield 0-1 Nottingham Forest
The admiration for Steve Cooper has oozed from each player and it is clear to see how he has got his players in good shape.
It is difficult to believe Forest were in the relegation zone at the start of the season, they employ Cooper and they have a stunning FA Cup run and secure Premier League promotion.
What can they do next season? All eyes will be on Cooper's men.
Sarah Rendell
29 May 2022 19:20
1653847611
Full-time: Huddersfield 0-1 Nottingham Forest
Here is the man of the moment! Steve Cooper is on the mic, will he drop it? He deserves to!
"I am really pleased for the players," he told Sky. "I thought we played well first half. Of all the good goals we've scored this season and we get one like that. But it doesn't matter!
"Everyone involved in the club deserve this.
"I love being at this club. It isn't about me but it has changed my life, professionally anyway. "
He added on the fans and history: "You walk in and it smells of history and tradition. Embrace it. Stand on their shoulders and try and create a positive next step. This club is built on positive eras like that.
"We have to think about the what ifs. What if we can get to the Premier League? That's what we have done.
The interview is interrupted by his players who swarm him. The love they have for their gaffer is clear!
Sarah Rendell
29 May 2022 19:06
1653847333
Full-time: Huddersfield 0-1 Nottingham Forest
Jack Colback is visibly emotional and blown away by the result as he faces the press.
He told Sky: "To end it here, to get the right result is unbelieveable.
"When Cooper came in he set targets. The first was the relegation zone, after that it was game by game.
"We kept going and goinf, it takes a lot to go from where we were... It's a credit to everyone involved."
On almost giving away a penalty: "I caught my foot. I felt straight away that he initiated contact, but you know when you've caught someone you think someone behid the screen may see it differently. But thankfully it went our way."
Sarah Rendell
29 May 2022 19:02
1653847088
Full-time: Huddersfield 0-1 Nottingham Forest
Ryan Yates has taken his turn in press duties and he's almost lost his voice with celebration!
He told Sky: "It's incredible. We came out for the warm-up and our end was nearly full!
"I don't think it was our best performance. It was better than our second half against Sheffield.
"Couple of times, me especially lost the ball. Teams like Huddersfield can punish you on the counter and luckily they didn't today.
"I'm already looking forward to it [Premier League] We haven't been there for 20+ years, let's go and attack it!"
Sarah Rendell
29 May 2022 18:58
1653846815
Full-time: Huddersfield 0-1 Nottingham Forest
Scott McKenna is first up and the Man of the Match has spoken to Sky!
"I don't think I can put it into words," he said. "I don't think it was the best of games but we have won promotion.
"Ever since we won the semi-final, the atmosphere around the town has been exceptional and so for us to get the result for all the fans is fantastic.
"Where we were at the start of the season we had no right to automatic promotion.
"Cooper has given the players confidence. He has freed the players up top up and they have won us the games.
"I cannot imagine what the Premier League is going to be like!"
Sarah Rendell
29 May 2022 18:53
1653846540
Full-time: Huddersfield 0-1 Nottingham Forest
I cannot wait to hear from Steve Cooper, hopefully the manager will be in front of press soon.
For now we will have to settle for their social media response, which is exciteable!
Sarah Rendell
29 May 2022 18:49
Register for free to continue reading
Registration is a free and easy way to support our truly independent journalism
By registering, you will also enjoy limited access to Premium articles, exclusive newsletters, commenting, and virtual events with our leading journalists
Already have an account? sign in
Register for free to continue reading
Registration is a free and easy way to support our truly independent journalism
By registering, you will also enjoy limited access to Premium articles, exclusive newsletters, commenting, and virtual events with our leading journalists
Already have an account? sign in
Join our new commenting forum
Join thought-provoking conversations, follow other Independent readers and see their replies