Huddersfield vs Nottingham Forest LIVE: Championship play-off final result, final score and reaction tonight
Follow all the action from Wembley Stadium as the Terriers and Forest look to seal a spot in next season's Premier League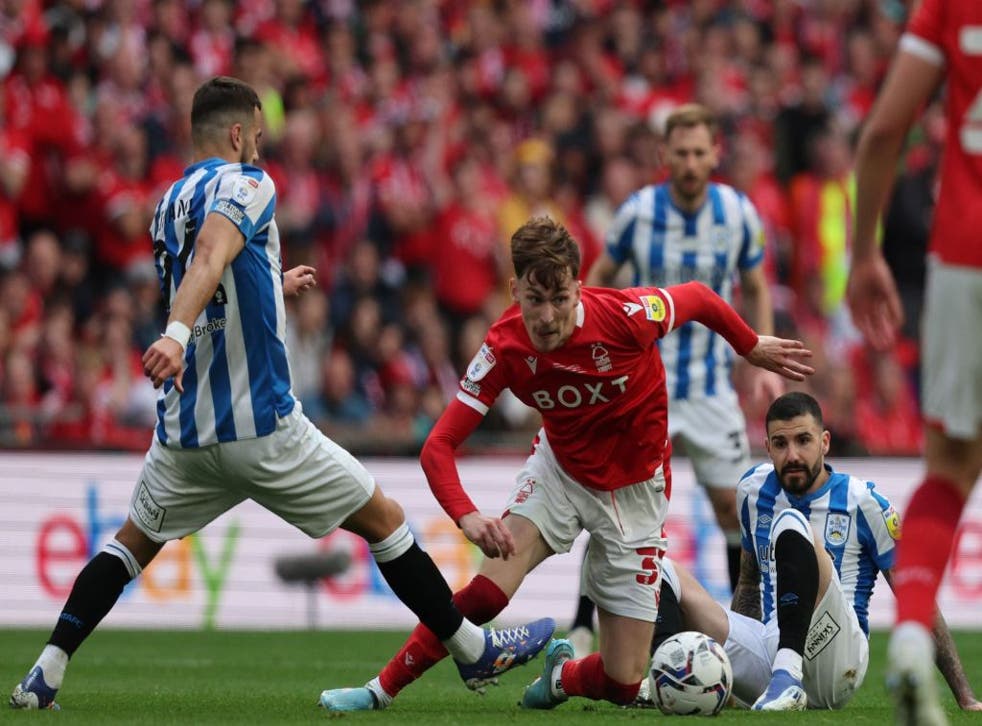 Steve Cooper's remarkable nine-month reinvention of Nottingham Forest gave birth to a belated new era at Wembley on Sunday. After 23 years of chaos, yearning and heartbreak, and a season in which Forest were rock bottom of the Championship in September, their resurrection to the Premier League was rendered complete as Levi Colwill's cruel own goal settled a tense and scrappy play-off final against Huddersfield.
Carlos Corberan will have every right to feel aggrieved, having seen two credible penalty appeals waved away in a frantic second half, but fate - and John Moss - refused to budge. They are the finite margins worth hundreds of millions in this unique fixture that wagers all the travails of the season on a knife-edge. On this occasion, no matter how Huddersfield tried to wrestle an equaliser, the game seemed destined to tilt in Forest's favour.
There was ecstasy at last for their players at full-time. They have inherited the burden of history, but players like Brennan Johnson and Djed Spence, who weren't even born when Forest were last in the Premier League, delivered catharsis to a crowd that knew the pain of the past two decades intimately and first-hand. They will be a romantic addition to the top-flight but that is no consolation to a Huddersfield squad that were left splayed across the turf in despair, left to rue what might have been. Follow reaction from the Championship play-off final below:
1653836909
Huddersfield vs Nottingham Forest
The championship play-off final is an historic occasion and it provides the hottest ticket in town - Premier League status.
Reporter Tom Kershaw has written about the special final: "There is perhaps no single game with such intolerance of romance as the Championship play-off final. It is the sort of occasion that ought to be steeped in history, from Nottingham Forest's arduous pursuit of glories past to Huddersfield Town's hopes of marking the 100th anniversary of its first major trophy.
"There should be emotive storylines, narrated by old players over grainy montages, that give a game like this texture and tradition, weaving memory and context into the mayhem.
"Yet, all that goes against the sort of spectacle that is an inherently modern phenomenon. For the owners and executives, there are the unprecedented riches on offer, worth more than £1million a minute to the winning club. For the players, the travails and tumult of the previous 48 games are either vindicated or rendered heartbreakingly obsolete.
"Take those stakes and transport them in front of 85,000 yearning supporters at Wembley and what you get is a gauntlet unlike any other in English football, where the consequences of winning and losing could hardly be more exaggerated. Even for the most senior players, the scale of those margins can be hard to grapple with."
There are few games where the stakes are so inordinate as the Championship play-off final
Sarah Rendell
29 May 2022 16:08
1653836224
Huddersfield vs Nottingham Forest
Have you ever wondered what the financial gain for both clubs would be if they take the win this afternoon at Wembley?
Not only is there prize money for securing the victory but they will also get a piece of the pie that comes with having Premier League status.
Tim Bridge, a director in the sports business group, said: "Wembley this weekend is host to the match with the most lucrative prize in world football.
"Following a fiercely contested season, the winner of Sunday's Championship play-off final will walk off the pitch having secured additional future revenues of at least £170million. "Promoted teams benefit from considerable financial gains which can deliver new player signings, stadium improvements and more.
"However, whilst a narrow majority of clubs promoted to the Premier League over the past decade survived their first season, half of the play-off final winners have not.
"Hence the winner of Sunday's game will face the challenge of maintaining the excitement of fans, as well as balancing financial stability in the coming months."
The winners could earn more than £300m over five years if they stay up
Sarah Rendell
29 May 2022 15:57
1653835635
Huddersfield vs Nottingham Forest
Ryan Yates' only experience of Nottingham Forest in the big time is watching old episodes of 'The Premier League Years', but he is determined to get the club back there this weekend.
The midfielder, who joined the club as a schoolboy, was 18 months old when Forest were last in the top flight, but can help end a 23-year exile if his side beat Huddersfield in the Sky Bet Championship play-off on Sunday.
Yates has spent many hours watching the nostalgic show, gorging himself on Teddy Sheringham's famous goal against Liverpool in 1992, but wants a slice of the action for himself.
"I was only 18 months old? That's incredible really, I used to watch Premier League Years when I was younger," he said. "I have seen it, the pictures weren't the best back then to be fair. Times have changed a lot, so we are looking forward to creating our own history now.
"Just those players, the Teddy Sheringham goal is one that comes to mind, I have probably watched that 10 times and still watch it now, it's a good watch."
The midfielder can help the Reds end a 23-year exile from the top flight by beating Huddersfield in Sunday's Sky Bet Championship play-off.
Sarah Rendell
29 May 2022 15:47
1653834992
Huddersfield vs Nottingham Forest team news
Both teams have announced their squads for today's final!
Huddersfield will have Sorba Thomas back in the ranks for today's final and they have Danny Ward starting after injury concerns in their semi-final.
Huddersfield: Nicholls, Pipa, Toffolo, Hogg, O'Brien, Thomas, Sarr, Sinani, Ward, Colwill, Lees.
Subs: Blackman, Pearson, Anjorin, Rhodes, Holmes, Turton, Russell.
Steve Cook has made one change to his side as Keinan Davis comes back into the starting line-up for Sam Suuridge after being benched in the semi-finals against Sheffield United due to fitness concerns.
Forest: Samba, Spence, Worrall, Colback, Davis, Zinckernagel, Johnson, Yates, McKenna, Cook, Garner.
Subs: Horvath, Figueiredo, Lowe, Surridge, Mighten, Cafu, Lolley.
Sarah Rendell
29 May 2022 15:36
1653834172
Huddersfield vs Nottingham Forest
Huddersfield captain Jonathan Hogg believes the club is better equipped for the Premier League than it was under former boss David Wagner.
The Terriers crashed out of the top flight after two seasons in 2019 and can return with victory against Nottingham Forest in today's Sky Bet Championship play-off final.
Hogg, 33, the only remaining player from Wagner's class of 2017, said: "As a squad I think we are better equipped, but we've got to get there first.
"Maybe as individuals we don't have the quality of (Aaron) Mooy and (Philip) Billing and people like that, but that togetherness we've got is special. Not many teams have got what we've got."
The Terriers were promoted to the top flight via the play-offs in 2017 and now face Nottingham Forest on Sunday to repeat the feat
Next up we have the team news...
Sarah Rendell
29 May 2022 15:22
1653833589
Huddersfield vs Nottingham Forest
This is a huge day in the history of both clubs with Huddersfield bidding to get back to the top flight for the first time since 2019 and Forest hunting the Premier League for the first time in 23 years.
The man of the moment for Forest is Steve Cooper who has changed the club's fortunes from relegation to top flight hopes. He has urged his players to walk in the footsteps of past club heroes to get the job done this afternoon.
He said: "The club is built on that history and that era and we are very proud of that. We embrace what it is and why the club is what it is today, it is largely down to that history.
"We embrace it but at the same time we also want to build on that and create a positive next chapter, we have a large generation of supporters who are going to Wembley for the first time, we are trying to create something that engages them to understand why they support Nottingham Forest.
"That is what we are trying to do. Embrace the past, stand on the shoulders – we want to do that but at the same time, understanding what might be possible."
Forest can end a 23-year exile from the English top tier if they beat Huddersfield in the Sky Bet Championship play-off final on Sunday
Sarah Rendell
29 May 2022 15:13
1653825557
How to watch Huddersfield vs Nottingham Forest online and on TV today
In what is described as the "most lucrative prize in football", victory and promotion to the Premier League will be worth at least £170 million to the winner.
Forest defeated Sheffield United on penalties to move a game away from ending their 23-year wait for a top-flight return and have manager Steve Cooper to thank after an incredible turnaround this season.
Huddersfield are looking to bounce back to the Premier League following their relegation in 2019 after they saw off Luton Town in the semi-finals.
Here's everything you need to know.
Everything you need to know with promotion to the Premier League on the line at Wembley
Karl Matchett
29 May 2022 12:59
Register for free to continue reading
Registration is a free and easy way to support our truly independent journalism
By registering, you will also enjoy limited access to Premium articles, exclusive newsletters, commenting, and virtual events with our leading journalists
Already have an account? sign in
Register for free to continue reading
Registration is a free and easy way to support our truly independent journalism
By registering, you will also enjoy limited access to Premium articles, exclusive newsletters, commenting, and virtual events with our leading journalists
Already have an account? sign in
Join our new commenting forum
Join thought-provoking conversations, follow other Independent readers and see their replies