As it happened
ended
1481806581
Real Madrid vs Club America live: Cristiano Ronaldo goal given after video referee referral to seal semi-final win
Follow the latest from the Fifa Club World Cup semi-final in Japan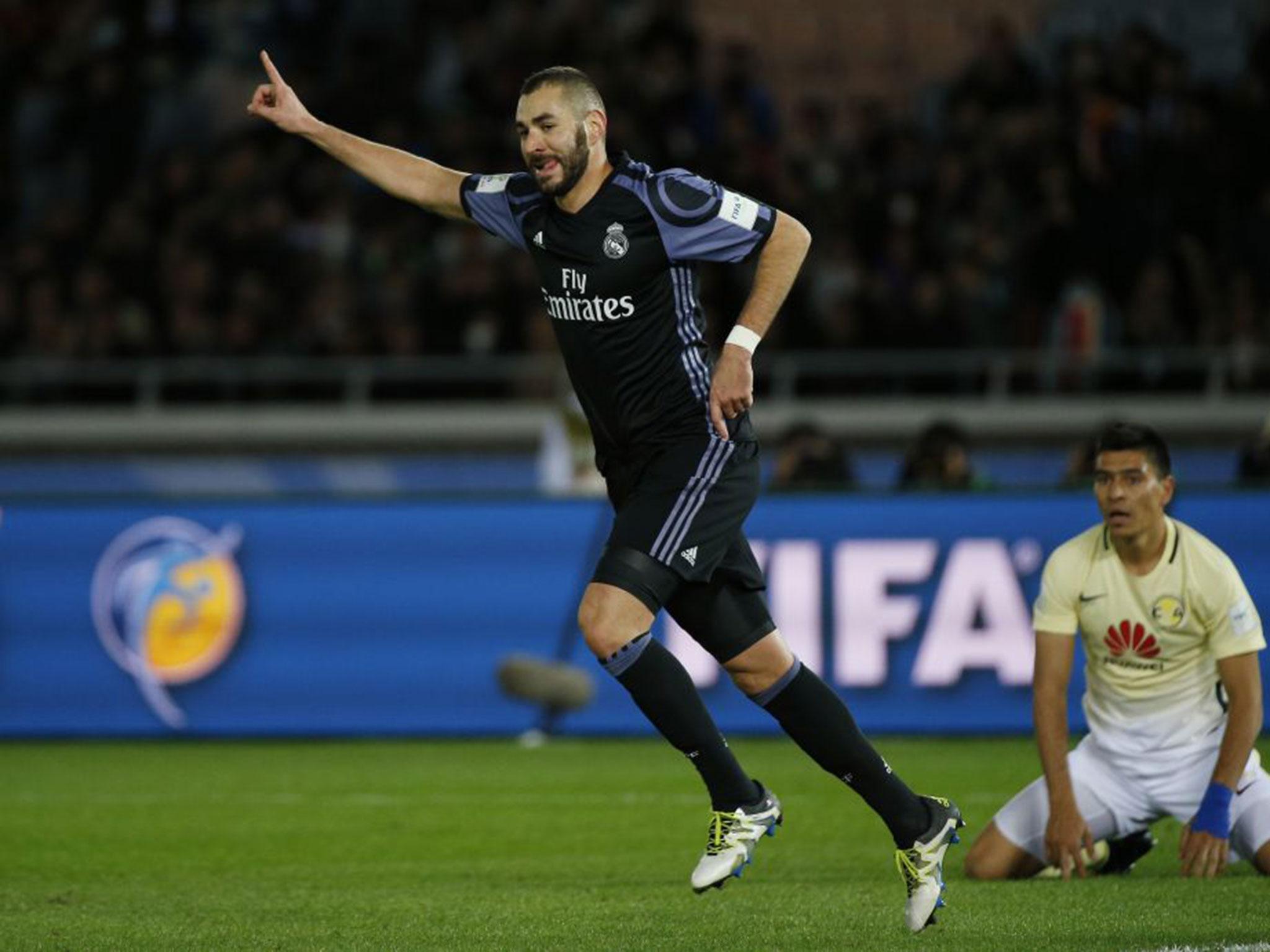 Real Madrid are through to the Fifa Club World Cup final after securing a comfortable 2-0 victory over Mexican side Club America, setting up a final clash against Japanese side Kasima Antlers in Tokyo on Sunday to decide the club champions of the world. Re-live the action here.
Real Madrid beat Club America 2-0
Real take first-half lead through Karim Benzema goal
Cristiano Ronaldo doubles the advantage in final minutes
Ronaldo's goal originally disallowed for offside before being reviewed on video
Ronaldo had earlier struck the post twice
Real to play Asian champions Kasima Tokyo in Sunday's final
Club America to feature in 3rd-place play-off against Atletico Nacional
Follow the live action below...
Please allow a moment for the blog to load...
A big game for…
Rubens Sambueza. The Club America club captain is hoping to return to the starting XI to offer his team more control and bite in the centre of the park as they attempt to pull off a surprise victory over Madrid. Should he feature, Sambueza will need to recreate the sort of form which has seen him rack up four goals and nine assists this season. As club captain, Thursday's semi-final comes a big game for the Argentine.
Best stat…
35 - The number of matches that reigning European champions Real Madrid have gone since they last lost. Their longest unbeaten run in 27 years, it comprises 26 wins and nine draws in all competitions and stretches back to April.
Player to watch…
Karim Benzema. The Frenchman was rested for the side's 3-2 La Liga win over Deportivo La Coruna on Saturday and is expected to return to play in Thursday's semi-final. After bagging a brace in his last appearance against Borussia Dortmund, America will need to keep an eye on the 28-year-old.
Last meeting…
The most recent meeting between the two sides came in a friendly match back in August 2010. Madrid emerged victorious on that occasion, with Cristiano Ronaldo striking late to end the game 3-2.
Predicted teams...
Club America: Munoz, Valdez, Samudio, Arroyo, Goltz, Aguilar, Sambueza, Da Silva, Peralta, Quintero, Romero.
Real Madrid: Navas, Danilo, Marcelo, Varane, Ramos, Kroos, Modric, Isco, Vasquez, Ronaldo, Benzema.
What's been said….
Club America coach Ricardo La Volpe: "It's players and not shirts that win games. We'll go out to play Real Madrid without any kind of burden on our shoulders. We have to work twice as hard to make sure we've got two men up against every one of theirs all across the pitch. We're going to play a great side and we're going to see what we're made of."
Real Madrid captain Sergio Ramos: "We'd like to get the Champions Badge back. The Club World Cup gives us the chance to test ourselves against other styles of play that we're perhaps not so used to. We have new goals to achieve, and new records to break. There are always new challenges."
Form guide...
Club America: WWDWD
Real Madrid: WDDWW
Vital information...
Kick-off: 15 December, Yokohama, Japan, 10.30 (UTC)
TV: The game is not being broadcast in the UK. Follow our live blog for minute-by-minute updates.
1481796170
Good morning and welcome to The Independent's live coverage of the Fifa Club World Cup semi-final between Real Madrid and Club America as the Champions League and Concacaf Champions Cup winners collide with a place in the final up for grabs.
Jack de Menezes
15 December 2016 10:02
1481796385
Japanese side Kasima Antlers have already qualified for the final - which takes place on Sunday - after they beat South American champions Atletico Nacional, and Real Madrid head into today's tie as hot favourites to meet them providing they overcome Mexican side Club America.
History is not in Club America's favour either, given that no north American side has ever reached the Fifa Club World Cup final in its 12-year history. Could this be the year that changes?
Jack de Menezes
15 December 2016 10:06
1481796630
For some, today's clash comes a mere inconvenience for Real Madrid as they eye glory closer to home. But not for Zinedine Zidane.
The Real Madrid boss has insisted that is side will "fight and battle to win" as they bid to reclaim the title. And despite being favourites to lift this year's cup, Zidane told the press on Wednesday that he sees today's match as a "50/50 game".
"We are not favourites, we do not feel pressure that way," Zidane said. "Maybe many people think Madrid will have it easy against this team. But I do not think like that at all.
"They are a very good team, know how to play, and can make it difficult for us. It is a 50/50 game, it is always like that before the game. Every game you must go out and fight and battle to win it. For sure we will have problems tomorrow, but they will too, for sure."
Samuel Lovett
15 December 2016 10:10
1481796750
Zidane speaking ahead of today's semi-final 
Samuel Lovett
15 December 2016 10:12
1481797018
As expected, both Ronaldo and Benzema feature after being rested for the side's La Liga clash against Deportivo la Coruna over the weekend.
The latter was in hot form for Madrid in his last appearance, bagging a brace against Borussia Dortmund in the Champions League, and will be the man to watch today!
Samuel Lovett
15 December 2016 10:16
1481797424
So where exactly are they playing?
For those of you who don't know their Japanese stadiums (you're not alone...), today's clash is taking place at the International Stadium Yokohama (AKA the Nissan Stadium).
It's the home stadium of Yokohama F. Marinos of the J1 League and is the highest seating capacity of any stadium in Japan, with a total of 72,327 seats. It hosted three first-round games during the 2002 World Cup as well as the final between Germany and Brazil.
The stadium is one of the planned football venues for the 2020 Summer Olympics.
Completely off the top of my head that...
International Stadium Yokohama 
Samuel Lovett
15 December 2016 10:23
1481797854
As hoped, Rubens Sambueza starts for Club America. At 32, the club captain ain't no spring chicken anymore. He'll know that today's game could be his last opportunity to reach the final of a global competition like the Fifa Club World Cup. Expect plenty of heart and soul from the Argentine.
Samuel Lovett
15 December 2016 10:30
1481797992
1 min: And that's the whistle! Game on!
Samuel Lovett
15 December 2016 10:33
1481798125
3 min: Madrid start strongly, driving forward with menace. It's not long before the first foul is drawn and it's Toni Kroos who ends up tumbling to the ground under Da Silva's challenge. Madrid free-kick.
Samuel Lovett
15 December 2016 10:35
Join our commenting forum
Join thought-provoking conversations, follow other Independent readers and see their replies