Southampton vs Chelsea LIVE: Result and reaction from Premier League fixture today
Follow all the action live from St Mary's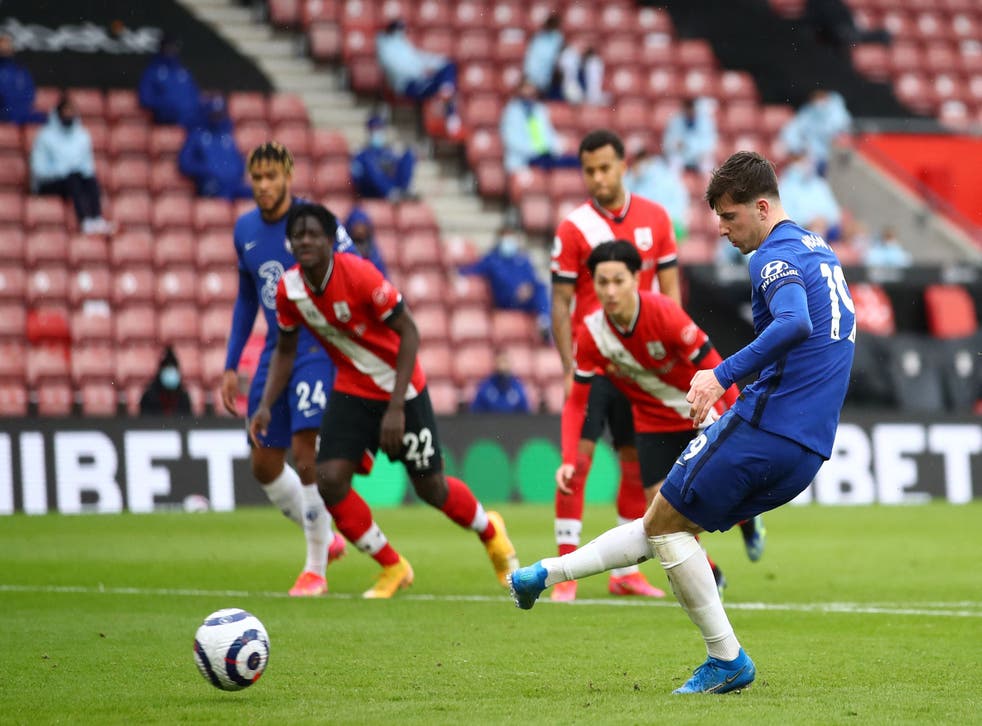 Follow all the action as Southampton host Chelsea in Saturday's early Premier League kick-off.
After such a fantastic first half of the season, Ralph Hasenhuttl's side now find themselves trapped in a desperate slump, losing all of their last six league games in succession, including a harrowing 9-0 defeat by Manchester United. The Saints briefly topped the table at one stage but have now dropped down to 13th, with their hopes of securing European football now all but extinguished.
However, Chelsea's fortunes have improved markedly since the arrival of Thomas Tuchel, even if a title charge is already beyond the Blues. The club have won five out of six games in all competitions since Frank Lampard was sacked and currently sit fourth, just four points adrift of second-placed Manchester United. There was relief for Timo Werner, too, in a 2-0 victory against Newcastle last time out, with the forward finally bringing his torrid goal drought to an end. Thiago Silva and Kai Havertz have both returned to full training ahead of the fixture, but Tuchel will already have one eye on Tuesday's Champions League tie against Atletico Madrid and may choose to rotate his starting line-up. Follow all the action live below:
READ MORE: Could Chelsea win the Champions League?
1613850440
MATCH REPORT
Liverpool 0-2 Everton: Richarlison and a Gylfi Sigurdsson penalty secured Carlo Ancelotti's side the three points and a first win over their city rivals for the first time since 1999
Callum Rice-Coates
20 February 2021 19:47
1613850281
CARLO ANCELOTTI SPEAKS TO SKY SPORTS
"Really pleased, really happy for the club and the supporters. I hope they are going to celebrate tonight. It was a good performance, a lot of fight, a lot of spirit. Richarlison is back, because now he's scoring and playing with a lot of consistency. James is always the same, maybe doesn't have the physicality of the others but he has better quality. We did really well away, at home we have problems. We have to find more consistency at home and we are working on this. We are fighting for Europe and now we are in a good position. These types of performances help the belief of the team."
Callum Rice-Coates
20 February 2021 19:44
1613849911
SEAMUS COLEMAN SPEAKS TO SKY SPORTS
"It's an amazing feeling, coming here all the years and letting ourselves down but more importantly letting the blue side of the city down. It's been hard, it's difficult to take and you feel sorry for the fans. Thank the manager for the way he set us up, the players put in an unbelievable shift against the champions. For us now, move on from it as quickly as possible. We need to start moving the football club forward. I'd be lying to you if I said I wasn't looking up at the clock a few times. That's for all the Evertonians the last number of years who've struggled."
Callum Rice-Coates
20 February 2021 19:38
1613849662
Callum Rice-Coates
20 February 2021 19:34
1613849421
FIVE THINGS WE LEARNED
Liverpool 0-2 Everton: Richarlison scored early before Sigurdsson's late penalty
Callum Rice-Coates
20 February 2021 19:30
1613849344
There are scenes of jubilant celebration on the pitch at Anfield. This means a lot to Everton. And it will hurt for Liverpool, another blow in a very difficult season for Klopp and his players.
Callum Rice-Coates
20 February 2021 19:29
1613849216
FULL-TIME: LIVERPOOL 0-2 EVERTON
That's it! Sigurdsson sends a late shot flying just past the post and the final whistle is blown. Everton win a Premier League game at Anfield for the first time in over 20 years. It's a huge result for Ancelotti and his players, who move level on points with their city rivals thanks to Richarlison's early goal and a second-half Sigurdsson penalty. Liverpool's struggles go on. It's a fourth successive home defeat for the champions, who not so long ago seemed invulnerable at this stadium.
Callum Rice-Coates
20 February 2021 19:26
1613849057
LIVERPOOL 0-2 EVERTON (90+4')
Digne is back up and ready to go again for the last couple of minutes. Everton are almost there now...
Callum Rice-Coates
20 February 2021 19:24
1613848982
LIVERPOOL 0-2 EVERTON (90+3')
Phillips powers a header over the bar from a Liverpool corner. Digne is down in the box and needs some treatment from the physio.
Callum Rice-Coates
20 February 2021 19:23
1613848936
LIVERPOOL 0-2 EVERTON (90+2')
Another timely intervention from Keane to stop a pass towards Mane. Pickford then produces another flying save to tip a Wijnaldum shot over the bar.
Callum Rice-Coates
20 February 2021 19:22
Join our new commenting forum
Join thought-provoking conversations, follow other Independent readers and see their replies