Liverpool vs Everton LIVE: Premier League result and final score as Divock Origi goal seals derby win
All the reaction and updates from Anfield in a crucial Merseyside derby for both teams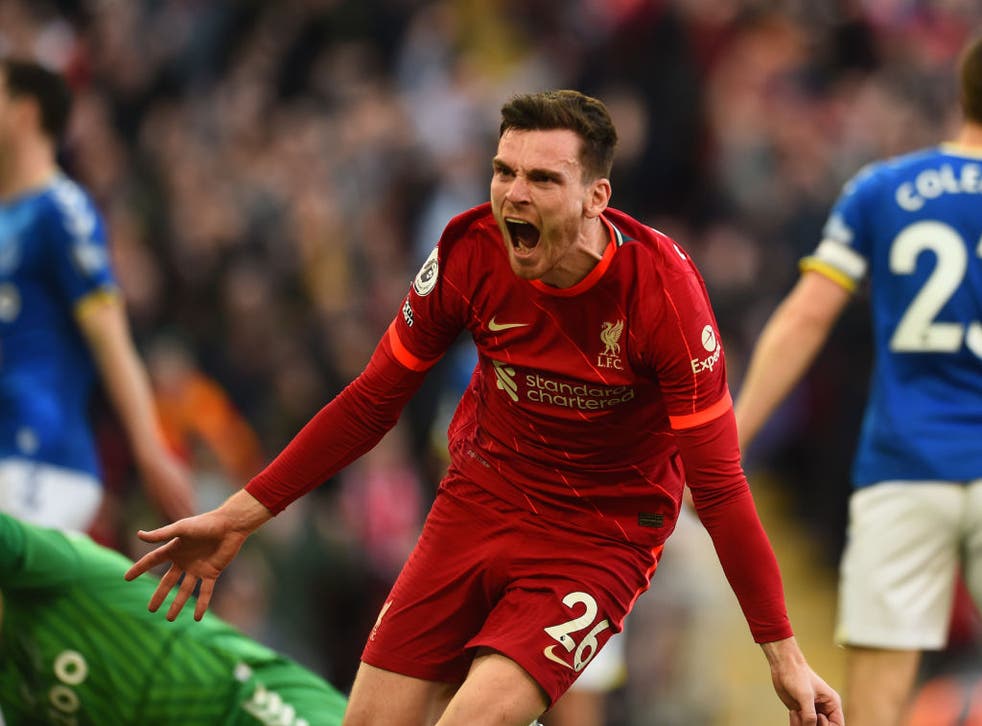 Follow live reaction as Liverpool kept their Premier League title challenge on track as they overcame a battling and stubborn Everton side at Anfield to leave their Merseyside rivals in the relegation zone.
The Reds had been frustrated by the visitors in a feisty derby until Andy Robertson broke the deadlock midway through the second half, as the full-back met Mohamed Salah's cross at the back post in front of the Kop.
Substitutes Luis Diaz and Divock Origi then combined to seal the win - with the Belgian striker scoring another derby goal against Everton, in what was an inspired double change from Jurgen Klopp.
The result sees Liverpool close the gap to Manchester City to one point with five matches of the season remaining, while Everton are left in serious danger after Burnley's win over Wolves earlier in the day saw Frank Lampard's side drop into the bottom three.
1650818112
Liverpool 0-0 Everton
46 mins: Here we go then. Liverpool have 45 minutes to find a breakthrough. Everton have 45 minutes to hold on. Or could they even find a winner themselves?
Naby Keita gets us back underway.
Dylan Terry
24 April 2022 17:35
1650818048
HT: Liverpool 0-0 Everton
Even Jamie Carragher is riled. Stay professional now, Jamie.
Dylan Terry
24 April 2022 17:34
1650817931
HT: Liverpool 0-0 Everton
Moments away from the second half at Anfield. Would be a huge blow to Liverpool's title ambitions if they can't find a way through in this next 45 minutes.
Equally, it would be a major boost for Everton who would be unbeaten in three games.
Dylan Terry
24 April 2022 17:32
1650817853
HT: Liverpool 0-0 Everton
It really cannot be overstated the level of gamesmanship at play from Everton in that first half. Hitting the deck, 'losing' the ball, diving, I could go on.
They are doing whatever they can to stay in the Premier League and I can't work out if I loathe or respect it.
Dylan Terry
24 April 2022 17:30
1650817603
HT: Liverpool 0-0 Everton
To illustrate just how well Everton have restricted Liverpool in that first half, the Toffees actually had a higher expected goals than the home side.
Dylan Terry
24 April 2022 17:26
1650817273
HT: Liverpool 0-0 Everton
Half-time: That's the break and rather surprisingly it is goalless between Liverpool and Everton. Frank Lampard's men have done well to negate Liverpool with their solid defensive structure.
Sadio Mane and Mo Salah have had half chances but on the whole it has been a very impressive performance from the visitors. Jurgen Klopp has much to think about and will need to instruct his players effectively if they are to claim all three points in this one.
Dylan Terry
24 April 2022 17:21
1650817160
Liverpool 0-0 Everton
45+1 mins: Pickford gathers a simple cross and then hits the deck to waste another few seconds. He smiles and gives a wink to the bench. The Liverpool fans are not entertained.
That should be that for the first half.
Dylan Terry
24 April 2022 17:19
1650817093
Liverpool 0-0 Everton
45 mins: Mane was booked for pushing Holgate in the face as both sets of players came to blows.
There will be two minutes of added time.
Dylan Terry
24 April 2022 17:18
1650817035
Liverpool 0-0 Everton
45 mins: Richarlison is down again but Liverpool are correctly not kicking the ball out of play.
OH, HELLO! Absolute chaos as the Everton players are calling for the ball to be kicked out. Doucoure ends up hacking down Fabinho as the Liverpool team all sprint over to confront him for a nasty challenge.
There is a lot of pushing and shoving and Doucoure ends up with a yellow card for the initial tackle. Mane has also been booked following the melee that ensued.
Dylan Terry
24 April 2022 17:17
1650816859
Liverpool 0-0 Everton
44 mins: Salah plays a one-two with Keita before trying to whip one into the far corner but it's a good few yards wide.
Very quiet half for Liverpool. They have failed to put those electric moves together that they are so well-known for.
Dylan Terry
24 April 2022 17:14
Register for free to continue reading
Registration is a free and easy way to support our truly independent journalism
By registering, you will also enjoy limited access to Premium articles, exclusive newsletters, commenting, and virtual events with our leading journalists
Already have an account? sign in
Register for free to continue reading
Registration is a free and easy way to support our truly independent journalism
By registering, you will also enjoy limited access to Premium articles, exclusive newsletters, commenting, and virtual events with our leading journalists
Already have an account? sign in
Join our new commenting forum
Join thought-provoking conversations, follow other Independent readers and see their replies