Liverpool vs Everton LIVE: Premier League result and final score as Divock Origi goal seals derby win
All the reaction and updates from Anfield in a crucial Merseyside derby for both teams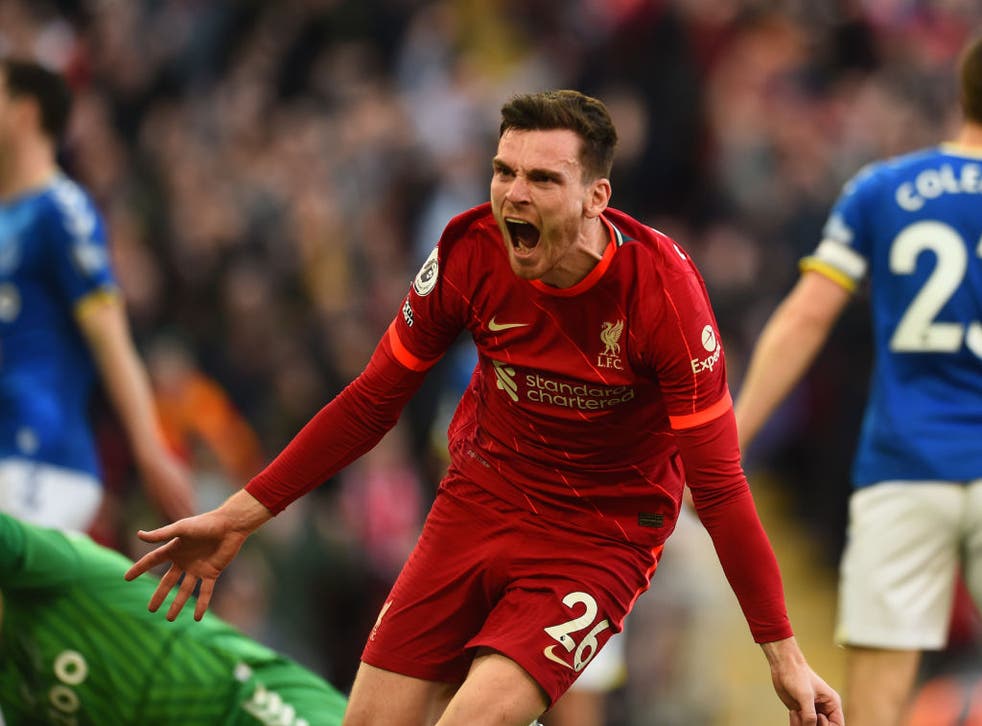 Follow live reaction as Liverpool kept their Premier League title challenge on track as they overcame a battling and stubborn Everton side at Anfield to leave their Merseyside rivals in the relegation zone.
The Reds had been frustrated by the visitors in a feisty derby until Andy Robertson broke the deadlock midway through the second half, as the full-back met Mohamed Salah's cross at the back post in front of the Kop.
Substitutes Luis Diaz and Divock Origi then combined to seal the win - with the Belgian striker scoring another derby goal against Everton, in what was an inspired double change from Jurgen Klopp.
The result sees Liverpool close the gap to Manchester City to one point with five matches of the season remaining, while Everton are left in serious danger after Burnley's win over Wolves earlier in the day saw Frank Lampard's side drop into the bottom three.
1650823543
FT: Liverpool 2-0 Everton
Frank Lampard has also given his reaction to Everton's Merseyside derby defeat.
On his side's performance, he said: "I thought we played well. The game plan was understanding they are one of the best teams in the world, with what they are doing to other teams.
"We wanted to be disciplined and to create chances. We had a couple of opportunities; the first half was good and we started the second half well. If we get the first goal, the game feels different."
On the Gordon penalty appeal, he added: "I think it was. I've not seen how clear-cut it was."
And on the relegation battle, the Everton boss said: "[Our league position] will be talked about, but we had to assume Burnley would win today. Leeds are still in it, they play tomorrow [against Crystal Palace]."
Dylan Terry
24 April 2022 19:05
1650823243
FT: Liverpool 2-0 Everton
Klopp also gave his opinion on Everton's penalty shout in the second half when Joel Matip bundled over Anthony Gordon, as well as when the Toffees man was booked for diving when looking for a spot kick in the first half.
"It [the second] was clearly no penalty. He's really good but he's lucky not to get a second yellow. The first was not a penalty and the second wasn't.
"If anybody thinks we fly through these games, I can apologise, it won't happen. If we can create atmospheres like today it's difficult to deal with us for 95 minutes.
"Everton did what they had to do. We deserved the three points. With a performance like this I think they can get the points they need."
Dylan Terry
24 April 2022 19:00
1650822943
FT: Liverpool 2-0 Everton
Jurgen Klopp has reacted to the Merseyside derby victory over Everton.
He told BBC Sport: "Thank God the game has two halves. We didn't play particularly well in the first half. They made it uncomfortable but we didn't get in behind the last line. We didn't have enough movement.
"We weren't quick enough. We passed the ball into the area they had nine players. Second half we were much more direct and caused them much more problems. The goals were wonderful.
"We expected it [Everton's tactics] but we didn't react well. It's difficult. Each ball Jordan Pickford has he takes five minutes so we couldn't gain rhythm which you need to break down a low block. We expected them to do it.
"The amount of wins we've had in recent months is insane. You have to work. The boys did that again. I'm really happy.
"We stayed really cool and calm. The changes helped, Fresh players, different formation. It made it difficult for the opposition. We won 2-0, it's absolutely fine."
Dylan Terry
24 April 2022 18:55
1650822643
FT: Liverpool 2-0 Everton
Divock Origi was built for the Merseyside derby.
Dylan Terry
24 April 2022 18:50
1650822070
FT: Liverpool 2-0 Everton
Liverpool full-back Andy Robertson insists patience was the key to them eventually coming out on top against Everton at Anfield.
Speaking to Sky Sports, Robertson, who scored the opening goal of the game, said: "It was tough, we started playing their game and not our own game. We weren't at our best. We had to focus on ourselves and be patient and create chances.
"Everton are fighting for every point they can get. We didn't create anything first half. We had to be patient and fortunately we got the goals. My first at the Kop end, it was an amazing feeling, I'm really pleased with all our contributions today and now we've got a tough week ahead."
And Divock Origi, who sealed the win with the second goal, added: "It is a nice record. I just think about playing football, but it was a tough game and we needed it."
Dylan Terry
24 April 2022 18:41
1650822043
FT: Liverpool 2-0 Everton
Everton's Anthony Gordon has given his reaction after the Toffees lost 2-0 to Liverpool at Anfield in the Merseyside derby.
He told Sky Sports: "We can't fault our efforts. It's a tough place to come. [The plan was] just to make it difficult for them. They're in really good form. Throw them off a bit and hopefully take our chances but unfortunately they scored two goals.
"I had a couple where I could have done better. I'll work on it and become better.
"We stuck in. We stuck together. It was a good performance for a lot of the game but they showed their quality in the end."
On his booking for diving: "I don't think it's a booking. I felt contact so I went down. I can see why he didn't give a penalty but it wasn't a yellow card for me."
Dylan Terry
24 April 2022 18:40
1650821743
FT: Liverpool 2-0 Everton
It is worth remembering that Everton had a big penalty shout before Liverpool broke the deadlock. Anthony Gordon went down after a challenge from Joel Matip but Stuart Attwell was unmoved.
Was a big moment. I'm sure Frank Lampard will be focussing on that moment in his post-match interview.
Dylan Terry
24 April 2022 18:35
1650821443
FT: Liverpool 2-0 Everton
Here was the moment which sealed the game. Divock Origi again.
Dylan Terry
24 April 2022 18:30
1650821047
FT: Liverpool 2-0 Everton
Full-time: That's it. Liverpool have done the double over Everton. Second half goals from Andy Robertson and Luis Diaz ultimately put Everton's spirited resolve to bed.
Frank Lampard's side did show great character in the first 45 minutes and had a couple of half-chances in the second period.
But it was Jurgen Klopp's team who always looked the dominant outfit and eventually secured the three points.
Liverpool move one point off the top. Everton remain in the relegation zone.
Dylan Terry
24 April 2022 18:24
1650820936
Liverpool 2-0 Everton
90+2 mins: Three minutes of stoppage time and Alisson has just sent the Liverpool crowd into fits of laughter.
Imitating Jordan Pickford in the first half, the Liverpool keeper dropped to the floor after claiming a cross. He knew what he was doing. The camera instantly cuts to a glum-looking Pickford.
Dylan Terry
24 April 2022 18:22
Register for free to continue reading
Registration is a free and easy way to support our truly independent journalism
By registering, you will also enjoy limited access to Premium articles, exclusive newsletters, commenting, and virtual events with our leading journalists
Already have an account? sign in
Register for free to continue reading
Registration is a free and easy way to support our truly independent journalism
By registering, you will also enjoy limited access to Premium articles, exclusive newsletters, commenting, and virtual events with our leading journalists
Already have an account? sign in
Join our new commenting forum
Join thought-provoking conversations, follow other Independent readers and see their replies