Liverpool to ban pitch invader who almost injured Andy Robertson
Jurgen Klopp was furious after the pitch invader collided with the Liverpool players when celebrating the seventh goal against Manchester United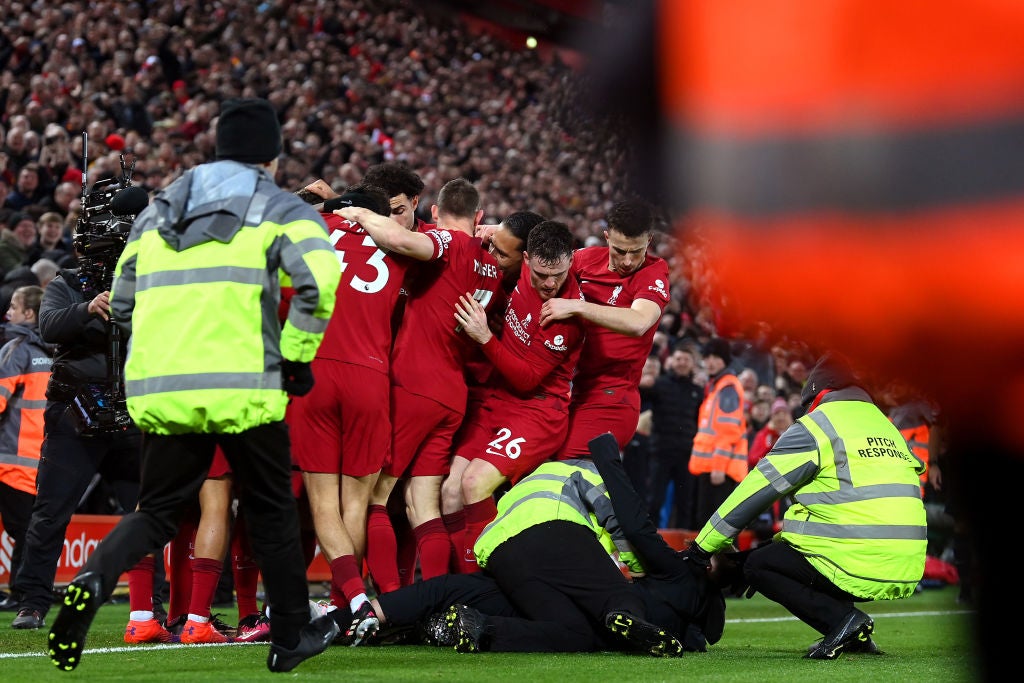 Liverpool have confirmed the pitch invader who almost injured Andy Robertson when celebrating their seventh goal against Manchester United on Sunday has been arrested and will be banned from Anfield for life.
Liverpool's seventh goal in their trashing of rivals United was followed by bizarre scenes after the supporter ran onto the pitch and slipped, colliding with the players. There was concern as Robertson went down holding his ankle, although the left back was able to continue the match.
However, Liverpool manager Jurgen Klopp was furious following the incident and directed his anger towards the pitch invader as he was led away by stewards.
Merseyside Police said that a 16-year-old had been arrested on suspicion of encroaching the pitch.
A statement from the club said: "There is no excuse for this unacceptable and dangerous behaviour. The safety and security of players, colleagues and supporters is paramount.
"The club will now follow its formal sanctions process and has suspended the alleged offender's account until the process is complete.
"If found guilty of the offence of entering the pitch without permission, the offender could face a criminal record and a lifetime ban from Anfield and all Premier League stadiums. These acts are dangerous, illegal and have severe consequences."
Merseyside Police said officers are working with Liverpool in relation to the incident.
Join our commenting forum
Join thought-provoking conversations, follow other Independent readers and see their replies