Manchester City vs Newcastle LIVE: Premier League result and final score after Sterling goal wraps up big win
Pep Guardiola's side are looking to bounce back from the crushing Champions League semi-final defeat to Real Madrid midweek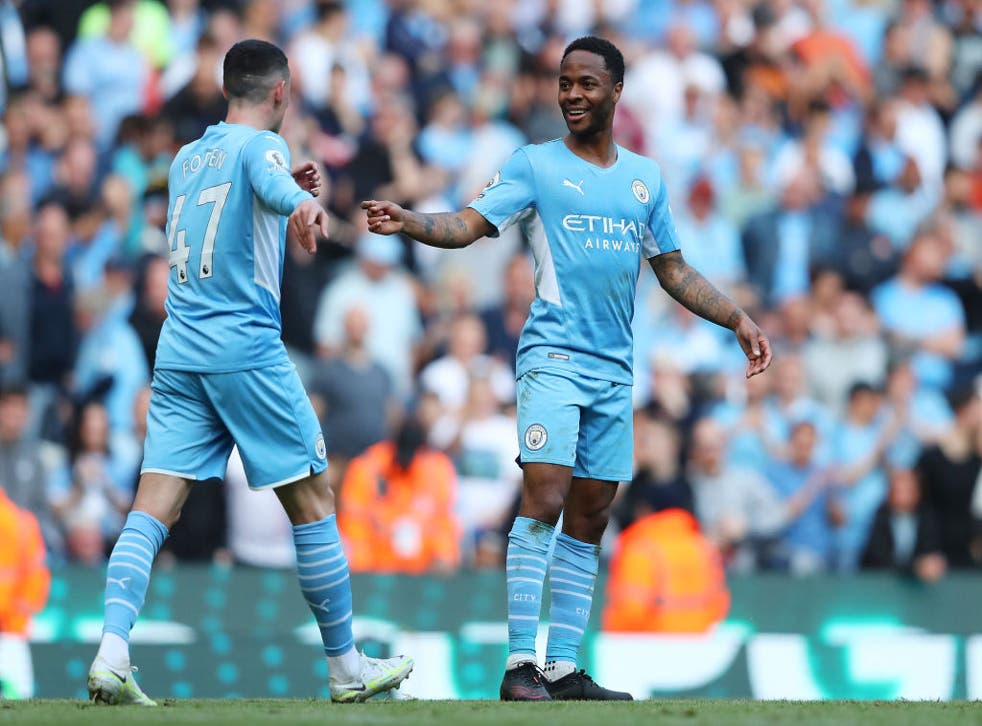 Follow live reaction as Manchester City returned to the top of the Premier League table and opened up a three-point lead over Liverpool in the title race thanks to victory over Newcastle.
City were looking to bounce back from their shock elimination from the Champions League on Wednesday and Raheem Sterling's 18th-minute header put Pep Guardiola's side back on track as they returned to their title bid.
It was quickly followed by a second from Aymeric Laporte - turned over the line after Newcastle goalkeeper Martin Dubravka spilled the ball in the box - before Rodri scored City's third from another corner in the second half.
Newcastle had a good chance to open the scoring after Chris Wood was allowed a free header from six yards out, and it wasn't until the match was put beyond them that Newcastle showed some life again.
But Phil Foden added a fouth and Sterling scored his second as City wrapped up a huge victory in stoppage time. Liverpool can close the gap when they travel to Aston Villa on Tuesday, before City face Wolves at Molineux on Wednesday. Relive Manchester City's comfortable win over Newcastle, below:
1652028606
Goal! Rodri scores City's third!
61' Manchester City 3-0 Newcastle United
Manchester City have a third and it's set-piece expert Rodri with his sixth of the season.
The Spaniard powers home a header inside the near post from a great Kevin de Bruyne delivery, and City's lead is very comfortable indeed now.
After the pain of the midweek exit to Real Madrid, this has been the perfect response from Pep Guardiola's men.
Dan Austin
8 May 2022 17:50
1652028535
59' Manchester City 2-0 Newcastle United
A little brighter from Newcastle as Burno Guimaraes leads a breakaway and finds Allan Saint-Maximin on the left-hand side. He moves from inside to outside to beat Joao Cancelo and make his way towards the penalty area but then drags a harmless shot wide of the near post.
Nothing much to shout about for the Magpies since the opening fifteen minutes but that at least was a passage of play in which they had some decent possession and were in and around the home side's box.
Dan Austin
8 May 2022 17:48
1652028205
City with total domination of the ball
53' Manchester City 2-0 Newcastle United
Manchester City haven't quite fashioned a clear-cut opportunity so far in the second-half but have managed a staggering 99 percent of possession in just under ten minutes of football.
Newcastle are heading crosses away well and defending in a decent shape but they simply cannot get hold of the ball.
Dan Austin
8 May 2022 17:43
1652027736
Second-half underway with Fernandinho on for City
46' Manchester City 2-0 Newcastle United
The second-half has just kicked off at the Etihad and Manchester City have made a change.
Club captain Fernandinho is on in place of Ruben Dias, who has been removed at half-time in what I can only presume has been injury-enforced.
With the gap to Liverpool at three points as things stand, City could look to protect themselves from a goal difference swing by trying to nab another couple in the second-half here.
Dan Austin
8 May 2022 17:35
1652026936
Half-time! Manchester City comfortably leading Newcastle United
Half-time: Manchester City 2-0 Newcastle United
That's the end of the first 45, then, and Manchester City are full value for their two goals lead over Newcastle United.
The visitors began the game respectably and dominate dpossession, before striker Chris Wood wasted golden opportunity to open the scoring by nodding a tame header directly into the gloves of Ederson from just outside the six-yard box.
After a quarter-of-an-hour City took control and Raheem Sterling headed in the opener after Joao Cancelo glanced Ilkay Gundogan's gorgeous clipped ball into his path. Then Newcastle goalkeeper Martin Dubravka made a dreadful hash of trying to hold onto Gundogan's shot and spilled it into the path of Ruben Dias and eventually Aymeric Lapotre, who slammed the ball home to double the lead.
City were a little slow to start but have demonstrated their sheer quality with increasing frequency as the half has gone, and Kevin de Bruyne in particular has been superb.
Dan Austin
8 May 2022 17:22
1652026725
Almost a third for Manchester City
45' - Manchester City 2-0 Newcastle United
Just before the half-time whistle and City almost increase their advantage.
Raheem Sterling and Jaoao Cancelo play a great combination down the right-hand side which releases the latter to play a wonderful cut-back across the face of goal, but Jack Grealish isn't lively enough to it to arrive at the far post and instead the ball drifts out of play for a goal-kick.
Another really smart move.
Dan Austin
8 May 2022 17:18
1652026476
De Bruyne goes on excellent mazy run
43' - Manchester City 2-0 Newcastle United
Kevin de Bruyne launches forward as Manchester City counter following a Newcastle set-piece, and though it eventually comes to nothing, the Belgian's exquisite movement really was something to behold.
He danced through three black-and-white shirts in midfield before sprayign a pinpoint ball out to the left to move his etam forward, before the attack began to fizzle out.
De Bruyne has been absolutely superb in this half.
Dan Austin
8 May 2022 17:14
1652026250
GOAL! City double their lead
38' - Manchester City 2-0 Newcastle United
Manchester City are now two goals to the good and they a howler from Martin Dubravka to thank for it.
The Slovakian can't hold onto Ilkay Gundogan's volley from outside the penalty area. After spilling it once into the path of Ruben Dias, he paws it away towards Aymeric Laporte who slams the ball in the net.
The home side probably home and dry now, before the half-time whistle.
Dan Austin
8 May 2022 17:10
1652025967
City come close to a second
34' - Manchester City 1-0 Newcastle United
It's another lovely move from Manchester City and they're so close to doubling their lead.
Kevin de Bruyne plays a pristine through ball to Oleksandr Zinchenko down the elft-hand side of the penalty area, and the Ukranian's pass across the face of goal drifts agnolsingly in front of Gabriel jesus who can't quite apply the finish.
City are playing really well now.
Dan Austin
8 May 2022 17:06
1652025792
Gundogan flashes shot wide of goal
30' - Manchester City 1-0 Newcastle United
It's not often that a Manchester City player takes a pot shot from distance but Ilkay Gundogan tries one here and it almost pays off.
The German lines the ball up thirty yards out from goal and hits a powerful, arrowed effort towards the far post whcih has Martin Dubravka scramblign but ultimately flies a foot or so wide.
Dan Austin
8 May 2022 17:03
Register for free to continue reading
Registration is a free and easy way to support our truly independent journalism
By registering, you will also enjoy limited access to Premium articles, exclusive newsletters, commenting, and virtual events with our leading journalists
Already have an account? sign in
Register for free to continue reading
Registration is a free and easy way to support our truly independent journalism
By registering, you will also enjoy limited access to Premium articles, exclusive newsletters, commenting, and virtual events with our leading journalists
Already have an account? sign in
Join our new commenting forum
Join thought-provoking conversations, follow other Independent readers and see their replies