Manchester United vs Atalanta LIVE: Champions League result, final score and reaction tonight
Follow live updates from Old Trafford as Cristiano Ronaldo and co. look to bounce back from defeat at Leicester last weekend
Michael Jones
Wednesday 20 October 2021 22:25 Comments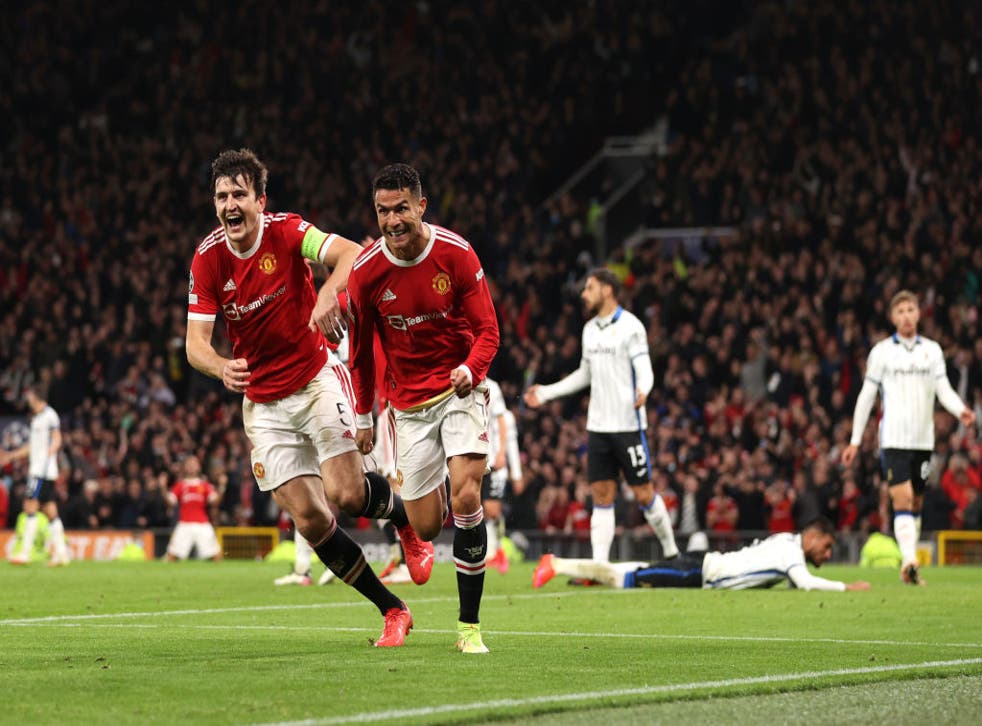 Ole Gunnar Solskjaer will doubtless Manchester United's comeback down to the spirit and soul of the club, and it is true to say that this 3-2 win over Atalanta again showed that this team are at the very least playing for their manager. Cristiano Ronaldo offered yet another late match-winning moment, on another raucous European night.
It was just that this victory was as much down to the willingness of a depleted Atalanta side to persevere with their approach to the point that risk became recklessness. Gian Piero Gasperini's one-on-one approach gave United countless opportunities, that they were eventually going to take up.
Another truth is that, as bad as this game was at half-time, United probably should have won about 8-2 rather than 3-2 by virtue of the chances created. They missed so many.
Or perhaps that should be 8-3, since David De Gea made yet another crucial and brilliant save from Duvan Zapata with the score at 2-2.
It felt so significant in the very moment of the stop, especially since it had such echoes of what happened against Villarreal - right down to what eventually happened. But that is why, even allowing for the fact United are now top of the group and surely en route for the last 16, it feels wrong to talk about this as any kind of turning point.
1634758671
Man Utd 0 - 2 Atalanta
35 mins: A throw in from Ronaldo is given to Rashford who knocks it back to Fernandes. He passes the ball into the left side of the box where Ronaldo picks it up and cuts inside. He carries the ball across the box looking to shoot but gets tackled just as he lets fly and scuffs the shot well wide of the back post.
Michael Jones
20 October 2021 20:37
1634758378
Man Utd 0 - 2 Atalanta
32 mins: Ole Gunnar Solskjaer might be starting to worry now. The ease at which Atalanta have scored both of those goals is a big problem for United. The visitors haven't offered much else in front of goal but they've been clinical in the box.
The signs are there though that United can get back into this game. If they can find the next goal it's game on.
Michael Jones
20 October 2021 20:32
1634758234
GOAL! Man Utd 0 - 2 Atalanta (Demiral, 29')⚽️
29 mins: Uh oh. A great set piece from Atalanta sees Merih Demiral rise above Maguire and Shaw to win the header and fire home a simple header from inside the six-yard box.
Michael Jones
20 October 2021 20:30
1634758077
Man Utd 0 - 1 Atalanta
26 mins: Some tricky footwork sees Rashford create a touch of space on the left allowing to whip a cross in to Ronaldo beat Demiral beats him in the air to head the ball clear.
United get the ball back though and McTominay does well to play it into space on the right for Wan-Bissaka to get forward. He passes the ball inside to Ronaldo who turns, dribbles into the box and slots a low shot into the arms of Mussa.
Michael Jones
20 October 2021 20:27
1634757863
Man Utd 0 - 1 Atalanta
23 mins: Ole Gunnar Solskjaer won't be too worried. His team are playing well, they're certainly making things happen around the Atalanta penalty area. The ball is comes to Fernandes on the edge of the box and his shot is blocked this time by Palomino.
Wan-Bissaka then whips a cross in from the right but Palomino is there again to stop the pass and knock it out of play.
Michael Jones
20 October 2021 20:24
1634757744
Man Utd 0 - 1 Atalanta
20 mins: Save! A solid run from Ronaldo into the right side of the box sees him take the ball to the byline and chip it back into the middle of the box. Fernandes is waiting and he flicks it off to Fred who hits a nice shot at goal and draws Juan Musso into a fingertip save that knocks the ball over the crossbar!
Michael Jones
20 October 2021 20:22
1634757660
Man Utd 0 - 1 Atalanta
18 mins: There was a quick VAR check to see whether Pasalic had strayed offside but he didn't and the goal stands. The goal came from Atalanta's first chance and now Manchester United have to come from behind, again.
Villarreal are two goals ahead of Young Boys in the other Group F match meaning United are bottom as it stands.
Michael Jones
20 October 2021 20:21
1634757381
GOAL! Man Utd 0 - 1 Atalanta (Pasalic, 15')⚽️
15 mins: Where have this come from? Fred gives away a free kick in the middle of the pitch and Atalanta play it quickly over the top. Luis Muriel runs down the inside right channel and brings down the ball. Davide Zappacosta comes flying forward on the overlap and no defender picks him up. Muriel gives him the ball and he squares it into the six-yard box where Mario Pasalic guides it into the bottom back corner.
Michael Jones
20 October 2021 20:16
1634757207
Man Utd 0 - 0 Atalanta
12 mins: Atalanta have started by United's left-hand side but so far they're not getting a great deal of joy from it with Maguire and Shaw linking up well.
United's counter-attacking play has been superb. McTominay flicks a long ball over the top sending Ronaldo racing against his old Juventus teammate Demiral. Demrial gets there first and puts the ball behind for a United corner.
Fernandes swings in the set piece but Remo Freuler wins it and heads the ball out of the box.
Michael Jones
20 October 2021 20:13
1634757015
Man Utd 0 - 0 Atalanta
9 mins: Slick play between Ronaldo, Rashford and Fernandes sees the latter given the ball on the inside left and he threads a pass into the box that Rashford chases down. He's quick and almost gets to it first but Merih Demiral just manages to beat him and knock the ball clear for Atalanta.
Michael Jones
20 October 2021 20:10
Register for free to continue reading
Registration is a free and easy way to support our truly independent journalism
By registering, you will also enjoy limited access to Premium articles, exclusive newsletters, commenting, and virtual events with our leading journalists
Already have an account? sign in
Join our new commenting forum
Join thought-provoking conversations, follow other Independent readers and see their replies