Manchester United vs Atalanta LIVE: Champions League result, final score and reaction tonight
Follow live updates from Old Trafford as Cristiano Ronaldo and co. look to bounce back from defeat at Leicester last weekend
Michael Jones
Wednesday 20 October 2021 22:25 Comments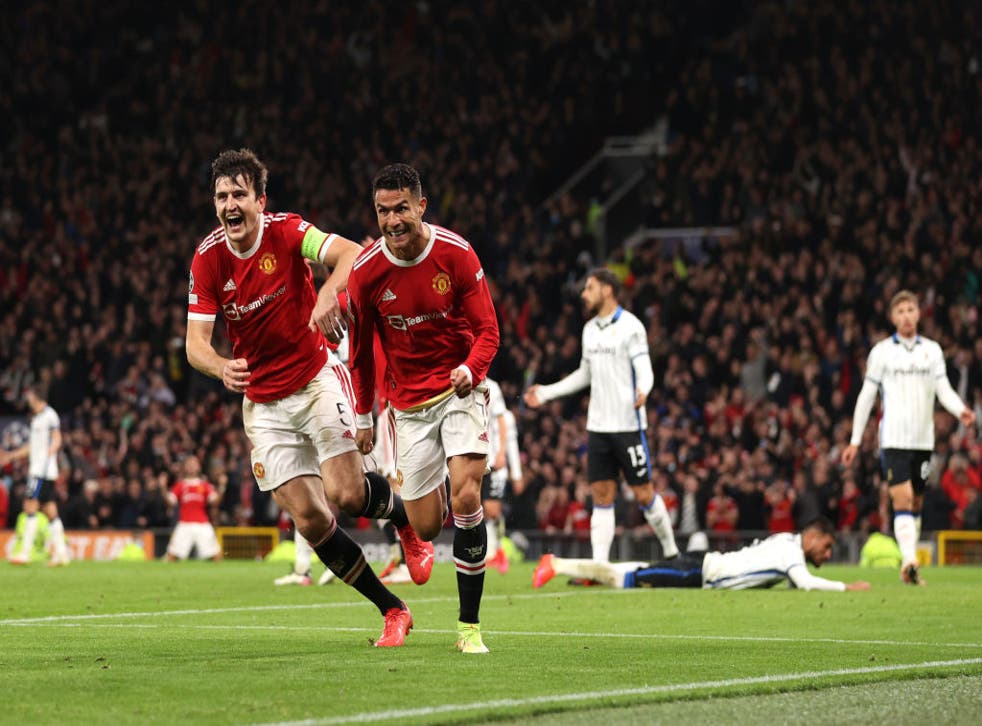 Ole Gunnar Solskjaer will doubtless Manchester United's comeback down to the spirit and soul of the club, and it is true to say that this 3-2 win over Atalanta again showed that this team are at the very least playing for their manager. Cristiano Ronaldo offered yet another late match-winning moment, on another raucous European night.
It was just that this victory was as much down to the willingness of a depleted Atalanta side to persevere with their approach to the point that risk became recklessness. Gian Piero Gasperini's one-on-one approach gave United countless opportunities, that they were eventually going to take up.
Another truth is that, as bad as this game was at half-time, United probably should have won about 8-2 rather than 3-2 by virtue of the chances created. They missed so many.
Or perhaps that should be 8-3, since David De Gea made yet another crucial and brilliant save from Duvan Zapata with the score at 2-2.
It felt so significant in the very moment of the stop, especially since it had such echoes of what happened against Villarreal - right down to what eventually happened. But that is why, even allowing for the fact United are now top of the group and surely en route for the last 16, it feels wrong to talk about this as any kind of turning point.
1634754258
If Manchester United are less than the sum of their parts, Atalanta are much greater than theirs
As the dust settled on Manchester United's fourth defeat in seven games, Brendan Rodgers was more than happy to explain how it came about to journalists at the King Power.
Essentially, it all boiled down to pressing: the eagerness of his Leicester City players to win the ball high up the pitch on the one hand and the reluctance of United's players to do the same on the other.
Toughest test of United's Champions League group will come in double header against Serie A side
Michael Jones
20 October 2021 19:24
1634754048
Man Utd vs Italian teams
Manchester United have a good record against Italian teams especially at home. They have won seven of their last nine home matches against Italian clubs with one draw and just one defeat.
However their opponents tonight know how to win in a top English stadium. Atalanta beat Liverpool at Anfield last season, becoming only the second Italian side to do so in the Champions League.
Michael Jones
20 October 2021 19:20
1634753826
A half-century for Bruno
Bruno Fernandes will make his 50th appearance in European competition when his starts for Manchester United tonight. The Portuguese's record in Europe is 49 games played, 24 goals scored and 20 assists created. Not too shabby.
Michael Jones
20 October 2021 19:17
1634753586
United arrive at Old Trafford
Manchester United have arrived at Old Trafford. Ole Gunnar Solskjaer has made a couple of big changes to his team. He's dropped Paul Pogba and returned to the Fred/McTominay midfield partnership. Will these changes work out for him tonight?
Michael Jones
20 October 2021 19:13
1634753410
Rashford on Atalanta
More from Marcus Rashford who also spoke about what he's expecting from tonight's opponents.
Atalanta come into the game on the back of a 4-1 win over Empoli in Serie A. They're in good form and have are unbeaten in the Champions League this season.
Michael Jones
20 October 2021 19:10
1634753146
Rashford on winning trophies
Marcus Rashford spoke in a press conference yesterday about Manchester United's desire to win trophies and about how they need to come up with a way to challenge more. He said:
Michael Jones
20 October 2021 19:05
1634752884
Man Utd's Champions League campaign
Manchester United are entering a tough run of fixtures that sees them play Atalanta twice in the Champions League and Liverpool, Tottenham and Manchester City in the Premier League over the next three weeks.
The results from these games could have a huge bearing on United's season with the prospect of getting knocked out of the Champions League a real possibility if they lose twice to Atalanta.
Three points this evening may be enough to send them to the top of Group F and ease the pressure on manager Ole Gunnar Solskjaer ahead of a clash with Liverpool this weekend.
Michael Jones
20 October 2021 19:01
1634752624
Manchester United going 'back to basics' after Leicester defeat, Marcus Rashford reveals
Ole Gunnar Solskjaer's side looked set to escape from the King Power Stadium with a fortuitous point after the forward came off the bench to score on his first appearance since summer shoulder surgery.
The England striker scored after coming off the bench at the King Power Stadium but two quick goals sunk the visitors
Michael Jones
20 October 2021 18:57
1634752390
Team changes - Man Utd
Ole Gunnar Solskjaer makes three changes to the starting XI that lost to Leicester City in the Premier League at the weekend.
Paul Pogba drops to the bench as does his midfield partner for that game Nemanja Matic with Solskjaer electing for a midfield of Scott McTominay and Fred.
Marcus Rashford also makes his first start since recovering from injury. He scored as a substitute against Leicester but tonight he replaces Jadon Sancho in the team.
Michael Jones
20 October 2021 18:53
1634752014
Line-ups - Man Utd vs Atalanta
Here's the Manchester United starting XI:
Man Utd: De Gea; Wan-Bissaka, Lindelof, Maguire, Shaw; Fred, McTominay; Greenwood, Fernandes, Rashford; Ronaldo
Atalanta XI: Musso, Maehle, Palomino, Koopmeiners, Muriel, Freuler, De Roon, Demiral, Ilicic, Zappacosta, Pasalic
Michael Jones
20 October 2021 18:46
Register for free to continue reading
Registration is a free and easy way to support our truly independent journalism
By registering, you will also enjoy limited access to Premium articles, exclusive newsletters, commenting, and virtual events with our leading journalists
Already have an account? sign in
Join our new commenting forum
Join thought-provoking conversations, follow other Independent readers and see their replies