Manchester United vs West Ham LIVE: Carabao Cup result, final score and reaction tonight
The Red Devils held on for a valuable win at the London Stadium last weekend thanks to David De Gea's stoppage time penalty save with the Hammers out for revenge here
Michael Jones
Wednesday 22 September 2021 22:02 Comments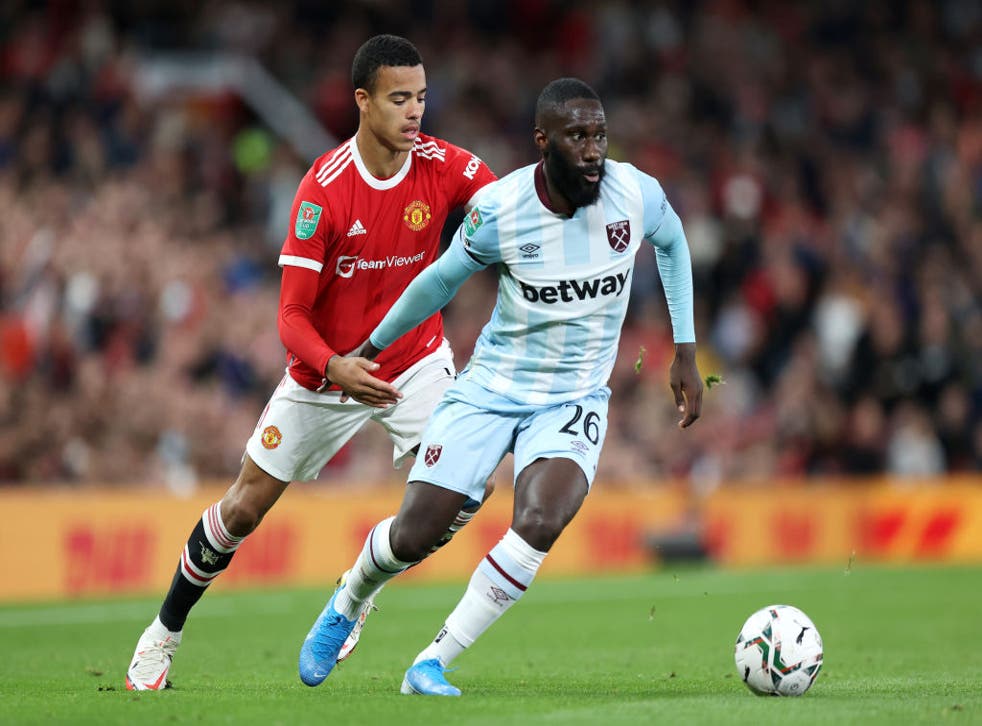 Welcome to The Independent's live coverage of Manchester United vs West Ham United in the Carabao Cup.
It seems like just last weekend that these two sides faced one another, doesn't it? Well, that's because it was. Ole Gunnar Solskjaer's side came out on top at the London Stadium on Sunday as his side clinched a 2-1 victory in dramatic circumstances. Former West Ham loanee Jesse Lingard scored a late winner for United, but Mark Noble then came onto the pitch to miss a stoppage time penalty as David Moyes' team squandered the chance to leave with a point.
How will that result impact the two sides this evening? They swap the Premier League for the Carabao Cup, but will there be a different outcome? Both Solskjaer and Moyes will be well aware they need to manage their squads with both league and European ambitions to deal with. That almost certainly means we will see some changes.
West Ham have not beaten Manchester United in any of their last five meetings in all competitions. And Moyes has not beaten his former club since he was sacked by them after less than one season in charge seven years ago.
Could all that change tonight? It's not long until we find out - be sure to hang on for the last 16 draw, which will follow tonight's matches:
1632337190
Man Utd 0 - 1 West Ham
12 mins: Penalty shout for Man Utd! The home side finally kick into gear as Jesse Lingard drives into the box with the ball. He tussles with Mark Noble and the Hammer's captain seems to pull him to the floor. Jon Moss disagrees and play goes on with Manchester United winning a corner.
Juan Mata swings it it towards Eric Bailly but Alphonse Areola manages to flap it away. It comes back to Mata who goes for goal from an acute angle but manages to strike the crossbar!
Michael Jones
22 September 2021 19:59
1632336896
GOAL! Man Utd 0 - 1 West Ham (Lanzini, 9')⚽️
9 mins: West Ham take the lead! Fully deserved too. Ryan Fredericks dribbles down the right flank for the Hammers before spotting a gap between two Man Utd defenders. He darts into it and gets to the byline. A cutback evades Yarmolenko but Manuel Lanzini is waiting behind him to turn the ball into the back of the net. Lovely finish.
Michael Jones
22 September 2021 19:54
1632336852
Man Utd 0 - 0 West Ham
6 mins: Chance! West Ham are in again, they've started really well. Bowen brings the ball down the left before passing it inside for debutant Alex Kral. He gives it to Yarmolenko whose shot from inside the box is blocked. The rebound comes back to Kral who has room to shoot. He targets the bottom right corner but Eric Bailly gets across to block that shot as well.
Michael Jones
22 September 2021 19:54
1632336613
Man Utd 0 - 0 West Ham
3 mins: Chance! Ryan Fredericks receives the ball on the right wing for West Ham and flicks a lovely pass round the back of the Manchester United defence. Andriy Yarmolenko chases it down and gets there before Alex Telles. He cuts the ball back into the box for Jarrod Bowen who sends a left-footed strike wide of the near post.
Michael Jones
22 September 2021 19:50
1632336464
Man Utd 0 - 0 West Ham
Kick off: The Hammers get the match underway. Anthony Martial has scored six times against West Ham more than against any other team for Man Utd.
The home side win the ball deep in their own half and are pushed even deeper by the West Ham press. Nemanja Matic takes over possession the penalty area and manages to beat the press with a pass out wide to the right hand side.
Michael Jones
22 September 2021 19:47
1632336130
Man Utd vs West Ham
As you'd expect there's a pretty lively crowd watching at Old Trafford as the players head out onto the pitch. A reminder that in the Carabao Cup if the game ends in a draw after 90 minutes the result will be decided by a penalty shootout.
This one feels like a match-up that could go all the way.
Michael Jones
22 September 2021 19:42
1632335731
Hammers warming up
The players have completed warming up at Old Trafford. Kick off is just under 15 minutes away. West Ham first team coach Stuart Pearce says he's expecting a good affair tonight and sees this as an opportunity for West Ham to progress in the cup.
Michael Jones
22 September 2021 19:35
1632335406
Rio Ferdinand denies rift with Ole Gunnar Solskjaer and urges Manchester United manager to call him
Ferdinand has at times criticised the Norwegian, now in charge at Old Trafford, but says he has "no beef" with anyone at the club.
Solskjaer had accused Ferdinand of commenting on matters on which he didn't "really know" after the former centre half labelled Phil Jones as a "waste of time".
Ferdinand has said he has 'no beef' with anyone at Manchester United
Michael Jones
22 September 2021 19:30
1632335138
Solskjaer gives update on Rashford recovery
Marcus Rashford has been absent for Manchester United this season after undergoing surgery on a shoulder injury he picked up last season.
Manager Ole Gunnar Solskjaer was asked about Rashford's return after he and Alex Telles were spotted in training this week. Solskjaer said:
"Yeah it's going well. They've worked really hard, both of them. Alex is a bit further on than Marcus. I don't think we'll see Marcus until after the international break but Alex has worked well and will be in the squad as well."
Telles starts for the Red Devils this evening but by the sounds of it Rashford will be out for a few weeks yet.
Michael Jones
22 September 2021 19:25
1632334884
Mata looking forward to playing in front of fans again
Juan Mata is looking forward to getting back to the Theatre of Dreams and playing in front of the home support for the first time since the start of the coronavirus pandemic.
"It's always fantastic to see Old Trafford full, so hopefully it's going to be full, I know they [the fans] will be supporting us." said Mata
"We have been waiting for so long to have them back so it's great to play in front of them and hopefully we can give them a good game.
"It's [the support] key for us. Football without fans means nothing and especially our fans, both home and away, they give us so much,
"When we play in front of them, everyone feels one level higher in excitement and everything. So, hopefully we can have a great season for them because they have been waiting for so long to come back and support us."
Michael Jones
22 September 2021 19:21
Register for free to continue reading
Registration is a free and easy way to support our truly independent journalism
By registering, you will also enjoy limited access to Premium articles, exclusive newsletters, commenting, and virtual events with our leading journalists
Already have an account? sign in
Join our new commenting forum
Join thought-provoking conversations, follow other Independent readers and see their replies