Tottenham and Mauricio Pochettino owe a debt to Ryan Mason that they will never forget as the midfielder retires
The youngster scored a goal of huge significance in Pochettino's early reign, a moment that helped set the Argentinean's youthful revolution of the north London side on its way
Jack Pitt-Brooke
Tuesday 13 February 2018 13:39 Comments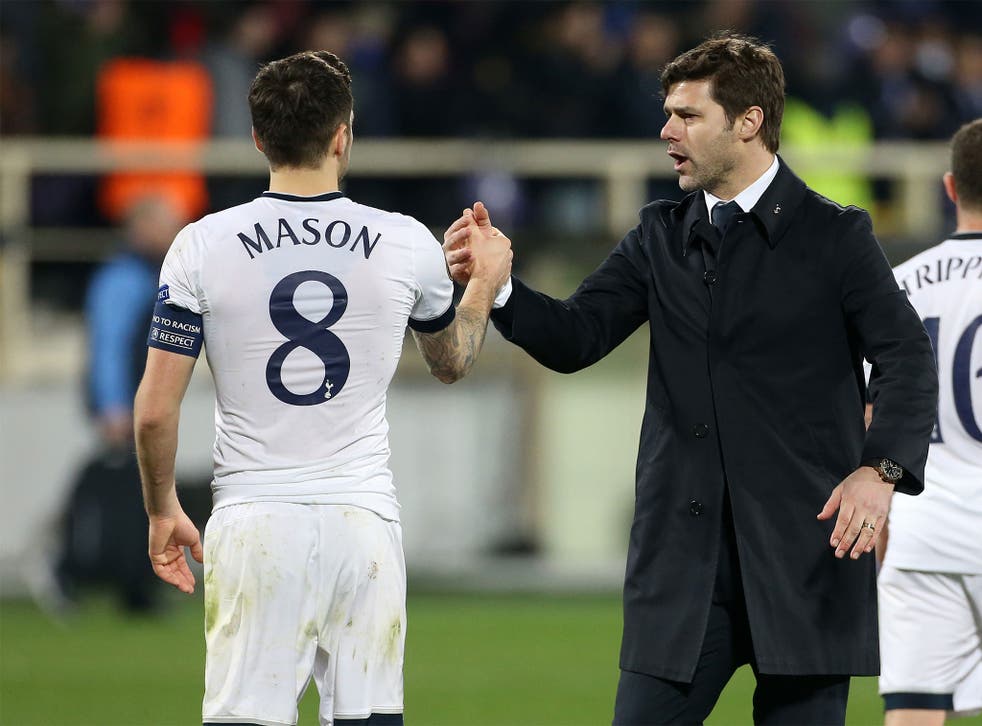 Mauricio Pochettino and his staff will never forget the debt they owe to Ryan Mason. It was a different age, the first few weeks of their tenure, back in the autumn of 2014. And it feels very distant from where Spurs are now: they are playing brilliantly, have just battered Manchester United and Arsenal at home, and will go toe-to-toe with the mighty Juventus in Turin tonight.
But remember, if you can, a Capital One Cup third round tie at home with Nottingham Forest in September 2014. Pochettino's Spurs were without a win in four and had lost consecutive home league games to Liverpool and West Bromwich Albion. Hosting Forest, back when White Hart Lane was toxic and anxious, they were 1-0 down. So Pochettino hauled off Paulinho and Benjamin Stambouli to throw on the 21-year-old Harry Kane and 23-year-old Mason, who had impressed for the Under-21s on a cold night at Sunderland just 48 hours before.
With Mason's first touch, he curled a 30-yarder into the top corner. Spurs went on to win 3-1 and their season – and the Pochettino era – were up and running. This morning Spurs' official account tweeted a clip of that goal. Assistant manager Jesus Perez commented: "When you changed it all for us mate. We love you, always with you."
That is why Mason will always mean so much to Pochettino, Perez and everyone who was there in that first season when it was not immediately clear that things were going to work out at Spurs. Mason provided energy and enthusiasm in midfield alongside Nabil Bentaleb, and finished the 2014-15 season with 29 league starts, a record that few would have expected at the start of that season, when he was a youngster who had struggled with loans and injuries and still needed some direction. "He deserves a lot of credit as he helped us and the team," Pochettino said. "it is for that that he will always be a special player for me."
This relationship is why Pochettino, Perez and the rest of the Spurs players were so keen to see Mason after his head injury in January 2017, which following today's announcement has ended Mason's career, and why they would still like to help. Pochettino and his staff were in Barcelona on the day when Mason collided with Gary Cahill at Stamford Bridge, and quickly got in touch with Mason's family and sent him a video message. Then, the day after they returned to London, Pochettino, Perez and academy manager John McDermott went to St Mary's Hopsital in west London to see him.
Pochettino explained at the time that Mason was a "very special player, a very special person" and that when he was sold to Hull, it was a "very tough moment" for him. "We have split, but the love will always be there, the emotion you keep inside always." More than a year on from Mason's injury, he has been forced to retire. But even as football moves on, that bond will remain as strong as ever.
Register for free to continue reading
Registration is a free and easy way to support our truly independent journalism
By registering, you will also enjoy limited access to Premium articles, exclusive newsletters, commenting, and virtual events with our leading journalists
Already have an account? sign in
Register for free to continue reading
Registration is a free and easy way to support our truly independent journalism
By registering, you will also enjoy limited access to Premium articles, exclusive newsletters, commenting, and virtual events with our leading journalists
Already have an account? sign in
Join our new commenting forum
Join thought-provoking conversations, follow other Independent readers and see their replies