Why Manchester United's disjointed band of superstars could learn a thing or two from slick Tottenham's teamwork
Tottenham's 2-0 win over Manchester United gave us an insight into the fundamental difference between these two clubs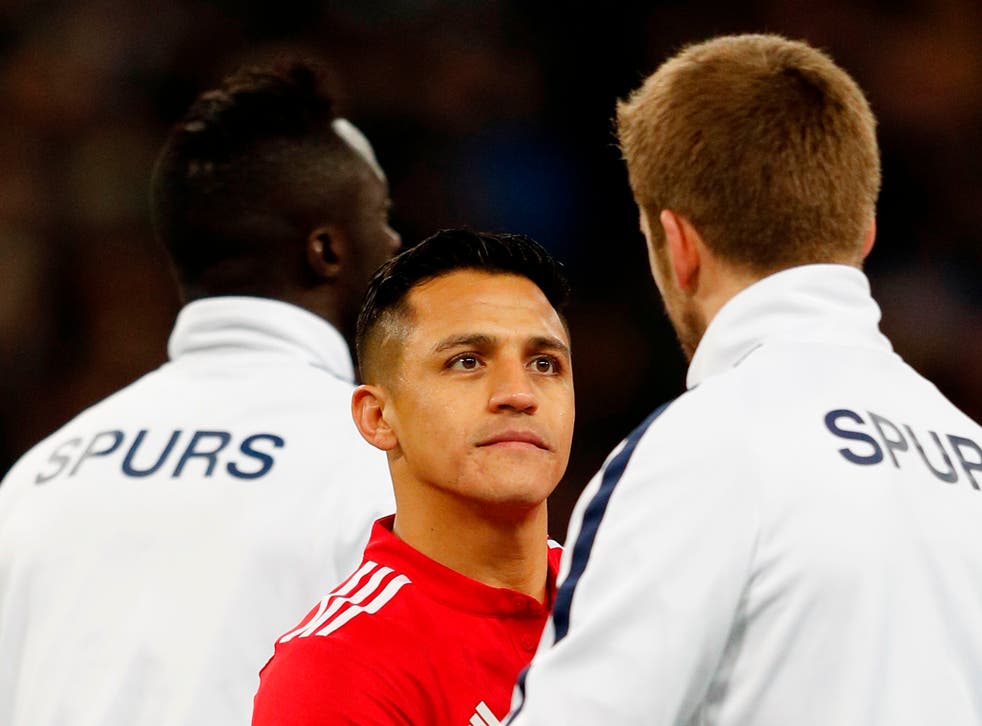 Dele Alli doesn't know for certain what will happen next. But because he's played with Harry Kane for years, seen him standing under a thousand long balls, seen the way he likes to cushion the header down into space rather than flick it upwards, he has a pretty good idea of what might happen. The ball is headed on, and Alli is already there, waiting.
Christian Eriksen doesn't know for certain what will happen next. But because he's played with Alli for years, seen him chase a thousand balls down a thousand dead ends, seen the way he likes to back-heel it blind when there's nothing else on, he has a pretty good idea of where it might go next. Alli's heel chops down on the ball like a knife, and Eriksen is already there, waiting.
David de Gea knows exactly what will happen next. Eriksen finishes with his left foot. Tottenham are 1-0 up. The clock shows 11 seconds.
Later, Alexis Sanchez is going on one of his mazy dribbles down the left wing, before cutting infield. Were he to take a look up, he would see red-shirted team-mates regarding him with the sort of awed bewilderment you would normally reserve for a baby driving a fork-lift truck: very impressive, certainly, but what's he going to do next? And - more urgently - where do I fit into all this?
Tottenham's 2-0 win against Manchester United at Wembley was a start-to-finish trousering that ultimately rested on a good deal more than two moments, but perhaps those two are a good place to start. In particular, they give us an insight into the fundamental difference between these two clubs, one thrown into sharp relief in games like this, which demand a high degree not just of technical skill but of teamwork and quick interchanges.
Simply put: Tottenham played like a team. United played like a team in name only.
Teamwork is the sort of thing that gets drilled over months. The whistle blows on yet another roasting training session. No Harry, you stand there. Dele comes in here. Sonny makes the run there. Right, let's try it again from the top, and then again and again, until your limbs are aching and you're hearing my voice in your sleep.
It may not always work in practice. But when it does, it can be irresistible. Certainly a disjointed United had few answers here, on a chilly Wembley night when Jose Mourinho's expensively-assembled front five looked to be playing not just an entirely different game to the back six, but occasionally even a different sport. Tottenham looked like scoring every time they poured forward.
Of course, Tottenham are hardly shy of superstars. They have certainly not been averse to dipping into the transfer market - the £25 million signing of Lucas Moura on deadline day proved that much. But when they go in, you get the sense of a strategy, a blueprint, a specific weakness in the squad being targeted with a laser focus.
It is striking how many of their side - Alli, Ben Davies, Kieran Trippier, Moussa Sissoko, Eric Dier - were signed not as instant solutions but as development projects. And for all Mourinho's skill at loosening the purse-strings of a wealthy board, this United side still has the feel of a side that has been bought rather than built.
And so to Sanchez, all whirring legs and pounding feet, like a man perpetually on the verge of doing the long jump. He dribbled the ball well, recycled it efficiently enough, tried his trademark diagonal dink to mixed effect. Still, it was a reasonably forgettable game for him, unless you count the tireless barracking he received from the Tottenham fans, and the time a gleeful Kieran Trippier - a £3.5 million signing from Burnley - sent him for an ice cream near the halfway line.
Clearly, Sanchez will improve United, and it would be ridiculous to argue to the contrary. And yet it is equally unarguable that his signing was not exactly part of some grand recruitment masterplan, but a laudably opportunistic slice of January impulse shopping. It goes nowhere near solving United's real problem positions of central midfield and left-back.
And Sanchez's individualistic, dribble-heavy style of play has potentially far-reaching consequences for how United construct attacks, how they link play, even the type of football they want to exhibit. Sanchez is not the missing piece in the jigsaw, and on nights like this it is reasonable to wonder whether anybody even knows what the jigsaw is supposed to look like.
Of course, good players adapt. Great players build something entirely new. And you would back United's galaxy of talents to work things out. But as the case of Paul Pogba demonstrates, there is no guarantee it will happen in a hurry. Eighteen months after his arrival, Pogba remains a puzzle United are only part of the way to solving. Deployed here in a midfield two alongside Nemanja Matic, Pogba was startled by the intensity of the Tottenham press, only infrequently minded to track his runner, still more interested in getting into space than closing it down.
This is the thing about building a team of superstars: sometimes, it can be a contradiction in terms. How do Pogba and Sanchez fit their games around each other when both like to attack the inside-left space? Can you play Pogba in his favoured midfield three without sacrificing width? Who tucks in when Sanchez goes on one of his mazy drifts from wing to wing? Where does Marcus Rashford fit into all this?
You would like to think United are pondering all these questions and more. Meanwhile, they're 15 points off the pace in the Premier League, and the battle for second place just opened up again. Time to get back on the training ground.
Join our new commenting forum
Join thought-provoking conversations, follow other Independent readers and see their replies