Five things we learned as Hector Bellerin wins a point for Arsenal in thrilling 2-2 draw with Chelsea
This draw will have done little to change Arsene Wenger's opinion on the standard of refereeing in the Premier League, but the result does leave things finely poised between the two teams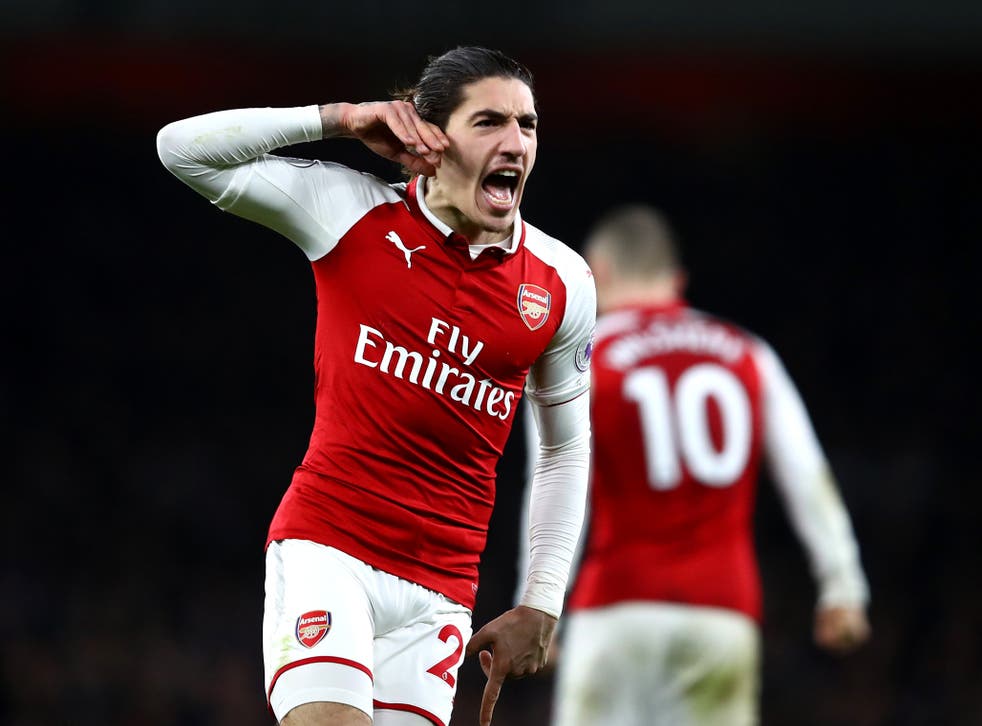 Arsenal scored a dramatic injury-time equaliser against Chelsea on Wednesday night to salvage a point and remain in contention with the rest of the Premier League's big six.
The hosts took the lead in the second-half when Jack Wilshere completed a fine team move by thrashing the ball beyond Thibaut Courtois from close-range.
However his effort was cancelled out just moments later when Eden Hazard converted a penalty, after he was brought down in the box by Héctor Bellerín.
Chelsea then thought they had won the game when Marcos Alonso scored in the 84th-minute, converting Davide Zappacosta's powerful low cross.
Arsenal vs Chelsea player ratings

Show all 22
But they had not reckoned on an injury-time equaliser from Bellerin, who atoned for conceding the earlier penalty by smashing the ball past Courtois from just inside the box.
Here are five things we learned from the 2-2 draw.
This result leaves us wanting more
Enjoy this thrilling, end-to-end clash between two teams fighting it out for a spot in the top four of the league? Good – because there are another two of these encounters to come in the next three weeks.
This result whets the appetite nicely for the two-legged League Cup semi-final to follow. Arsenal were arguably the better side at The Emirates Stadium and enjoyed the lion's share of possession as well as more corner kicks and shots on target; but still Chelsea almost nicked the result. Were it not for Bellerín's superb late strike and the rattle of the crossbar, Conte's team would have emerged with all three points.
Which of these teams will now take the League Cup more seriously? Both Wenger and Conte will be tempted to rest players, but equally both will feel the tie is there to be won if only they name their strongest XIs and risk tired legs in the Premier League and European competition. It promises to be a fascinating 180-minutes of football.
This game won't have improved Wenger's mood
Arsene Wenger has spent approximately 80% of his new year by telling absolutely anybody who will listen that the standard of refereeing in the Premier League is getting worse and worse – despite his saintly efforts to rectify the problem. "I'm angry because we have seen the same things again and again," he spat after the West Brom draw. "I did fight very hard for the referees to become professional many years ago and they did a good job to allow them to be professional. But I see no improvement."
He'll feel that he saw precious little improvement against Chelsea, either. The match's first talking point came in the first-half when Ainsley Maitland-Niles was scythed down in the box before Sanchez's saved effort rolled across the face of goal. Wenger was unhappy on the touchline: but replays clearly showed the young wing-back tripped himself up.
The Frenchman had far more reason to feel aggrieved over Chelsea's penalty, though, which Hazard converted to level the scores. The Belgian won it himself but went down very easily after chipping the ball past Bellerin's raised leg, with Anthony Taylor quick to blow his whistle. Once again, Wenger failed to conceal his rage on the touchline although, this time, he appeared to have a point.
Courtois still one of the league's best
David de Gea has hogged most of the limelight this season, owing to his increasingly outlandish performances in goal for Manchester United. But his Chelsea counterpart is arguably just as good and was repeatedly at his best to deny Arsenal.
His highlight? Tipping Sanchez's low shot onto his right post, before springing onto the rebound ahead of Ozil. So quick was the reaction stop that, initially, it looked like the shot had beaten the Belgian and hit both posts on its own accord.
He was exceptional in the second-half, too, and needed to stand up tall to keep out Alexandre Lacazette's powerful drive when played through one-on-one by Ozil. Blame for Arsenal's goals cannot be laid at his door and ultimately this was another fine performance from the 25-year-old.
Morata needs some serious shooting practice
14-minutes into the game and Álvaro Morata – £70m Álvaro Morata – is presented with a fine, farcical opportunity to open the scoring. Running onto an aimless punt forward by Victor Moses and taking advantage of a horrific defensive mix-up, Morata had the time to amble to the edge of the box and fully open his body, as Petr Cech came haring out of his goal.
The problem was the ball was at Morata's feet – and not crossed into the box in the direction of his head. With the entire goal at his mercy he shot hopelessly wide, passing up on a gilt-edged opportunity to give his side an early lead.
A statistic quickly began to do the rounds. Morata's shot conversion rate with his head this season is a respectable 29.17%. With his feet it is just 8%. He is a fine striker – the 10 goals he has already scored in his first ever season in English football is testament to that – but has work to do if he is to take his finishing to the next level.
Arsenal's defence does well – but not well enough
Are there any set of football supporters as gloriously pessimistic as Arsenal's? When the club's Twitter account tweeted out the starting line-up ahead of kick-off – with young defenders Calum Chambers and Rob Holding named alongside Shkodran Mustafi in a makeshift defence – the responses were damning.
"Far too much pressure on Mustafi tonight. I have no positivity for tonight," moaned one. "Hope holding doesn't get exposed too much, would rather have Per [Mertesacker] tbh," somebody replied. "May God be with our defence tonight," prayed another.
Wenger's defence were certainly up against it, and fans could have been forgiven for fearing the worst early in the first-half when Holding's disastrous positioning led to the Morata chance referenced above. They did then steady the ship – and cannot be blamed at all for the penalty decision which went in Chelsea's favour – but Morata was gifted another fine chance to score late on, while Mustafi gifted Alonso the space he needed to so nearly win the game.
Register for free to continue reading
Registration is a free and easy way to support our truly independent journalism
By registering, you will also enjoy limited access to Premium articles, exclusive newsletters, commenting, and virtual events with our leading journalists
Already have an account? sign in
Register for free to continue reading
Registration is a free and easy way to support our truly independent journalism
By registering, you will also enjoy limited access to Premium articles, exclusive newsletters, commenting, and virtual events with our leading journalists
Already have an account? sign in
Join our new commenting forum
Join thought-provoking conversations, follow other Independent readers and see their replies