Arsenal assistant Steve Bould 'furious' over reports of rift with Arsene Wenger
Bould is thought to have become frustrated at the cancellation of specific sessions working on improving the team's defensive shape
James Olley
Thursday 13 December 2012 13:37 Comments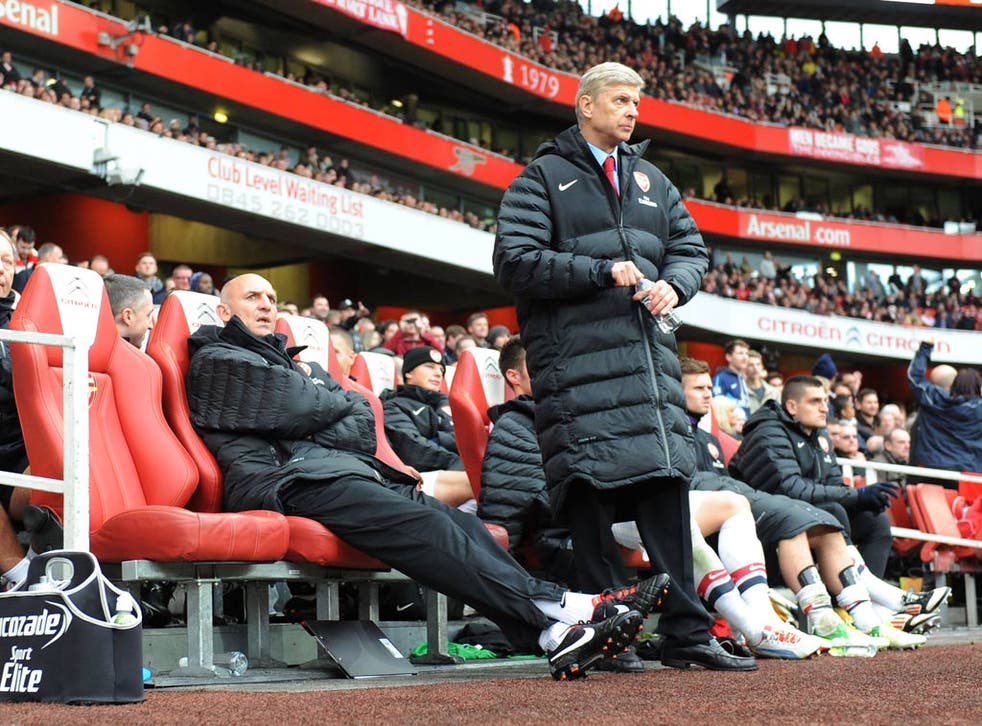 Arsenal assistant manager Steve Bould is "furious" over reports of a rift with manager Arsene Wenger. It is understood there have been disagreements between the pair over the specific nature of first-team training with Bould keen to be more involved in planning sessions rather than merely following Wenger's pre-planned instructions.
But a source close to Bould insists the situation has been exaggerated despite tensions running high in the wake of the club's embarrassing Capital One Cup quarter-final exit at Bradford on Tuesday night.
"Steve is furious about this," a source told The Evening Standard. "There is no issue and they are both working together to sort the team out."
Bould is thought to have become frustrated at the cancellation of specific sessions working on improving the team's defensive shape.
The former centre-back accepted his promotion to working with the first- team squad in the summer in the belief he would be able to use his own techniques to help tighten up a back four that has consistently leaked too many goals in recent seasons.
But Wenger has kept a firm grip on the training programme and is thought to be reluctant to change his methods - when unable to take training the day before Arsenal's Premier League match against Swansea, it was fitness coach Tony Colbert and not Bould who is believed to have taken the session.
Former Arsenal striker Ian Wright said: "I just feel that Steve Bould could be a scapegoat in all of this. The defence have been as poor as they've been in the last five, six years I've been watching them.
"But all of a sudden if there's a massive change, I think that's an embarrassment to Arsene Wenger because he's thinking, why didn't this happen before? There's a lot of things happening at Arsenal and I think that people have got the right to know what's going on."
The club's hierarchy remain adamant that Wenger is the right man to take them forward. The Frenchman's current contract expires in 2014 and a new deal is understood not to be viewed as a priority on either side at this stage.
However, it is believed that majority shareholder Stan Kroenke and chief executive Ivan Gazidis continue to adopt the position that Wenger will determine the point at which he walks away from the club.
Wenger has always insisted he "honours every contract" he signs and so the prospect of him leaving before 2014 is remote. Last night, Gazidis held a reception with around 120 supporters in which he apologised for the club's performance at Bradford but reiterated his belief in Wenger and the club's direction. They will have around £40million to invest in next month's January transfer window and are actively pursuing a number of targets including Schalke striker Klaas-Jan Huntelaar and Liverpool goalkeeper Pepe Reina, while also negotiating a second loan spell for Thierry Henry.
Several players are expected to be offloaded - probably on loan - including Andrey Arshavin and Marouane Chamakh while Wenger is hopeful of a breakthrough in talks with winger Theo Walcott. There is yet to be a resumption in dialogue between Arsenal and Walcott's representatives with the club unwilling to meet his £100,000-a-week wage demands and assurance he will be played as a centre-forward.
Manchester United reportedly joined Liverpool and Chelsea in the chase for the 23-year-old and Wright, now a presenter of Absolute Radio's Rock 'N' Roll Football Saturday show, believes he will move to Old Trafford.
"If United are in that's it, he's gone," he said. "He's not improved too much [at Arsenal] and has got the opportunity to go so why would he stay?"
Related articles...
Arsenal are fighting to avoid catastrophe as new reality bites
Ivan Gazidis: Arsenal were not good enough... but Arsene Wenger's job is safe
James Lawton: Admiration for Arsene Wenger's achievements should not stop Arsenal acting decisively
Ray Parlour rejects suggestions Arsene Wenger runs Arsenal like a 'dictatorship'
Playing Torquay was harder than playing Arsenal, claim Bradford
Arsenal assistant Steve Bould 'furious' over reports of rift with Arsene Wenger
Register for free to continue reading
Registration is a free and easy way to support our truly independent journalism
By registering, you will also enjoy limited access to Premium articles, exclusive newsletters, commenting, and virtual events with our leading journalists
Already have an account? sign in
Join our new commenting forum
Join thought-provoking conversations, follow other Independent readers and see their replies