Mesut Özil is showing his best form at Arsenal and wants to stay, claims Arsene Wenger
Özil is out of contract in the summer and is expected to leave the club
Jack Pitt-Brooke
Sunday 17 December 2017 15:57 Comments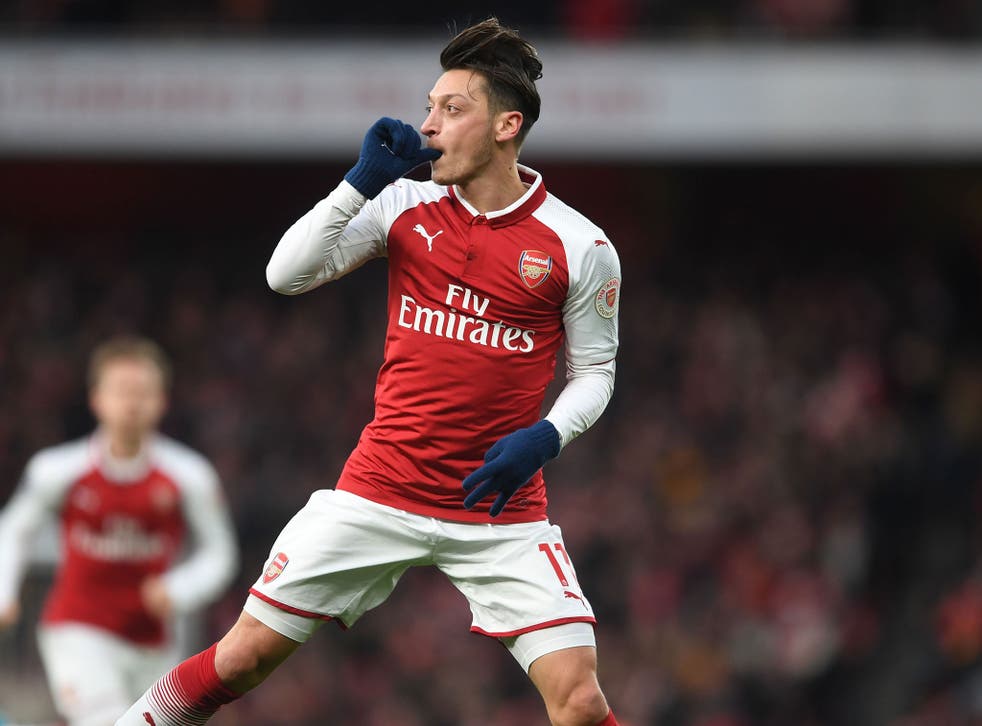 Arsene Wenger believes Mesut Özil is currently playing his best ever football for Arsenal.
The German midfielder is now in the final months of the five-year deal he signed in September 2013 and is likely to leave at the end of this season.
But his recent performances have been on another level: he orchestrated last month's 2-0 defeat of Tottenham Hotspur at the Emirates and single-handedly destroyed Huddersfield Town on 29 November. Then on Saturday afternoon, with Arsenal struggling for answers against a resolute Newcastle United team, Özil won the game with a technically brilliant left-footed volley.
13 Premier League transfers that could happen in January

Show all 13
It was the type of goal that only the very top bracket of players can score, requiring imagination, confidence and precise technical execution. Wenger was delighted afterwards that Özil had not simply controlled the ball and passed it. He said that while the goal was wonderful, it was the level he raised the rest of the team that made the biggest difference.
"Not only [the goal] but I would say more important is the quality and the influence he has on the collective game," Wenger said. "Good performances are more repeatable than good goals, which means they count for more.
"You cannot score a goal like that every week. But you can play like he plays usually every week, so that is more important. If he adds that to his game then that is even more important."
The fact that Özil is starting to repeat that level of performance, at least in home games, indicates that he is playing better than he has done before for Arsenal. When asked if that was the case, Wenger agreed.
"Yes, certainly I think he takes responsibilities and that is what you want from him," Wenger said. "He is mature, he guides the team, they are aware he is on the ball a lot. Always your heart rate goes down when he has the ball." Arsenal's new 4-2-3-1 system, with Özil nominally as the 10, allows him to drop much deeper to take the ball from Granit Xhaka and Jack Wilshere, and he loves it.
What is very clear is that Özil is playing far better than Alexis Sanchez, and has been for months. Sanchez does not appear to have recovered from the twin blows of his dream move to Manchester City collapsing on deadline day and then Chile failing to qualify for the World Cup. He has only scored five goals this season and is nowhere near his usual levels of intensity or brilliance. The difference is so clear that it feels as if Özil, rather than Sanchez, is the player that Arsenal will miss most next season, if they do both leave. Wenger would not be drawn on it.
"I wouldn't like to compare," he said. "You want nobody to leave and see where we stand on that. But at the moment it is very difficult. Until the end of the season we know what is, but after that I cannot tell you."
Wenger insisted again that he "believes" that Özil "wants to stay", but unless there is any indication of that from the player's side, Arsenal must prepare to say goodbye to their German genius in six months' time.
"I believe he wants to stay, he is not to be convinced (to sign a new contract)," he said.
"You want nobody to leave and you see where we stand on that. But at the moment, it's very difficult.
"Until the end of the season we know what it is, but after that I cannot tell you."
Register for free to continue reading
Registration is a free and easy way to support our truly independent journalism
By registering, you will also enjoy limited access to Premium articles, exclusive newsletters, commenting, and virtual events with our leading journalists
Already have an account? sign in
Join our new commenting forum
Join thought-provoking conversations, follow other Independent readers and see their replies