Arsenal vs Manchester United: Five things we learned as Jesse Lingard fires Jose Mourinho's team to victory
Arsenal 1 Manchester United 3: The Gunners revealed a naivety with the ball in defensive areas and were punished by an in-form Lingard – but they will rue the brilliance of David De Gea
Lawrence Ostlere
Saturday 02 December 2017 20:05 Comments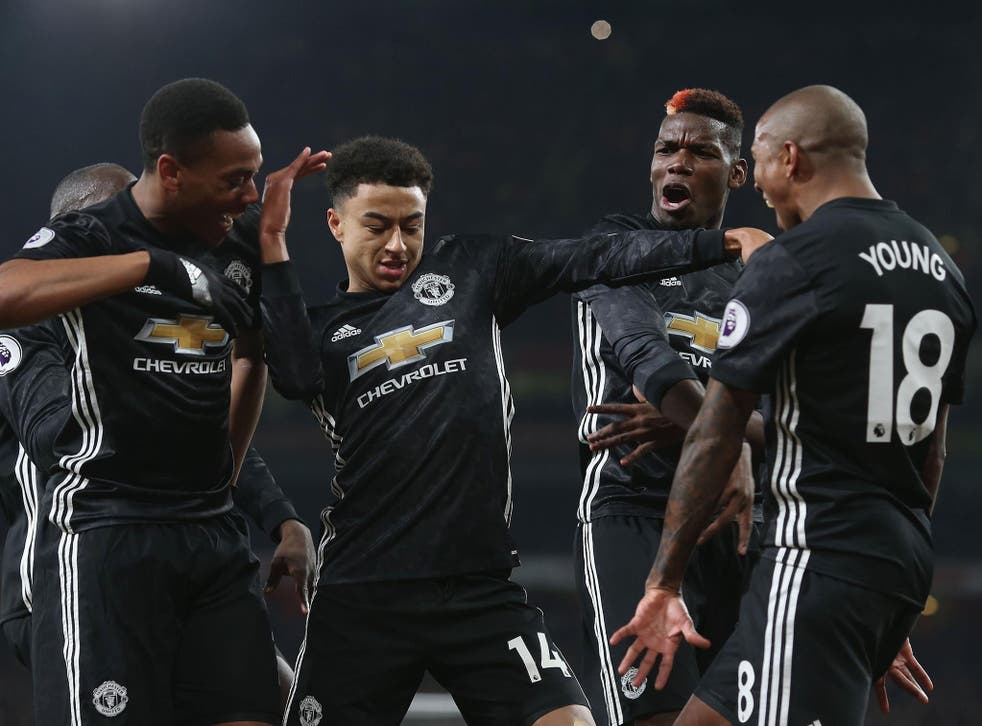 Manchester United earned a crucial win over Arsenal in a helter-skelter game at the Emirates, with two goals by Jesse Lingard after Antonio Valencia's opener proving enough to see off the Gunners, despite the home side's spells of dominance.
Alexandre Lacazette did pull a goal back immediately after the break for Arsenal, who had trailed 2-0 at the break, but they could not find the equaliser as they came up against David De Gea at his best.
Arsenal vs Manchester United: Player ratings

Show all 23
Here are five things we learned from the match:
Lingard is ready for a long run in the team
Lingard is one of those players who seems to carry the 'potential' tag with him wherever he goes, yet he is a 24-year-old forward closing in on the start of his peak years. After several stop-start seasons he finally seems to be stringing several impressive performances together, making decisive contributions on a consistent basis. In Jose Mourinho's 3-4-3 there is plenty of competition for the two slots behind Romelu Lukaku but Lingard has done enough in recent weeks to demand a place. His challenge now is to keep it.
Arsenal show a naivety
The Gunners had their moments in a thrilling contest, and a stats whiz could probably show a complicated xG pie chart showing that only De Gea's heroics prevented them from winning 4-3. Then again, they will reflect on the goals they conceded and surely rue several mistakes in the build-ups, namely the careless conceding of possession in defensive areas, with Shkodran Mustafi and Laurent Koscielny both at fault. They are not errors you are likely to get away with against a team with United's potency in attack.
United showed they can play on the front foot
Both of United's first-half goals came from their positive tactics, pushing high up the pitch and forcing mistakes from Arsenal's defence. Under Mourinho they have become a counter-attacking team on the road against the best sides and all of these goals were counter-attacks too – but the difference was that they were winning the ball deep in Arsenal's territory, and in a few seconds it was in Petr Cech's net. Perhaps it illustrates how United will attempt to combat Manchester City in the derby next weekend.
We have a title race
Admittedly it is not a close race right now; Manchester City are still eight points clear at the top with a huge goal difference to fall back on, and they don't look like slowing down any time soon. But United have managed to keep within a close enough distance that, should they win at Old Trafford when City visit next weekend, they will have the momentum heading towards the busy Christmas fixture-list and a five-point gap could theoretically be eroded in the space of a few days.
De Gea might be even better than we thought
United's Spanish goalkeeper has been heralded as the best goalkeeper in the Premier League for some while but in truth it is hard to think of anyone in world football as effective between the posts right now. His miraculous save with an outstretched toe against Liverpool was astonishing but of his many excellent stops at the Emirates, one from Alexis Sanchez with his right foot early in the second half might have been even better.
Register for free to continue reading
Registration is a free and easy way to support our truly independent journalism
By registering, you will also enjoy limited access to Premium articles, exclusive newsletters, commenting, and virtual events with our leading journalists
Already have an account? sign in
Join our new commenting forum
Join thought-provoking conversations, follow other Independent readers and see their replies