Why Arsenal might miss out on winning their first Premier League title since 2003/04
In this topsy-turvy season, will Arsene Wenger's men really weather the storm?
Mark Critchley
Tuesday 22 December 2015 17:08 Comments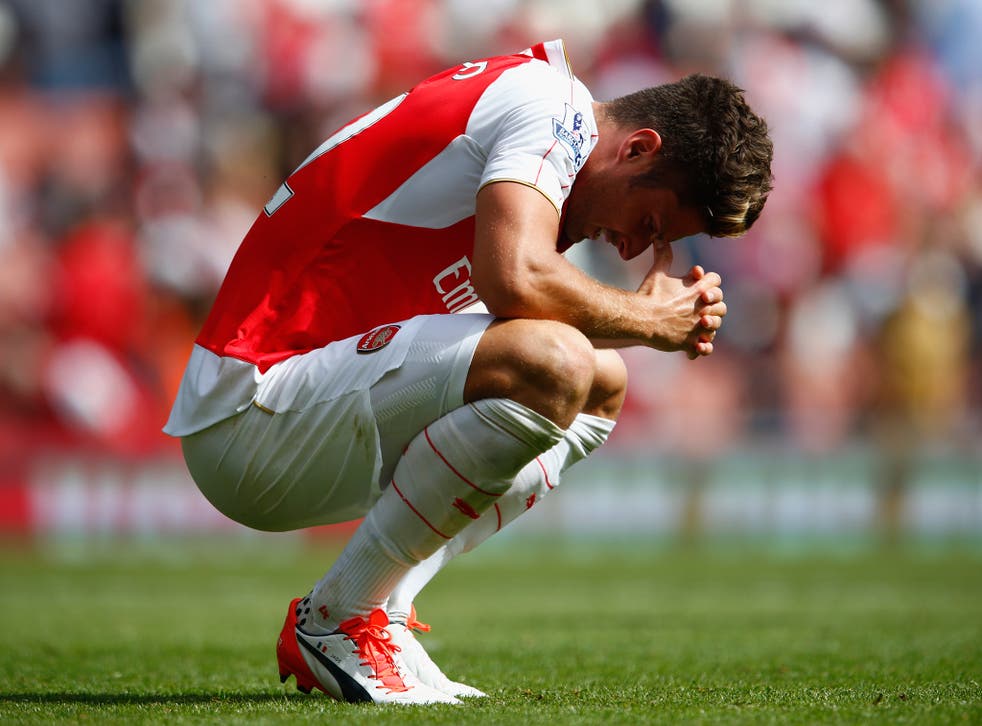 Following their brilliant display against Manchester City last night, Arsenal have rightly become many observers' favourites for the league title. Of the traditional 'top' clubs, they are the only ones picking up results with relative consistency, and the only ones who can see Leicester City's coattails.
There are a number of reasons why Arsenal could win their first Premier League title in twelve years. In fact, there are even some reasons why they should be on top come May. What's certain is that there are no guarantees and that, in this topsy-turvy season, talk of last night's win being in any way 'crucial' or 'decisive' is premature.
Arsenal, at present, have a good chance of being crowned this season's champions but here's a few reasons why it's sensible to remain sceptical.
They have to play most of the top sides away from home
Much has been made of Arsenal's improved record against the Premier League's traditional 'top clubs'. Last night's win over City was as impressive as that over Manchester United in early October, while they have already taken a point off Liverpool and Tottenham Hotspur.
Arsenal vs Manchester City player ratings

Show all 22
All those fixtures, however, were at home, meaning Arsene Wenger's men have to visit Anfield, White Hart Lane, Old Trafford and the Etihad Stadium in the second half of the season. What's more, even though they have already played this season's shambolic Chelsea side at Stamford Bridge, they lost.
This Arsenal side may not wither in front of elite opposition like that of a few years ago. They no longer look on the verge of 8-2, 6-3 or 5-1 capitulations. In that sense, they have risen their game in elite encounters, but only from a particularly low bar.
Game-for-game, they have only marginally improved on last season
During the build-up to last night's match on Monday Night Football, Jamie Carragher raised an interesting point. If you compare equivalent fixtures from this season and last, Arsenal's number of points was exactly the same – 33 points.
Now, that has changed, with the home win over Manuel Pellegrini's men bettering last term's 2-2 draw. A slim improvement of +2, then, but an improvement all the same. Whether that will be enough to turn last year's also-rans into champions depends on what kind of season we have.
This year's Premier League has, so far, been remarkably fluid, with the division's middle order regularly overturning its established elite. If Arsenal can weather the storm, they should have enough to get over the line.
It's hardly the firm grounding though and, in a sense, their installation as favourites has more to do with their rivals' weaknesses rather than their own strengths.
Questions remain over their character
Many rightly praised Arsenal's combativeness last night. As a defensive unit, they were solid; as an attacking force, ruthless. This was, apparently, an unprecedented show of nerve from a side who too often wince at the sight of blood, sweat and tears.
That should, perhaps, be less of commendation and more of an indictment on this team. Either way, it's far from unprecedented. We have been here before, namely after last season's brilliantly disciplined display at the Etihad Stadium, which would supposedly ring in a new dawn of pragmatic football. It was more of a false one.
The one consistent feature is that, in the last analysis, they have come up short. Since 'The Invincibles' season, there have been signs of steely determination, there have been moments when it seemed as though domestic or continental triumph was near. However, in that time, unlike Manchester United, Chelsea, Manchester City and even Liverpool, they have never seen a run through to a final, triumphant conclusion.
Leicester City
The big blue fox-like elephant in the room. The past week or so has felt like a watershed moment for how pundits see Claudio Ranieri's side. Rather than a flash in the pan, they are increasingly being recognised as this season's most balanced, most dependable and most devastating side.
Like Arsenal, they have still to face many of the 'elite' clubs away from home before May. Unlike many members of that faltering elite, they have been fortunate when it comes to injuries and their luck could easily turn. For Leicester to mount a title challenge will still, despite their start, be a monumental task.
Make no mistake, though, they are challengers. Perhaps one of the biggest factors in Leicester's favour is that, in a year when Chelsea, Manchester United, Liverpool and even Manchester City look somewhat off-the-pace, to lose out on the top division title to a club who've never won it previously would be so predictably, so typically Arsenal.
Register for free to continue reading
Registration is a free and easy way to support our truly independent journalism
By registering, you will also enjoy limited access to Premium articles, exclusive newsletters, commenting, and virtual events with our leading journalists
Already have an account? sign in
Join our new commenting forum
Join thought-provoking conversations, follow other Independent readers and see their replies