Henrikh Mkhitaryan has fallen by the wayside at Manchester United – is Jose Mourinho to blame for his struggles?
Mkhitaryan gives the impression of holding a talent to be nurtured. It is clear he has it within him to play at United's level; what is less clear is whether Mourinho has it within himself to rouse it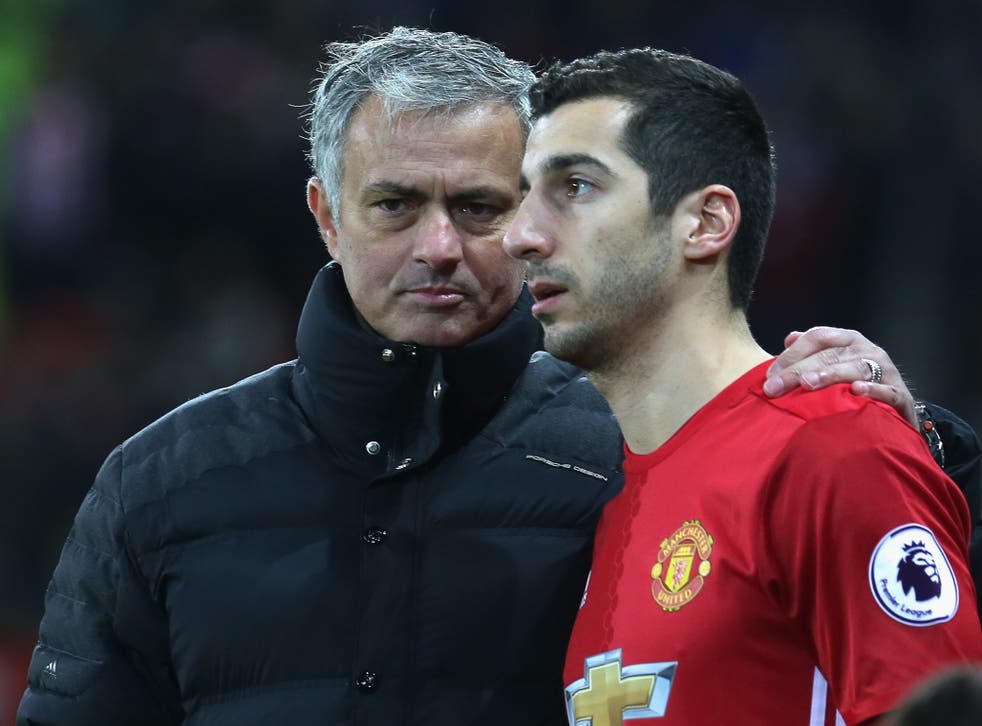 Henrikh Mkhitaryan stared after the ball, his eyes narrowing as it bounced. Manchester United had been on a breathless counter-attack, Marcus Rashford's legs in fast-twitch mode as he dribbled at two remaining Southampton defenders. He had sprayed a pass left to Mkhitaryan before sprinting to the penalty area, urging for a return which never arrived.
What followed instead was a wild cross, landing 30 yards from its target. Mkhitaryan briefly stood still on the Old Trafford pitch and watched the ball run away towards a tower of groaning supporters. He seemed to analyse, before jutting his tongue into his cheek a little rebelliously and turning away. We can't know what Mkhitaryan was thinking at that moment, 20 minutes into Saturday's goalless draw, but it looked like the face of a man who was thoroughly fed up.
The Armenian has been a peripheral figure this season and looks likely to depart in January, perhaps returning to Borussia Dortmund, only 18 months after he was announced as one of Jose Mourinho's first statement signings. Which raises a question - how has it come to this?
Manchester United vs Southampton player ratings

Show all 22
Mkhitaryan arrived at Old Trafford in the summer of 2016 for £30m – a sizable sum before PSG's Neymar apocalypse. At 27 he was at the height of his powers, the reigning Bundesliga players' player of the year switching to the Premier League. At his unveiling Mourinho hailed a versatile goalscorer with the ability to create chances and goals, blessed with athleticism and intelligence – in short, the complete supporting forward.
He has shown glimpses of that brilliance in the intervening season and a half, enough to know that the player who starred in Shakhtar Donetsk's irresistible title-winning team and ripped through defences in Germany has not simply evaporated away.
But he is also thoughtful and astute, a polyglot who studied economics and law; he has spoken of the importance of his father and idol, Hamlet, a successful striker whose death at 33 had a profound impact on the seven-year-old Henrikh. Mkhitaryan gives the impression of holding a talent to be nurtured, to be coaxed rather than demanded. It is clear he has it within him to play at United's level; what is less clear is whether Mourinho has it within himself to rouse it.
In the days after Mourinho's second Chelsea reign ended in the sack, Jon Obi Mikel gave a revealing interview. He was asked how the new manager, Guus Hiddink, had positively impacted the squad. "It's the way he communicates with the players," the midfielder responded. "Maybe that's what the players felt they didn't get from the previous manager. Sometimes players – not just because they're not playing – you need to communicate with them. You need to speak to them and don't just ignore them because players like to be communicated to."
Mikel conjures an image of an unapproachable manager, a far cry from the story Frank Lampard tells of the day Mourinho told him in the shower that he was the best midfielder in the world and he believed it. That was 2005, and somewhere along the way Mourinho changed. It is hard to pinpoint an exact moment, but his return to English football has felt altogether different; the manager who emotionally embraced a crying Marco Materazzi on his departure from Inter seems some distance away now – would any player shed tears for this Mourinho?
Perhaps Mkhitaryan is to blame for his own struggles. Perhaps he failed to adapt – but it was Mourinho who said his new signing was a perfect fit for the Premier League. Perhaps Mkhitaryan hasn't tried hard enough – but this is a player with a reputation for an exceptional work ethic, whose former manager Jürgen Klopp once said: "There's a reason why the world's best chess players come from Armenia like Mkhitaryan. They're thinkers, they're hard workers, they graft."
Managers have been letting players falls by the wayside for years and this is nothing new for Mourinho, who has experienced relationship breakdowns far more damaging than this one. But it does not reflect well that one of his marquee signings is already on the verge of departing in failure, the Old Trafford groan ringing in his ears, looking forlorn and fed up.
Register for free to continue reading
Registration is a free and easy way to support our truly independent journalism
By registering, you will also enjoy limited access to Premium articles, exclusive newsletters, commenting, and virtual events with our leading journalists
Already have an account? sign in
Register for free to continue reading
Registration is a free and easy way to support our truly independent journalism
By registering, you will also enjoy limited access to Premium articles, exclusive newsletters, commenting, and virtual events with our leading journalists
Already have an account? sign in
Join our new commenting forum
Join thought-provoking conversations, follow other Independent readers and see their replies