The inside story of Chelsea's Premier League title win, featuring reggaeton, the right suit but no Nutella
Through their ups and downs, Miguel Delaney charts Chelsea's title-winning season with typically thorough detail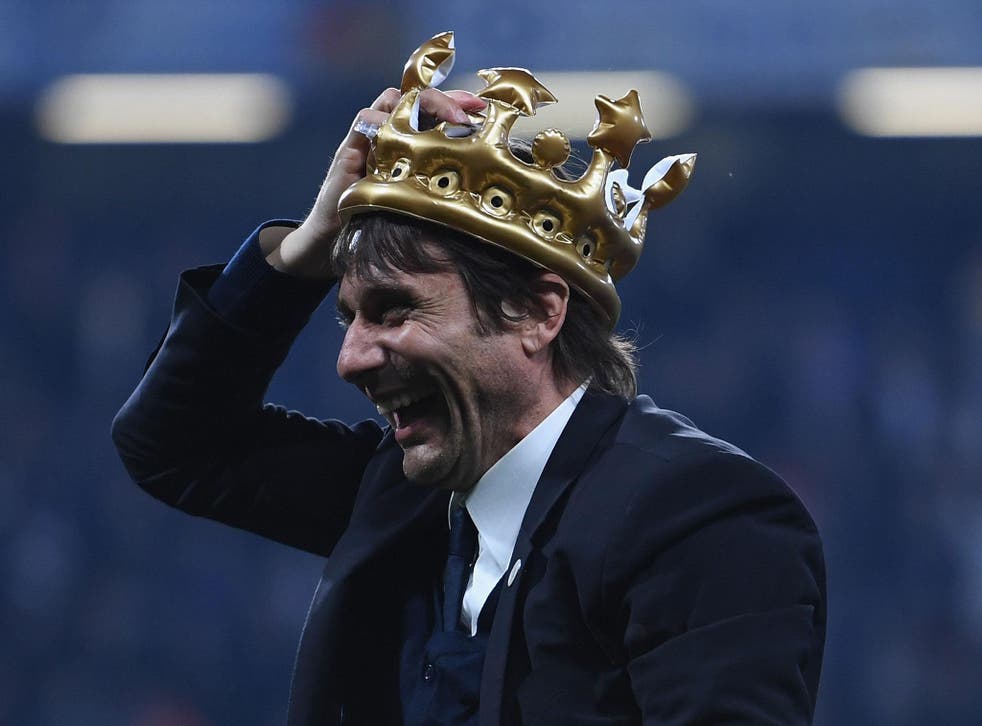 By the time the Chelsea plane got back to London after the title-clinching 1-0 win at West Brom - and after David Luiz and Diego Costa had literally dragged Antonio Conte away from his champagne-delayed press conference so they could start celebrating - some of the players were still all too willing to go out on the town; others by then prepared to turn in. Some were just delirious in the feeling of victory, others by then taking a quieter delight in the sense of vindication.
The latter was something that was commented upon a conspicuous amount by a few of the Chelsea squad. They were proud of the fact that they had proved themselves again, that they had demolished so many of the criticisms and bad memories of 2015-16, just as they had demolished the field in the 2016-17 campaign.
These were also two emotions that Conte purposely played on, fostered and honed, in order to create the "right spirit" he sees as of "fundamental importance" to properly applying his football ideals - to firing the "small war machine" he spoke of back in the summer, the "blazing inferno". He creates an atmosphere where players know that if they are prepared to work for him, to invest in his plans, they will have a fair chance. There are no mind games over appearances or getting dropped.
Antonio Conte 'kidnapped' by his players after Chelsea win the league
That creates a general contentedness among the group and a willingness to follow him, especially since so many of the squad personally like Conte, but he consciously seeks to add a flame to it. There is first of all obviously the manic intensity he displays on the sideline, that infuses so many pre-game talks with that extra energy. The Italian will also use other motivational tools, though. In the case of the Chelsea team as a whole, Conte purposely played on the many criticisms they received last season, mentioning it at pointed moments of the campaign to rev the players up again.
"When you finish the season in tenth place… it's not natural," he said after his first defeat as Chelsea manager, the 2-1 loss at home to Liverpool in September. "When you finish in tenth place, it means that you have to work very hard to improve to make sure you don't repeat the bad season."
Because of how supreme their response has been, it would be easy now to underplay just how complicated the job that Conte walked into was after that bad 2015-16 season. It said much that, even at a club as demanding as Chelsea, the Italian was merely charged with getting back to the Champions League. They may have been a squad of champions, with many of them now badly wanting to prove themselves, but the group had also been profoundly affected by the scale of that collapse and everything that came from it.
5 key moments that won Chelsea the title
The reality was that it was a team built for another manager's ideas, and still adjusting to a new situation, now they no longer worked under that other manager's approach. Some close to the squad feel there was an inevitable sense of drift once they were no longer subject to Jose Mourinho's extreme emotional demands, given the way he always had them "on edge", looking to provoke reactions. One training-ground story from as early as the 2014-15 season tells of a player regularly benched by the Portuguese almost wailing at one of the coaching staff, desperately saying "I don't know what he wants from me!"
Some players like Diego Costa by that summer wanted to leave Chelsea, others like Victor Moses had got used to the idea of being unwanted. There was just a general directionless and empty feel, that had reached a nadir with the way even some of the supporters had brought banners calling players "snakes". It was not the most positive of atmospheres, and it so clearly stung.
"They said we didn't want to play any more," Thibaut Courtois mentioned on Sunday, not actually referencing who "they" were. "They said we were lazy, that kind of stuff, and it's not true."
Conte began to first work on improving Chelsea in the most fundamental way: honest graft. He put them through what the players described as the toughest pre-season they have ever had. To power that, the Italian also made huge changes to the team menu, although he would always argue against the idea that he had prohibited foods like ketchup. Conte would instead insist he merely explained to the players the importance of the "right alimentation" in terms of recovery and injury prevention, proactively getting them to understand why they should eat like this, rather than just reactively following orders. He would also lead by example. Conte would jokily rebuke himself for eating Nutella, and use any spare time at Cobham to do 30 to 40 minutes of running around the Surrey base's four grouped training pitches. His staff were often asked to join him, but not all were willing to try keep up with their super-fit manager. Comical excuses were often made.
The net effect was players talking of how they had the lowest body fat of their time at Chelsea, and getting to such a level of fitness that it does not feel a coincidence that they are set to end the season without having conceded a single goal after the 59th minute of a game that actually cost them a point. That "late" goal was Gylfi Sigurdsson's penalty for Swansea in the 2-2 draw at the Liberty Stadium as long ago as 11 September, the fourth match-day of the campaign.
Even at that point, as has become much discussed, it wasn't yet a Conte team. It still wasn't his squad, either. The Italian had a list of primary targets, but only got one of them. That was Marcos Alonso, whose name didn't exactly blow people away when he signed. Conte, again, had identified something few others had.
The 5 key moments that won Chelsea the title

Show all 5
Memorably describing a coach as "like a tailor" who must "find the right suit" for his squad, the Italian never displayed any frustration with transfers when working with his team, and would throw himself into maximising their existing abilities. He would arrange the team on training pitches, and literally walk them through planned moves, grabbing them to put them into position. That would be augmented by long video sessions, with Conte aiming to get the players to the point they had memorised all of these instructions, and were able to repeat them by instinct. That would certainly come across in the 13-game winning streak, but the work initially grated on the squad, even if they were a happy group.
That was because of how likeable the manager was, and also because the transfers worked out in unintended ways. David Luiz may have been derided as a source of comedy before so resoundingly improving his reputation with so many commanding displays, but was immediately the source of good vibes within the squad, and seen as "glue" in the dressing room. He became a Didier Drogba figure in that way, almost the emotional leader. It was impossible for people not smile as he would drive in to Cobham, Reggaeton music blaring from his car, the distinctive hairstyle so visibly bobbing up and down in it as he bopped his head.
N'Golo Kante was instantly popular and, if Conte had initially wanted Roma's Radja Nainggolan ahead of him, the manager quickly realised the French midfielder was no typical second choice. He was no typical player.
That wouldn't truly become apparent until the much-discussed 3-0 defeat to Arsenal, and the symbolic moment when substitute Alonso passed on his manager's instruction, signalling with his hand to go three at the back in the second half.
Among the many remarkable things with that triumphantly transformative decision was that Chelsea had barely practiced the formation. It was in Conte's mind, but hadn't really been tried on the training pitch. They had tinkered with it a bit in pre-season, but had still mostly been working on formations that involved four at the back. The starkness - or "shock", as Conte himself put it - of that defeat evidently made clear what he already had an inkling about: that it three-at-the-back suited the players. It just fitted. It was the system that maximised most of the existing players' abilities. The impressive impact of Moses showcased this better than anyone, especially since he had not been seen as a wing-back before then.
This was also where Conte's true impact was seen. He worked rigorously with Moses on the defensive side of the 26-year-old's game, getting the player to fully understand the position. A more "complete" player was created though pure coaching. It was the same with everyone, right up to how he got the often off-the-cuff Costa to realise the role of a striker in a Conte team.
Perhaps uniquely for a recent Chelsea manager, too, Conte used a defeat to strengthen his hand in other ways. He had a meeting with Roman Abramovich and discussed signings as well as the culture of the team. It was also the opportunity to properly finish breaking up the old dressing room power bloc, as the literal sidelining of John Terry and Branislav Ivanovic greatly diluted their influence.
Chelsea now had a new core, around a new system, in a side that finally felt like it had a new identity. For all that has been said about that match at the Emirates, it isn't an overstatement to describe it as potentially a juncture point in the Abramovich era as much as a juncture point in the season.
Chelsea certainly had a new verve. They immediately went on that run, with everything about it propelled further by that psychologically significant 4-0 win over Mourinho's Manchester United. Other than superior fitness later in the season, this was probably where the lack of European football really helped, too. Chelsea had even more time to hone the idea of football. By November, when they were at their physically sharpest and mentally most confident, they were also playing their most spectacular football - a level as good as anything seen this season. Everton manager Ronald Koeman was as blown away as his team were by the 5-0 defeat at Stamford Bridge.
"I never saw a team playing so well this system," Koeman enthused. "This system is very difficult to play against, the movement of the players. Chelsea showed us today a very high level of football - in every aspect of football. I did not expect that big a difference on the pitch, but it happened... It's the best way for them, and of course some key players in that team are showing highest level of football."
Among those players were Kante, who had finally found his right role in the side and was again dominating midfields; David Luiz, who was suddenly utterly unflappable in the centre of defence; the two wing-backs of Alonso and Moses, who gave the side such thrust and pace; Eden Hazard, who was back to his fleet-footed best; and Diego Costa, who began to score a series of match-winners in the 13-game streak.
The growing importance of the striker also created what could have been the second great crisis of Chelsea's season - but merely became another opportunity for Conte to strengthen his authority, to further improve his standing in the eyes of the players. For all his likability, they knew he had an explosive temper, but the way he handled all the controversy around Costa's proposed move to China showed an exacting even-handedness. He sternly made sure the player knew who was boss on the training ground, and then secured a rousing 3-0 win at Leicester City without him.
A line had been drawn, in so many ways, especially given that the previous league match had been the streak-ending 2-0 defeat at Tottenham Hotspur.
The truth was that, even if Chelsea had peaked in terms of performance from October to December, they had by then perfected how to just keep the team motoring. They had the rhythm of champions, the baseline mentality. They had what a serial title-winner like Roy Keane recognised as every single player fully knowing the bare minimum required for their job and that, if they did all did it solidly, they would have enough to win any match.
It was why they were so quickly able to respond to any setbacks; why they never again failed to go more than one game without a win after the Arsenal defeat.
It was also why, for all the discussion since January, the title was pretty much won in that winning streak. That put them ahead, set a pace, and set the team.
It was also something else remarked upon by the players after the victory over West Brom. For all the praise Tottenham Hotspur received in the run-in, their nine-game streak was not as long as Chelsea's. Conte's side also responded to it by winning six in a row, including an FA Cup semi-final win over Spurs.
They could yet do a double, of course, but the Italian is already looking beyond that. A forensic tactical mind, he has already identified elements of the team that can be enhanced, areas of the squad that need bolstering.
Conte wants to bring in six players in the summer: at least one striker, with primary target Alvaro Morata; a central defender currently expected to be Virgil van Dijk; another left-footed central defender; a Pedro-style forward who can play across the line, with Dries Mertens currently a top target; a central midfielder and a back-up goalkeeper.
The Italian is also well aware of some of the wider debates about this title win, the belief that the lack of European football has been a key factor, the argument that next season will actually be the real test.
Conte has already so pointedly addressed some of these in his press conferences, but a lot of it keeps coming back to another comment he made on that crucial day at the Emirates. The anger he was feeling still brought a brutal clarity of thinking.
"The pitch is the truth," Conte said after that match. "The pitch speaks."
Join our new commenting forum
Join thought-provoking conversations, follow other Independent readers and see their replies