Leicester City vs Manchester City: Five things we learnt from tonight's match
Bony may have been right about Aguero's lack of fitness
Jack Pitt-Brooke
The King Power Stadium
Wednesday 30 December 2015 00:15 Comments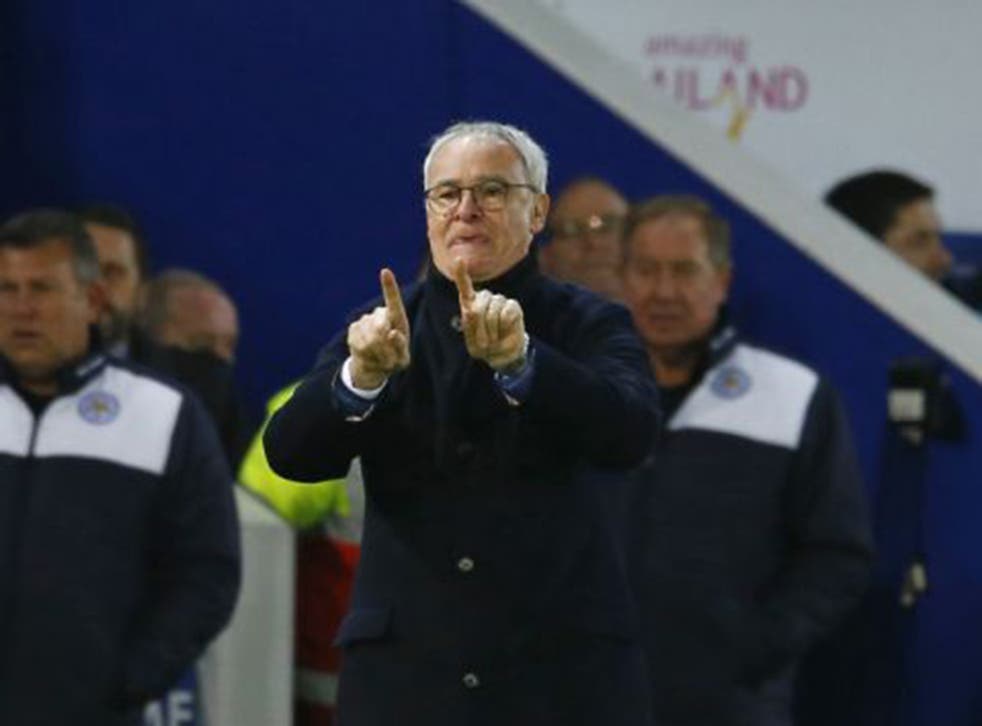 1.
Claudio

Ranieri is unafraid of change
Leicester City have had great success with 4-4-2 this season but last night Claudio Ranieri was not afraid to adapt for the sake of the occasion.
The manager went to a 4-2-3-1 system, pairing N'Golo Kante and Gokhan Inler in front of the back four. Kante is a relentless runner who won tackles all over the pitch. Inler is an intelligent presence, whose years of experience in Serie A shone through on the edge of the box.
It meant having to leave out both Leonardo Ulloa and Shinji Okazaki, but Jamie Vardy still got through more than enough running up front. It was a clever rebalancing of the team, which helped Leicester stay in the game.
2.
Sergio

Aguero is still not up to speed
When Wilfried Bony complained last week about an unfit Sergio Aguero starting ahead of him, it sounded like sour grapes. But he might have been right.
On this evidence, Aguero is still not near his top level, still lacking the sharpness that can cut through any defence in the country. The Argentine has scored just one goal in almost three months, after hamstring and heel injuries, and he did not look like adding to his tally here.
When released into his favourite positions on the edge of the box, that famous burst to take him past defenders and into shooting space eluded him. He either ran into trouble, or only got his shot off when a defender could block it.
3. City's defence is improving
The last time City kept a clean sheet without Vincent Kompany was for the 6-0 stroll past relegated Queen's Park Rangers at the Etihad Stadium on 10 May. So for Manuel Pellegrini's side to shut out Leicester, with Nicolas Otamendi and Eliaquim Mangala at centre back, certainly points to some improvement.
That pairing, or one of them with Martin Demichelis, has been a disaster recently, contributing to a defensive record that could well cost City the title. But last night they were relatively secure. Vardy's pace gave Otamendi a few scares but he could always recover, while Mangala was powerful in the air and quick into the tackle. If City are serious about winning the title back, these two will have to keep improving.
4. Keepers have been crucial
Kasper Schmeichel and Joe Hart are great friends who grew up competing to start for Manchester City back in the pre-Abu Dhabi era, fighting with Andreas Isaksson to be picked by Sven Goran Eriksson.
Here they were competing, and were the two best players on the pitch. Schmeichel had to be on constant alert, even with City not at their best, saving from Raheem Sterling and Kevin de Bruyne. Hart had a quieter night but made one important save from a free-kick hammered by Christian Fuchs. If these two teams contest the title with Arsenal – who of course have Petr Cech – then Schmeichel and Hart could help to decide it.
5. Leicester are the real thing
With one game left in the Premier League first half, we have a four-team title race. Arsenal and Leicester have 39 points, Manchester City 36 and Tottenham 35.
It is the most open season for a generation and the title will likely be won by whichever team can put a strong sequence of games together. But there can be no doubt, with every team played, that Leicester's position is genuine. Even here they could not find a way through but impressed with their hard running and compact defending which have been just as important to their great run as their pace on the break. Vardy's scoring run may have ended but Leicester are in no hurry to fade away.
Register for free to continue reading
Registration is a free and easy way to support our truly independent journalism
By registering, you will also enjoy limited access to Premium articles, exclusive newsletters, commenting, and virtual events with our leading journalists
Already have an account? sign in
Join our new commenting forum
Join thought-provoking conversations, follow other Independent readers and see their replies