Leicester vs Arsenal: Five things we learned as Willian impresses in Gunners' comeback win
Leicester 1-3 Arsenal: Tielemans put the Foxes ahead but Luiz, Lacazette and Pepe gave Gunners the points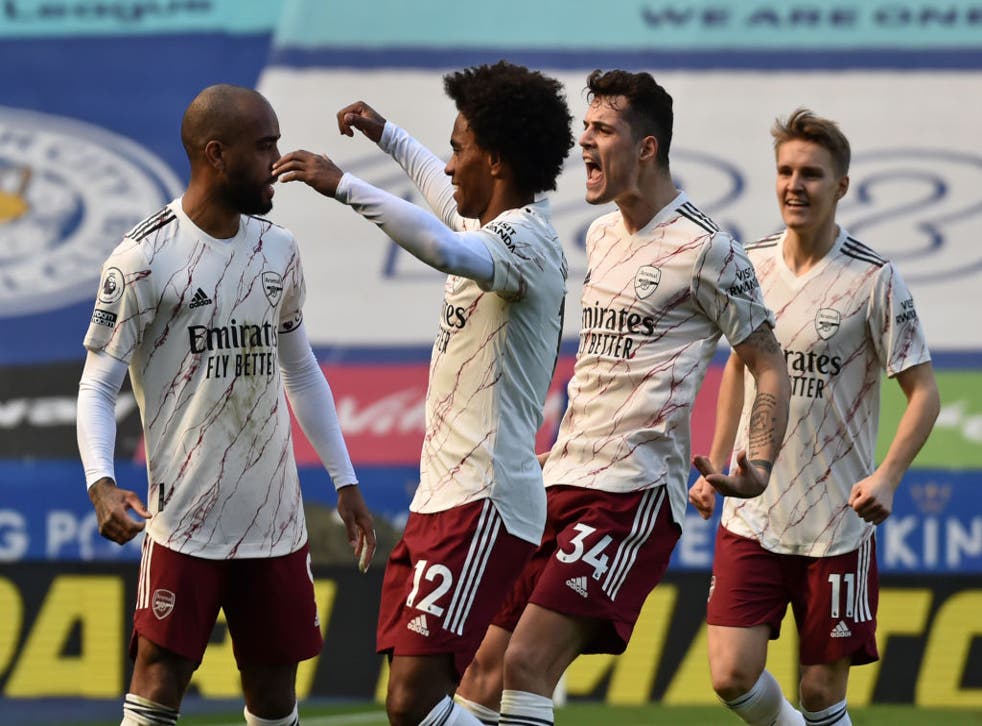 Arsenal mounted an impressive response to falling behind as they beat Leicester City 3-1 away in the Premier League.
The first real attack of any note resulted in a goal, as Youri Tielemans attacked down the right and the Arsenal defence simply continued to back off - so the Belgian went all the way and drilled a low finish into the bottom corner. Jamie Vardy almost made it two within seconds, but Bernd Leno's poor touch went unpunished after the ball bobbled kindly back to the 'keeper.
Nicolas Pepe was denied a penalty, originally given, after a VAR review spotted the foul was outside the area, while Harvey Barnes thundered a long-range shot in which was saved at the other end. The turnaround came just before the break, though, as Willan's free-kick was headed in by David Luiz and Alexandre Lacazette smashed home a penalty, given after a Wilf Ndidi handball.
READ MORE: Premier League fixtures and table - all matches by date and kick-off time
Brendan Rodgers made a change at the break and was forced into another straight after the restart, but Pepe quickly tapped home a third after a brilliant counter-attack and the Foxes were unable to get back in the game.
Here are five things we learned as the Foxes took the points on Sunday lunchtime.
Signs of life from Willian
He has had far from an impressive first seven months as an Arsenal player and isn't even a definite inclusion in the strongest XI right now, but Willian might just have had a week which gets him back on the right path.
The Brazilian was involved in the equaliser against Benfica midweek and earned the praise of his manager after an effective appearance off the bench, before being handed a start here among half-a-dozen changes to the line-up.
With lots of spaces opening on the pitch in a very open match, he was lively and energetic, quick to seize possession and run at the defence - and picked plenty of good passes to keep the Gunners on the front foot.
Importantly, there was telling end product again too, with a free-kick delivered to Luiz for another assist and a neat cut-back into the six-yard area to Pepe for Arsenal's third goal.
England injury concerns
Injuries are an ongoing and recurring theme of the season and this game was sadly no different, with two potential attacking options for Gareth Southgate leaving the match early.
Emile Smith Rowe hasn't been involved with the England squad yet and might not have been called up just yet anyway, but after involvement in 12 successive Premier League games - most as starts - and playing a key role in the Europa League too, he must be at least in the thinking, albeit in a position which has plenty of competition at international level.
More pertinently, Harvey Barnes went off on a stretcher - he's having a fantastic season and would definitely have been in the squad, with his versatility, consistency and goalscoring ability all regularly on show.
Brendan Rodgers will be desperately hoping his apparent knee injury isn't too severe, with James Maddison already missing here, James Justin out for the season - another potential England pair - and Northern Irish centre-back Johnny Evans going off injured later in the match, too.
Foxes starting to fail?
Last season, Leicester were fourth until the final weeks of the season, but their campaign really started to stutter around the Gameweek 22 period. From then until the end of the season, 17 league fixtures, they won just four times, all against teams in the bottom half and near the relegation zone.
We're just beyond that stage now, with this the Foxes' 26th league game of the Premier League campaign.
In league terms, their form was perfectly fine recently with back-to-back wins, but the injuries and top players being out is absolutely starting to have an impact - they were lacklustre twice against Slavia in the Europa League, well below their best here against the Gunners and were hanging on somewhat in the closing stages of the win over Villa.
There won't be alarm bells just yet. There's still a long way to go, form can be recaptured and other clubs will also face another sticky spell between now and the end.
But four wins in 10 in all competitions - one a 93rd-minute FA Cup win after having been second-best for much of the game - doesn't sound like a team on the cusp of hitting top gear heading into the final stretch.
Vardy's barren streak
Injuries aren't the only problem for Rodgers to contend with: one man who is back and fit isn't firing on all cylinders and he's arguably the most important of all.
Jamie Vardy barely had a look-in against the Gunners in terms of scoring chances, making it one goal in his last eight Premier League games - and that one was a gift, an open goal after a collision between Liverpool's Alisson and Ozan Kabak.
He also played in both legs against Slavia without scoring and against Brighton in the FA Cup, making it just one in 11 all told since a goal against Spurs on 20 December.
They need their striking talisman back among the goals just as much as they need one or two of his regular service-providers back on the pitch.
Gunners looking up
A late turnaround to earn passage into the Europa League last 16 in midweek, then a much earlier comeback here to take the points at the King Power Stadium - it's a fine week for Mikel Arteta's team.
The manager might point to good team spirit or character allowing the wins from behind, though he'll also privately acknowledge they continue to concede dreadful goals to fall behind in the first place - errors against Benfica and woeful decision-making at the back here simply have to be snuffed out.
But wins are wins and Arsenal move above Tottenham with this three points, for a couple of hours at least, to highlight their current upward trajectory.
Consistency is everything, though, and they can't let this progress go to waste against a struggling side like Burnley next time out.
Register for free to continue reading
Registration is a free and easy way to support our truly independent journalism
By registering, you will also enjoy limited access to Premium articles, exclusive newsletters, commenting, and virtual events with our leading journalists
Already have an account? sign in
Register for free to continue reading
Registration is a free and easy way to support our truly independent journalism
By registering, you will also enjoy limited access to Premium articles, exclusive newsletters, commenting, and virtual events with our leading journalists
Already have an account? sign in
Join our new commenting forum
Join thought-provoking conversations, follow other Independent readers and see their replies