Pep Guardiola hails John Stones and Ruben Dias partnership as key to Man City resurgence
The England and Portugal defenders have been impressive with the Citizens now going 11 hours without conceding in Europe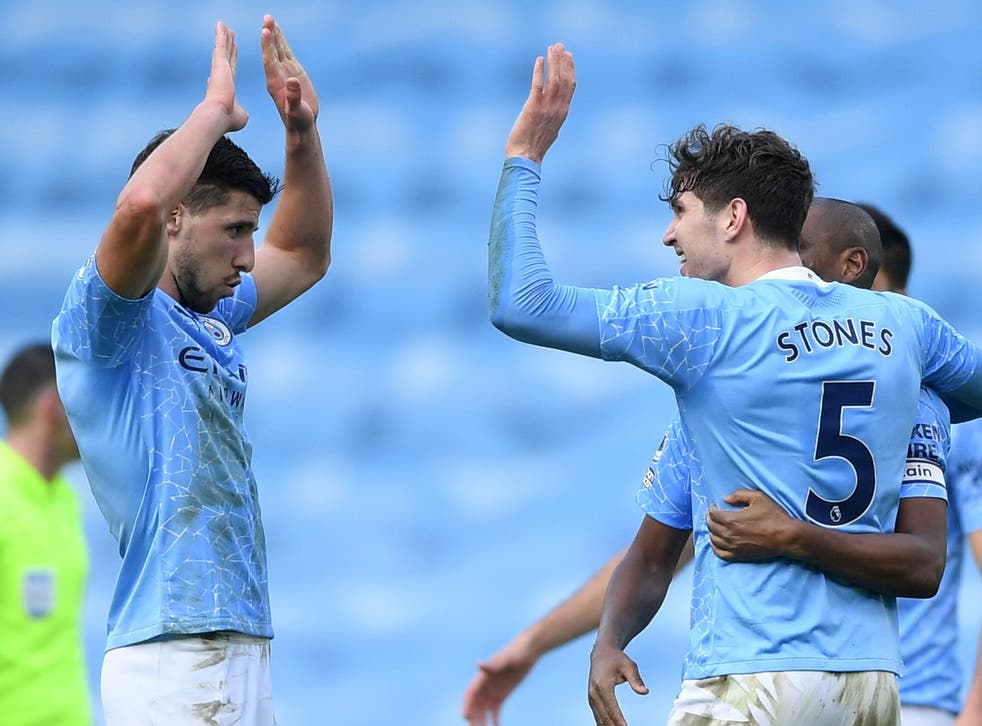 Pep Guardiola has hailed centre-backs Ruben Dias and John Stones has key to Manchester City's resurgence this season following a commanding win over Borussia Moenchengladbach.
City stormed into the Champions League quarter-finals for the fourth straight season with a 2-0 win over the Germans, which added up to a 4-0 aggregate victory.
And after keeping another clean sheet in Europe, with no goal conceded since the opening game of the group stage against Porto in October, more than 11 hours of football, Guardiola has lauded the impact of his new partnership this term.
"We just conceded one goal against Porto and that is quite impressive," Guardiola said. "You can't deny that Ruben and John made an incredible step forward for the team this season.
"We defend with the ball. That is the most important thing that when the opponent arrives we are solid enough."
City have suffered defeat in the quarter-finals of the Champions League to Liverpool, Tottenham Hotspur and Lyon in their last three appearances and Guardiola admits there is pressure to finally break through in the one competition that has eluded the club.
READ MORE:
Manchester City's biggest threat in the Champions League? Themselves
Premier League top four race: Who has the best run-in?
Man City cruise past Borussia Monchengladbach to reach Champions League quarter-finals
England Euro 2020 squad: Who's on the bus, who's in contention, who could miss out?
"Since the first year I arrived they told me that you have to win the Champions League," Guardiola said. "It is always on our shoulders but I'm not concerned about that.
"If you deserve it in football, you go through. I'm not thinking about getting to the semi-finals. I'm thinking about playing a good first leg (in the quarter-finals) and then a good second leg."
The Spaniard is now focused on the FA Cup quarter-final with Everton, having already moved 14 points clear of second-placed Manchester United in the Premier League.
"Everyone is fit - 20 players - but everything can change immediately, in one day," Guardiola added.
"We play one more game, then international break, and I don't know how we'll react after it. We have Leicester, Champions League, Leeds, Champions League. I don't know what will happen.
"That's why the best thing we can do is forget about the quarter-finals and just focus on playing the best way, try to win the games. If we deserve it we'll go through and if we don't we'll be out.
"Now Everton. We will see what happens in the next game and when the quarter-finals are drawn. We will see. I'm happy to be there for a fourth time and we will try to do a good game."
Join our new commenting forum
Join thought-provoking conversations, follow other Independent readers and see their replies